Entertainment
Ben Platt Dating Someone Or Already Has A Girlfriend? Journey From Broadway Fanboy To A Star
Notably magic nerd Benji Applebaum, in the musical comedy Pitch Perfect, Ben Platt is now also known for his work in Broadway Dear Evan Hansen. His emerging fanbase has now been the reason that his personal life is the most questioned one. People wants to know about his relationship status, whether he is dating or not? Let's have a glance at his journey from fanboy to Broadway star and also find out the relationship status in our story today.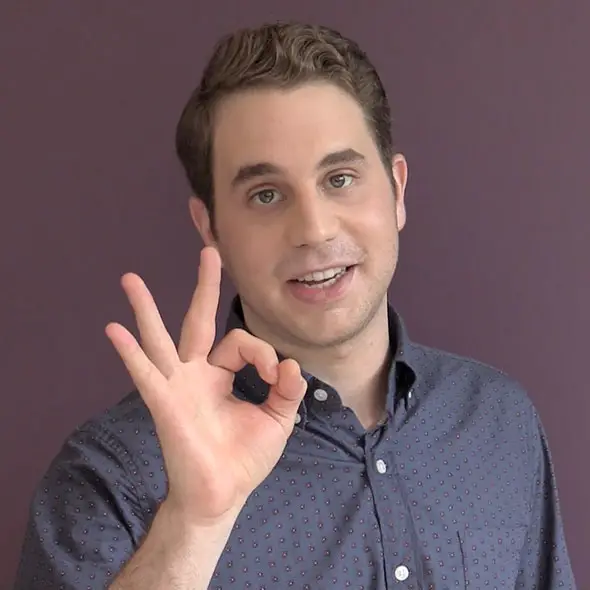 Quick Information
Relationship Status

Single

Eye Color

Brown

Hair Color

Brown

Hair

Short

Weight

152 lbs

Height/ How Tall? 5'10"
College

Columbia University

High School

Harvard-Westlake School

Career

2002–present

Awards

Tony Award for Best Actor in a Musical

Net Worth

Not Disclosed

Gay

Yes

Date of Birth Sep 24, 1993
Children/Kids

Not Yet

Brother/s

Jonah Platt

Mother

Julie

Father

Marc Platt

Ethnicity/Race

White

Religion

Jewish

Zodiac Sign

Libra

Birth Name

Benjamin Schiff Platt

Profession

Actor, Singer

Birth Place

Los Angeles, California, United States

Nationality

American
The magic nerd Benji Applebaum, in the musical comedy Pitch Perfect, Ben Platt is also known for his work in Broadway musical Dear Evan Hansen. Let's have a glance at his journey from a fanboy to a Broadway star, and also find out his relationship status in our story.
Does He Have A Girlfriend?
The 25-year-old actor Ben Platt has caught the eye of many due to his impressive works, superior acting talent and charming personality.
No wonder, his emerging fanbase is curious about his personal life, but the American actor has been secretive when it comes to sharing his dating life publicly, except one time when he potentially came out.
Furtive Dating Life:- Hozier Bio, Girlfriend, Gay, Age, Net Worth
People want to know about his girlfriends and relationship status, including his gay fans as he not only has portrayed gay characters twice during his career but also has advocated publicly for the rights of the LGBTQIA community many times.

Dear Evan Hansen actor Ben Platt supports Obama for supporting same-sex marriage in 2012 (Photo: Ben Platt's Twitter)
In 2015, he played the outspoken gay bartender, Daniel fanboy of Meryl Strip's character Ricki in 2015 American comedy-drama film Ricki and the Flash.
Comes Out As Gay Via Music Video; Dating Anyone?
For years, the public pegged him as a closeted gay. No more content with living under a shadow other than his, Ben decided to come out - and in style, at that.
Released on the eve of Valentine's Day in 2019, the music video for his single Ease My Mind sees Ben finding love and comfort in the arms of Charlie Carver, his on-screen lover.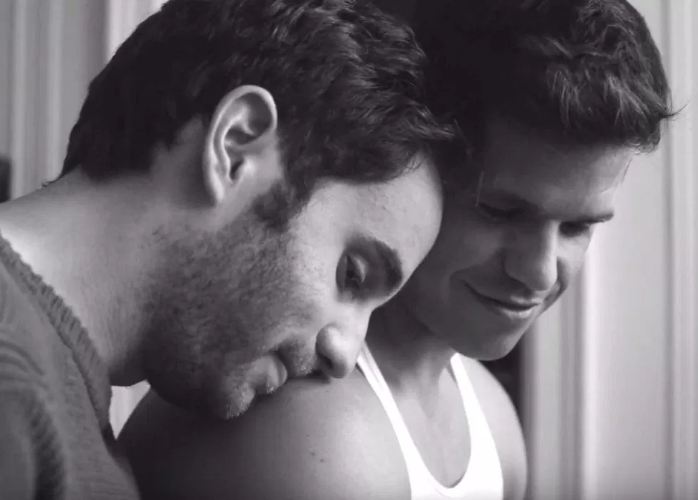 A screenshot of Ben Platt with his on-screen boyfriend, Charlie Carver from Ease My Mind video released in Feb 2019 (Photo:- towleroad.com)
Like his earlier video for Bad Habit, the cinematic clip provided a nuanced insight into the Broadway star's romance and sexuality. Talking to media after its release, Ben opened about his struggles with sexuality by saying:-
"I've been out since I was 12 years old to my family and anyone in my life. I've never sort of hidden that or been ashamed by it. It's just part of me."
At the same time, the Los Angeles native promised to share more on his dating life on his debut LP Sing To Me Instead, due on 29th March 2019. 
Previously Hinted About Being Gay
While Ben supported the gay community wholeheartedly, he hesitated to come out publicly. But in one stance, he potentially came out.
Rumored Gay Celeb:- Ansel Elgort Girlfriend, Gay, Father, Age
During the 2016 Drama League Awards, the Broadway Sensation said that he had his first break-up with a guy when he was 16 during a red carpet side-show "Truth or Dare" initiated by American Volgger, Tyler Mount.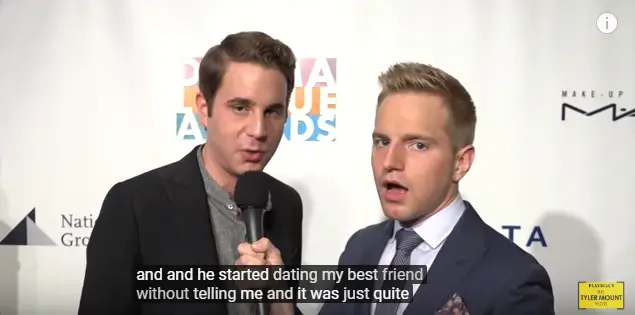 American singer Ben Platt says his high school boyfriend started dating his best friend without telling him in 2016 (Photo: Tyler Mount's Youtube)
Again, Ben didn't officially address the matter. But, the LGBTQIA community kindly embraced Ben with its open arms.
He portrayed the insecurity of adolescence through his character Evan on Dear Evan Hansen. Although the role was not gay, lots of young gay men related to Ben's portrayal on the show on the emotional level when Evan was battling social anxiety.
Again in Will & Grace and Ricki and the Flash, Platt portrayed the characters that could relate to the LGBTQIA community. 
Plus, the California native idolizes gay icons such as Meryl Streep and also is aware of the Feminist issues. 
Nevertheless, in March 2018, Ben and "Hamilton" creator Lin-Manuel Miranda performed their song 'Found Tonight' at the student-led gun-control campaign, March For Our Lives. 
The song was a mash-up of "You Will Be Found" from "Dear Evan Hansen" and "The Story of Tonight" from "Hamilton." 
Iconic Moments With Ben Platt
Although Ben hasn't revealed his sexuality publicly, there have been times when his posts made us think that he likes women.
Moments You May Like:- SAG Awards 2019 Nominees And Explicit Winner List - Full Of Surprises!
He made Beyonce come to see him perform in 2017, after continually requesting her to see Dear Evans Hansen live. In 2015, he had even proposed to Beyonce on Twitter.
"I know this is sups awks and I'm putting you on the spot here, girl. But if I don't ask Imma regret it. @Beyonce, will you be my valentine?"
With a tweet like that from such an adorable guy in 2015, Beyonce finally made it to his show in 2017.
Best Friends With Beanie Feldstein & Laura Dreyfuss
Ben is extremely close with his best friend Beanie Feldstein, an American actress who also starred alongside Ben on Will & Grace. Likewise, he has a greater friendship with his Dear Evan Hansen's colleague Laura Dreyfuss (Zoe Murphy) on the Broadway musical. 
At the very age of 19, Ben Platt did his Broadway debut in the "Book of Mormon," and another theater credit is "Dear Evan Hans."
For that experience in his Broadway debut, he divulged how much he liked Book of Mormon when he was in high school. He stated, 
"It was really incredible. I was a fanboy of Book of Mormon in high school like everybody else. I used to listen to the songs on my car on the way to school. I just worshiped that show — when I went to see it, it was one of the funniest shows I'd ever seen in my entire life. "To get to have my debut on Broadway be something that I felt some kind of ownership of was like, an embarrassment of riches. It was really amazing."
Ben started his career in 2004. At the very young age of 9, he played Winthrop in The Music Man at the Hollywood Bowl.
He made his screen debut in the musical comedy-drama Pitch Perfect (2015) and its sequel Pitch Perfect 2 (2015) for which he also got nominated for the Teen Choice Awards for the category Choice Movie: Male Scene Stealer.
Fellow Pitch Perfect Star:- Kether Donohue To Get Married And Have Husband - Just Not Yet
Further, he also did a cameo in "Ricki and The Flash" in 2015. With his work in theater and screen, he must have contributed a lot in his net worth. But so far the exact figure is not officially revealed.
Wins 2017 Tony Award For 'Dear Evan Hansen'
Ben Platt received the 2017 Tony Awards for Best Performance by an Actor in a leading role in a Musical.
The actor got nominated for his work in the critically acclaimed Brooklyn musical, Dear Evan Hansen. The original musical written by Pasek & Paul is one of the first prominent roles Ben has had the pleasure of performing as he plays the character of Evan Hansen, a high school senior with Severe Social Anxiety Disorder whose world turned upside down after a classmate's death.
Many complimented Ben over his role and his work in the musical.
Fans were happy for his achievement; however many were disappointed after Ben failing to meet fans after his musicals every night. Some even raged out about it. However, Ben made clear of his situation and also apologized to his fan on Twitter. 
Wiki Unveils Net Worth
Benjamin Schiff Platt was born on September 24, 1993, in Los Angeles, California to Jewish Parents Julie (née Beren) and Marc Platt. The blood of the theater runs deep in him as his father is a film, television and theater producer as well.
Ben - who boasts a reported net worth of $7 million - graduated High School from Harvard-Westlake School in 2011 and attended Columbia University, New York but had to drop out temporarily to fulfill his contract with The Book of Mormon. He later joined again and even became a member of the Campus Musical group "Nonsequitur A Cappella. "
Ben's first role was as Winthrop Paroo in The Music Man at the age of 9, and he even appeared on a National Tour with Caroline, or Change, at the age of 11. The actor also played the role of Jean Valjean in a youth theater production of Victor Hugo's Les Misérables.
He won the Tony Award for his leading role in Dear Evan Hansen and was praised by many for his work.