Entertainment
Dedicated Family man Blair Underwood Eternally Thankful To Wife & Reason Is Heart Melting
African-American actor Blair Underwood knows all when it comes to justifying the character to the fullest.
He portrayed the role of abusive husband on Madea's Family Reunion, making it real to such extent that many cannot help but speculate the actor to be abusive in real life. 
There's no question that Blair is a great actor in himself, and in his 50's, he may not be abusive but is a family man. Blair is a very dedicated husband and a father, who has taken his married life for more than two decades. 
But the love for each other is still fresh and new like that of a newly married couple.
So, if you want to know the extraordinary love story of two decades, then you better not miss the article!
23 Years Of Married Life; "Eternally Grateful" To Wife 
While Blair has been ruling the audiences' hearts from his big screen roles, his wife also contributed from her behind-the-camera works. She was Eddie Murphy's assistant for three years, from 1989 to 1992.
The movie buff couple later exchanged the wedding vows in front of 350 guests, held at a plush private estate 50 miles south of Los Angeles on 17 September 1994. 
The day, the L.A Law actor Blair turned his fiancee Desiree DaCosta his wife, was attended by the likes of stars including Will Smith, Angela Bassett, Kim Fields, Malcolm-Jamal Warner.   
The couple first met four years before their marriage at a Hollywood Party which was an "instant love connection" as per Desiree. Blair later popped the question in 1993's New Year's Day under the Eiffel Tower.
After the three years of marriage, the couple welcomed their child, a son named Paris in 1997. Shortly after that, the pair was again blessed with their first daughter, Brielle in 1999 and a son named Blake in 2001.
With the family of five, Blair has been sharing quality time with his children and wife aside from his busy schedule. Blair was spotted spending family time in Mexico with his family.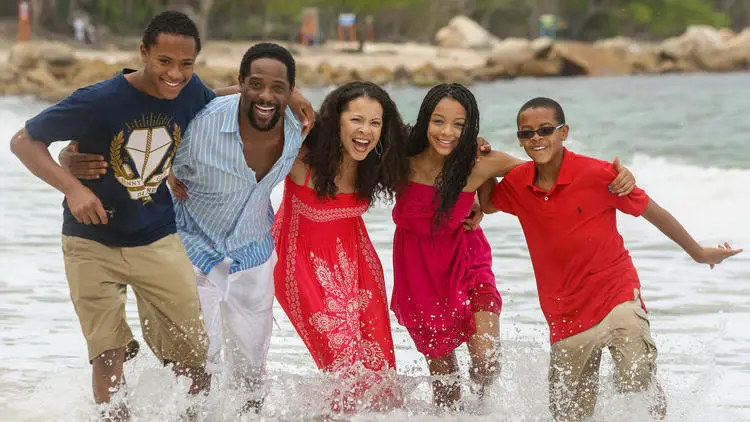 Blair enjoys a family vacation in Mexico (Photo: chicagotribune.com)
Blair made his family love more evident when he had to leave his family for the NBC series, Ironside in 2013. The actor instead convinced the production to film the series, Ironside's pilot episodes in Los Angeles instead of New York. He stated:
"I been married for 19 years and have three children [...] And family is the most important thing especially at this time in life. After six months in New York doing stage, I really didn't want to be away from my family that long, and NBC was nice enough to shoot the series here, which is great."
Well, finding a marriage that's survived over a two-decade is rare to see, and it is truly a hump of wedded bliss. And Heat Wave star regards his wife, Desiree as the most amazing and incredible mother to their three kids. And he is eternally grateful that she has embraced God's assignment to their family.
Family Love
It's not only his relationship that can amaze, but his parents' relationship is something that is very difficult to find. 
Born to an Army colonel father and an interior designer mother, Blair learned many things with the good and smooth relationship of his parents. And the longevity of his parents' relationship seemed to have served as an extra point for his married life.
Blair, who has an older brother and two younger sisters, regards his parents as heroes in love and they have taught him what a relationship can be-enduring and powerful. His parents are married for the last 58 years. On April 2014, he shared the great moment and congratulated his parents on their 54th years of marriage via facebook. He quoted them as his "role models" and "example extraordinaire."
So, with his rising career in the entertainment industry, Blair Underwood has a very supportive family who has helped him to reach the height in the career.