Entertainment
Brandon Larracuente Is Dating And Is Definitely Not A Gay Man; Here Is How His Girlfriend Looks Like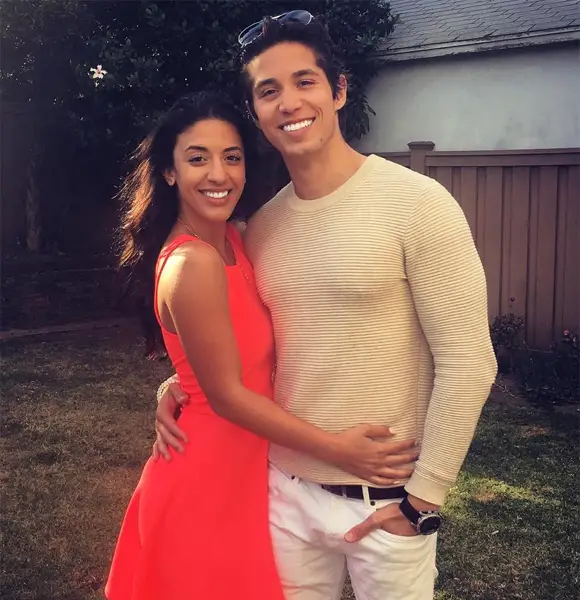 Life is beautiful, and celebrities make it sensational as well. Everything they do becomes a trend, and everyone watches them to bring some spices in their lives. Either it is from the reel life, or real life, public need and always hope for some spiciness.
Jeff Atkins of the Netflix Original series 13 Reasons Why is all set on fire this time. You figured that right; we are talking about the most promising young actor Brandon Larracuente.
Being labeled gay for a brief period of time, the actor has now found a girl who he can share his love with. The only question is who?
Brandon Rumored To Be Gay: Girlfriend Alert!
Brandon Larracuente is one of those celebs who don't hesitate to post their manly body online. With multiple Instagram posts of his sizzling shirtless body, the 13 Reasons Why star seemed to catch the attention of both males and females.
No wonder how the star did boil gay rumors after a long list of boys wishing to have a physique like him.
Read Also: 13 Reasons Why Star Brandon Flynn Gay Love Revisited By Hurt Boyfriend
But the gay rumors turned false after the actor broke the news of his relationship with girlfriend Jazmin Garcia. Brandon and Jazmin, after that, have been seen flaunting each other's pictures on Instagram and Twitter occasionally.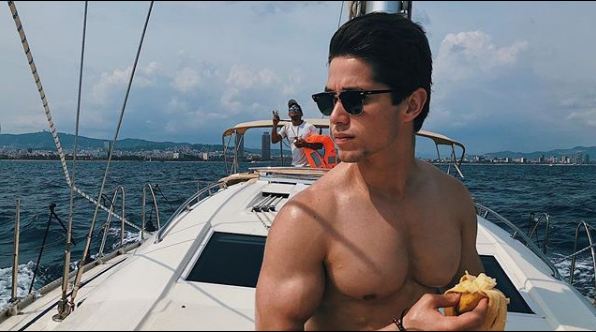 Brandon showoff his masculine body (Photo: Brandon Laracuente's Instagram)
Although the couple is yet to reveal the exact date of the initiation of the relationship, the couple has been spotted at many events, the most vivid catch up being the event conducted by 13 Reasons Why squad.
Don't Miss: Justin Prentice Has A Wonderful Girlfriend; Dating Affair Contentful Or Torturous?
Keeping their relationship public, the star has not left a spot to show the world who his beautiful girlfriend is and to tell her how much he loves her through simple posts. Either on her birthday or on Valentine's day, the duo have their post ready for their followers to see.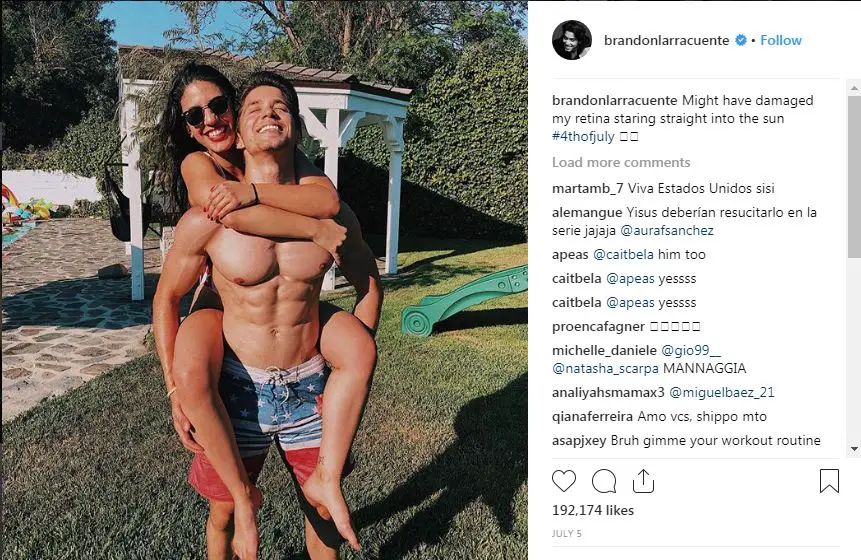 Brandon celebrating 4th of July together with girlfriend Jazmin (Photo: Brandon Laracuente's Instagram)
From the popular show 13 Reasons Why, Brandon Larracuente has made his place in the hearts of everyone. All the followers have loved the character 'Jeff Atkins' and praised him for the character he has built from scratch, since not having the real appearance in the original book.
The actor does deserve the stardom that he has received today.
Brandon Larracuente Wiki: Parents, Height, Movies
Brandon Larracuente is from Pleasantville, New York and was born on November 11, 1994. The actor with 6' (1.83 m) height is from Puerto Rican family. He is the son of Israel Laracuente, a retired New York homicide detective and his mother is also US city police officer.
He usually keeps his family life under a tight lip but says he loves to spend time with his granny watching telenovelas together.
Relevant Article: "13 Reasons Why" Star Ajiona Alexus Bio At Age 22 Reveals Exciting Parents & Family Bond
Talking about career, Brandon first engaged himself in the New Rochelle Opera House and Off-Broadway Show called Desire. Later he, along with his family, moved to Florida. The actor kept his interests alive after the migration as well.
He worked in "Charlie and the Chocolate Factory," and "It's a Wonderful Life" at the Orlando Repertory Theatre. His first TV appearance was in the 2008 short film, Havana but best known for his role in an episode of A&E's hit series, The Glades (2013) and Nickelodeon's favorite show, Every Witch Way (2014).
His other TV shows include Constantine (2014), Bloodline (2015), Max Steel (2016) and Rings (2017). We recently saw him in the movie Baywatch (2017) along with other famous actors and actresses like Dwayne Johnson, Zac Efron, Alexandra Daddario, Pamela Anderson, David Hasselhoff and much more.