Entertainment
Brendan Penny: Everything Ranging From Age and Birthday to His Family Details
Some people know what they are passionate about since a tender age. 
Knowing his love for acting, the Star War obsessed Brendan Penny, knew he had skills deep underneath himself that he needed to unleash. Following his passion and love for acting, he stands as a proud Canadian actor who loves what he's doing and at the same time spreading some real love towards his family.
Keeping his personal life off keys, the family guy has some details to share with everybody! 
Brendan Penny Bio:
Born in Ottawa, Ontario, Brendan Penny, like all the nicest people, is a Canadian. The Canadian actor, raised in London and Ottawa, later made it to Hollywood.
Brendan has been in notable movies and has an exquisite family. If you want to know more about the Star Wars fan Brendan Penny, we have it all covered.
Read Also: Eric Johnson Got Wife For Birthday; Meet His Partner-In-Crime
Brendan Penny developed his interest in the entertainment business from his childhood days. The Star Wars obsessed Penny revealed that he used to tape the Star Wars movies and mute it to recite the lines. Perhaps that was when his love for acting was ignited.
While growing up, he was a class clown and participated in school skits. He made everyone laugh and dreamed of being a stand-up comedian.
After completing his high school, he went to Fanshawe College in London, Ontario, and earned a degree in accounting. Even though he pursued accounting on his father's advice, deep down Brendan knew he did not want to be an accountant.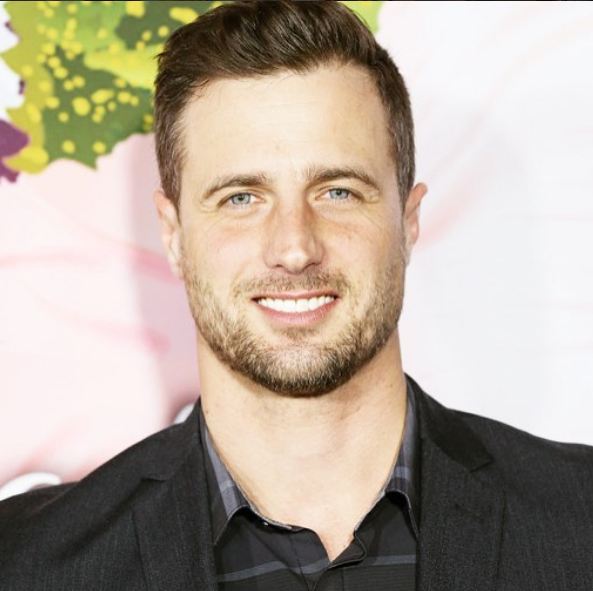 Brendon is a Canadian actor who is popular both for movies and TV-Shows (Photo: Brendon Penny's Instagram)
When his father realized his love for acting and suggested that he seek his passion, Brendan bought a one-way ticket to Vancouver and studied acting for two years in Lyric School of Acting.
He started his career with a guest role in Jake 2.0 in 2003. He got famous after he was cast in the first season of Whistler in 2006. 
As of now, the television actor has been a part of hit series like Supernatural, The L Word, The Assistants, Motive, and A Dash of Love. He has also been in a handful of movies like Held Hostage, When Jesse Was Born, and John Tucker Must Die.
More Supernatural Crew: David Haydn-Jones May Just Be Married! Wife Revealed Despite Secrecy?
He got more attention from the TV series The L Word as he was featured shirtless in it. The series depicts the lives of a group of lesbians and is popular among the LGBT+.
His current movie, Hallmark's "Pride, Prejudice, and Misletoe", co-starring Lucy Chabert is much anticipated for.
The movie, which is made out from the number no bestseller portrays a story about Darcy Fitzwilliam, who is a young and hardworking woman who returns home for holiday and falls in love with her old friend Luke Bennett.
This enchanting love story is highly awaited by the audience.
Brendan A Family Guy: Talks About His Wife And Kids!
Apart from being a part of some admirable series and movies, Brendan Penny has an adorable family to go home to. 
The family guy, Brendan is married and blessed with two children and lives in Vancouver Island with his wife, children, and a dog. Since he keeps his personal life mostly private, people assume that he is gay. But he is not!
His wife is a marine biologist who loves to spend time with her husband and kids down the beach!
Don't Miss: Madison McLaughlin Wiki: Boyfriend Talks To Family Status – In Her Own Words!
Though he makes it a point to keep his personal life hidden from the media, he makes certain exceptions at times to share pictures of his adorable family on social media. And some of them are just too cute to handle!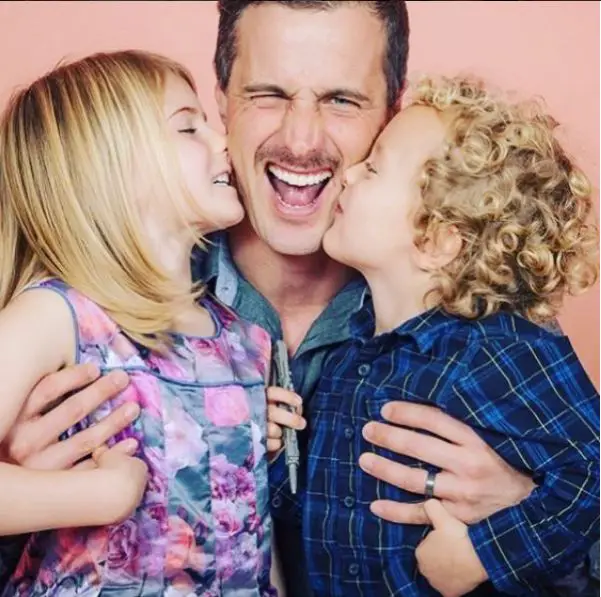 Brendon with his two adorable kids giving him a kiss on both sides of his cheek (Photo: Brendon Penny's Instagram)
Likewise, the loving father shared a picture of the art station he made for his daughter.
Brendan is quite vocal on social media. The actor made a tweet and let his fans guess his age on his birthday, November 9.
Well if you are wondering, Brendan is 39 years old. 
He also took it to Twitter to wish his lovely wife a happy anniversary which happens to be on the 1st of August. 
Happy anniversary to my love! 7 years with me sure ain't easy!

— Brendan Penny (@BrendanJPenny) August 1, 2017
From the tweets and pictures, we can conclude that Brendan Penny, with a net worth of $ 1 million, is an exceptional father and a loving husband. The Penny parents no doubt have been giving their kids lots of love!