Marley Marl spat with girlfriend...wife prospects include the likes of...has four kids who are...new songs don't carry the same...boasts a net worth of...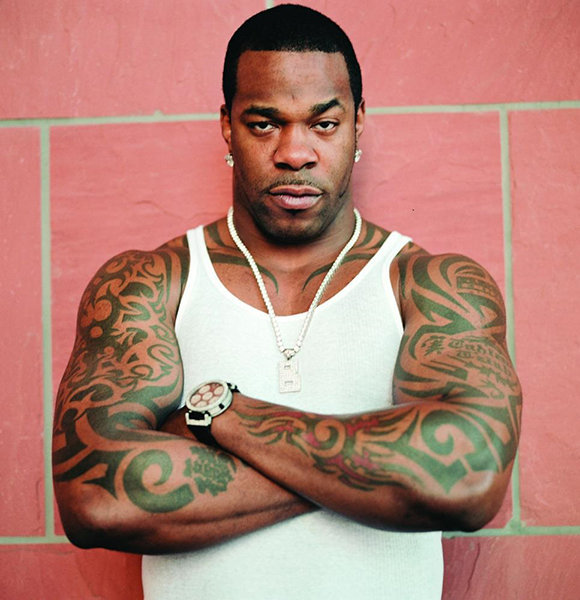 Renowned for his multi-syllabic rhyme scheme & rapid-fire rapping style, Busta Rhymes is a legendary Hip-Hop artist. Hailing from the East Coast, he burst into the music scene as the member of the iconic group, Leaders Of The New School.
Nicknamed after NFL legend George "Buster" Rhymes, Busta garnered unprecedented success as a solo artist. His music videos, more so than the singles themselves, became the highlight of his career.
Is Busta Rhymes Anti-Gay?
Extravagant in its approach, Busta's music videos were outlandish. The costumes he donned while appearing on them were very gender-bending in design. Thus, gay and straight alike banded together and supported his art.
The same gay fans, who rallied for his success, called him out when the Look At New rapper allegedly hurled gay slurs at a Chelsea gym staffer, Ole Hernandez. Transpired in 2015, the incident left the alleged victim with swelling around the head area.
Following the confrontation, Busta got slapped with a felony charge. Cutting a plea deal, he agreed to take anger management classes.
Accused Of Homophobia:- Sauce Walka Bio, Net Worth, Real Name, Girlfriend
Ironically enough, Busta got the taste of his medicine four years later. In 2019, he was at the recieving end of unflattering gay remarks. Lucky for the homophobic fan, the incident didn't escalate.
Girlfriend, Wife & Kids Details
Busta's six feet & an inch (1.85m) height and 98 kgs weight make him an intimidating figure. His physical stature, however, never posed as a problem while pursuing wife prospects.
The "Woo Hah!" wordsmith's list of industry girlfriends runs long. Of all his past love affairs, video vixen Karrine Steffans and model/rapper Deelishis should get a notable mention.
His dealings with past girlfriends pale in comparison to history with highschool sweetheart Joanne Wood.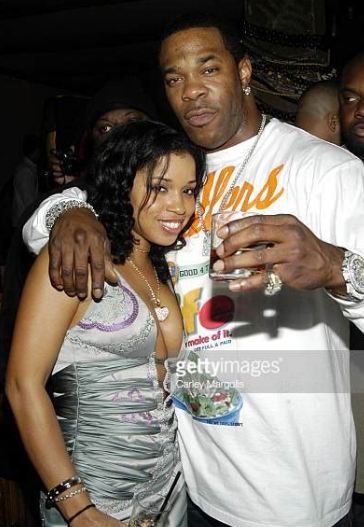 Busta Rhymes with then-girlfriend Joanne Wood from back in the day (Photo:- cellcode.us)
Joanne Wood is the mother of Busta's three of four kids: T'Ziah (b. 1993), T'Khi (b. 1999), and Trillian (b. 2001). He also has a daughter named Mariah from a secret relationship.
Rappers' Baby Mother:- Erykah Badu Multiple Kids & Different Baby Father; Who Are They, Dating Now?
After a decade long romance, Busta and his once-wife prospect, Joanne entered custody battle in early-2000s. The Break Ya Neck rapper eventually won the guardianship of their children while Joanne came out as a lesbian.
New Songs & Net Worth Info
Busta's public spat with Joanne led to the rapper getting arrested for unpaid child support in 2000.
His financial woes continued well into the 2010s. Despite boasting a $20 million net worth from record sales, touring, film appearances, and endorsement deals, Busta reportedly owed IRS over $800 thousand in back taxes in 2014.
Boasting a discography that includes nine solo studio albums and three collaborative projects, Busta is the voice behind classic anthems such as I Know What You Want, Dangerous, Arab Money and Make It Clap. Sadly, none of his news songs carry the same enthusiasm as them. 
Age In 2019 & Family
Even with the dip in his musical career, Busta is as on-demand as the next rapper. For context: in May 2019, he celebrated his 47th birthday.
Veteran Rap Legends:- Marley Marl Age, Now, Net Worth, Wife, Family
Inheriting Jamaican lineage, Busta was born in 1972 to parents: Trevor Smith, Sr. (1938 -2013) and Geraldine Green. His real name is Trevor Tahiem Smith, Jr.
Coming from a family of four, the Shaft actor is brothers with Paul Smith. He went to the same high school as  Jay-Z, DMX, and The Notorious B.I.G.