Entertainment
Charlie Carver Just Needed A Quote To Come Out As A Gay Man; Has A Boyfriend?
So how does it feel to stay in self-shadow for years? Ask Charlie Carver, best known for the role of Ethan in Teen Wolf. He was born this way. Actor Charlie Carver who is best known for his roles on Teen Wolf as well as Desperate Housewives — came out as gay in a series of his inspirational Instagram posts.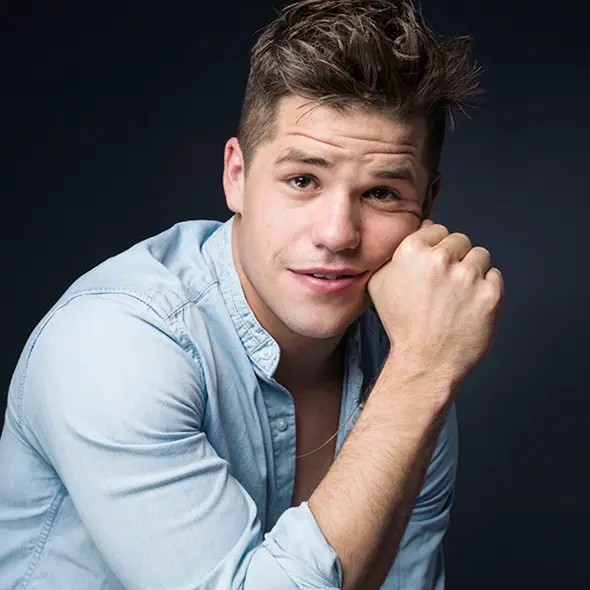 So how does it feel to stay in self-shadow for years? Ask Charlie Carver, best known for the role of Ethan in 'Teen Wolf' as he was born this way. 
Actor Charlie Carver who is best known for his roles on Teen Wolf, as well as Desperate Housewives, came out as a gay in a series of his inspirational Instagram posts.
Did his father's coming out when he hadn't even reached his teenage years, in any way, shaped his own? Also, ever since opening about his sexuality, has he been on a dating spree? If yes, who's his boyfriend? Read along to find out!
Charlie Carver's Coming Out As Gay Story
Finally, after long years of rumors, Charlie Carver has opened about his sexuality.
Discover:- Bibiana Julian Age 31 & Peter From 'The Bachelor' Are Dating & It's Official
The 30-year-old actor, who stars in hit shows like Teen Wolf, Desperate Housewives, and The Leftovers, took to Instagram on January 12, 2016, to repeatedly share a single quote that was most important to him.
One of series of Instagram posts that signaled Charlie's coming out of the closest (Photo:- Charlie Carver's Instagram)
But what was more important in the photographs were the captions of the photos, which included a lengthy but emotional message. In gist, Charlie Carver shared that he is gay. Carver wrote:
"Be who you needed when you were younger. As a young boy, I knew I wanted to be an actor. I knew I wanted to be a lot of things! I thought I wanted to be a painter, a soccer player, a stegosaurus... But the acting thing stuck. It was around that age that I also knew, however abstractly, that I was different from some of the other boys in my grade. Over time, this abstract 'knowing' grew and articulated itself through a painful gestation marked by feelings of despair and alienation, ending in a climax of saying three words out loud: 'I am gay.'"
In the post, Carver said that he came out to his friends and family know that he was in a safe space with his beloved ones and his sexual orientation was "celebrated." However, his careers in Hollywood and acting it was more complicated for him. The star continued:
"I did not want to be defined by my sexuality. Sure, I am a proud gay man, but I don t identify as a Gay man, or a GAY man, or just gay. I identify as a lot of things, these various identifications and identities taking up equal space and making up an ever-fluid sense of Self."
Moreover, he added:
"As an actor, I believed that my responsibility to the craft and the business was to remain benevolently neutral – I was a canvas, a chameleon, the next character. For the most part I had a duty to stay a Possibility in the eye of casting, directors, and the public. If I Came Out, I feared I would be limiting myself to a type, to a perception with limits that I was not professionally comfortable with."
Carver explained that he came out as a gay to his family when he was 17. He divulged,
"I wanted to feel I was in a place where I could work comfortably and where I felt like I had something to say. Part of my decision to come out was because I was ready to take on that conversation in a more public forum."
Furthermore, in a 2017 interview, he made a shocking claim that he would have given up on his acting career had he not come out and accepted his sexuality.
"I didn't really give a f**k at that point because, for me, not that I was living under duress, but I'd said to myself if I can't do this when I'm young, I'm not sure I wanna stay in this business,"
The star continued,
"I think the world is changing, representation is changing, and I wanted to be a part of that and I wouldn't wanna be in this business if I couldn't be a part of that."
But after playing characters in television and movies of both gay and straight, Carver realized that the business has become dynamic and is changing. 
Don't Miss:- Gianluca Vacchi Age 51 New Girlfriend After Split With Wife, Who Is She?
Following those LGBTQ trailblazers before him, Carver now feels more "excited" than ever to be himself and help others like him to discover their true identities. He said:
"So now, let the record show this – I self-identify as gay… I owe it to myself, more than anything, to be who I needed when I was younger. And let the record show my twin brother is just as cool for being straight."
Nice to know that he has a tremendous amount of pride in himself.
Boyfriend Talks: Who's Charlie Carver Dating Now?
Although he was once speculated to be dating 'Arrow' Star, Colton Haynes, it is not sure as both haven't spoken in public about their relationship.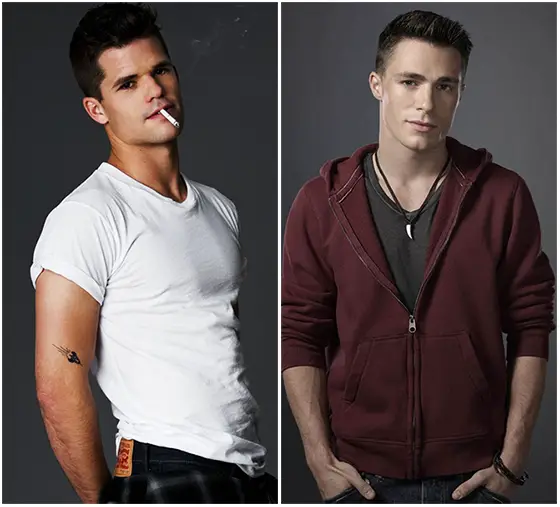 Openly gay Charlie Carver was rumored to have a boyfriend and that to his co-actor of 'Teen Wolf' Colton Haynes.
Although there are speculations as both of them dating together on social networking site, to date, there is no concrete evidence to fuel up their dating affair.
All in all, Charlie and his alleged boyfriend Colton Haynes' romance couldn't have lasted more than a couple of years. Because less than a year and a half after being romantically linked with his Teen Wolf co-star, he was already dating a handsome hunk named Steve Miller.
See Also:- Billy Gardell & Loving Wife | Weight Loss & Net Worth Of Stand-Up Comedian
The fans first got wind of the furtive romance between the two once The Leftovers star shared a snap of his alleged boyfriend Steve on 2018 Valentine's Day. Upon running down Steve's Instagram, it's quite clear that the lovebirds have been "vacationing" in Europe for a while.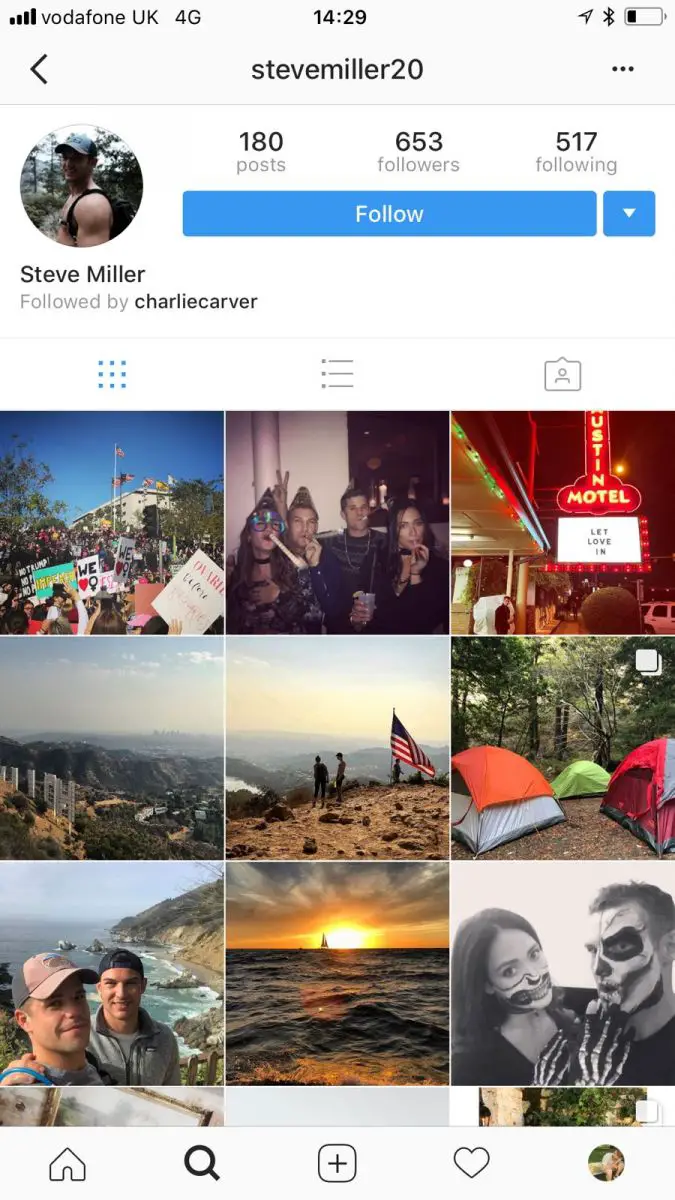 A screenshot of Charlie's boyfriend Steve Miller's Instagram (Photo:- gaystarnews.com)
Charlie, however, hasn't made himself available for comments regarding his new romance with relatively unknown Steve.
Charlie Charver On His Late Father's Sexuality
After a year of coming out as a gay, Charlie revealed that his late father Robert Mortensen was gay too. Charlie said that his father came out as a gay in front of him when Charlie was aged just 12.
Following his parents' divorce, his father had confided in him regarding how his coming out as gay had put an end to the marriage with his mother. He also said he initially resented him.
Charlie elaborated this in such words.
"In the way that sons and fathers can have beef regardless of [sexual] orientation, it was just something where I wanted to be able to define myself, set my own rules. I felt like I had all of a sudden someone who I was gonna be forced to become, and I didn't wanna be like him."
Charlie also added,
"I think he taught me, in the way that he lived his life, that your sexuality doesn't define you. It's an important part of who you are, but he had such a rich life. I think because I was frustrated by what I would call some of his own internalised shame, that it almost became this challenge to really get to the bottom of that quickly, for me. It kind of propelled me into being louder and brasher and more experimental. And I think that hurt his feelings sometimes, but I think he was also grateful."
They say children learn from their parents, and in this case, Charlie looked up to his father to accept who he is and enlightened himself that a person's sexuality does not define who he is.
Interesting:-  Pete Davidson Dating Months After Painful Ariana Split, Who Is New Girlfriend
In 2018 PEOPLE interview, the Desperate Housewives star would further delve into the topic of how his father's coming out as a gay story has affected his own. Although he had known about being different than his twin brother Max, he hadn't opened about his sexuality to his friends and family until his teens.
One of the main reasons behind him coming out so late is to protect his mother. He explains,
"The tricky one was my mom because of the hurt she experienced in the divorce. I didn't want to re-injure her."
But when he finally mustered enough courage to confront, his father and brother claimed that they "already knew."