Entertainment
Does Chase Chrisley Have A Girlfriend? A Rumored Gay Man who Cleared Up Dating Rumors Subtly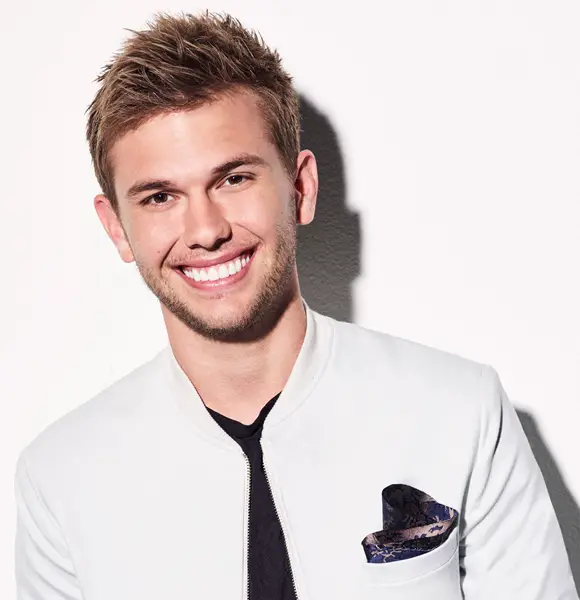 Quick Information
Date of Birth Jun 01, 1996
Profession

Reality Star

Zodiac Sign

Gemini

Ethnicity/Race

White

Father

Todd Chrisley

Mother

Julie Chrisley

Brother/s

Kyle Chrisley

Sister/s

Savannah Chrisley & Lindsie Chrisley

Relationship Status

Single

Ex-Girlfriend

Brooke Noury (2015)

Gay

No

Net Worth

N/A

Height/ How Tall? 5' 7" (1.70 m)
Hair Color

Light Brown

Eye Color

Brown
"Chrisley Knows Best" star Chase Chrisley is a good looking young lad, who has been attracting several people's attention with his good looks and equally famous career as a reality star.
But with the gay rumor swirling around him, the question arises; is Chase himself attracted to a man? Is he a gay, as people often speculate him to be? Or does he have a lady in his life at present or past to shove those rumors into infinity?
Does Chase Chrisley Have Girlfriend? Or Is He A Gay As Speculated?
For a long time, Chase Chrisley maintained silence regarding his dating life. Moreover, he didn't flaunt a girlfriend in front of the public and media, which is why the fans speculate him to rather have his sexual inclination towards men rather than women, and that made him a gay man in front of the people.
But, is he a gay man? Well, he has not opened up and come out as gay, so it remains unclear if he belongs to the gay community.
However, the fans know that he was once in a dating relationship with Instagram sensation, Brooke Noury. They dated for quite a reasonable period, but back in October 2015, the reality star and his flame Noury suffered a split.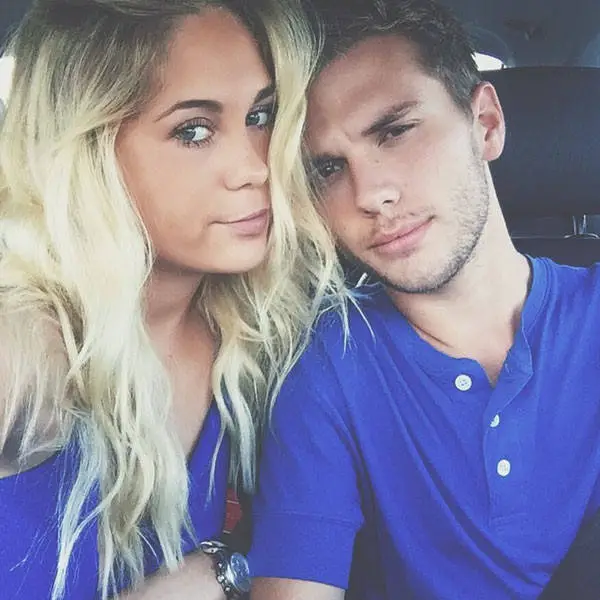 Chase Chrisley and Brooke Noury dated one another back in time (Photo Credit: eonline.com)
He deleted all of Brooke's photos from his social sites, and also took over his Twitter to share how he felt about his break up. A speechless Chase decried about the deceitful nature of "people."
So, was Brooke unfaithful towards Chase? It remains a mystery what had happened, but judging by Chase's words; there is some fire of unfaithfulness between the two of them. 
Chase's dad, Todd Chrisley, however, did not seem too concerned about his son's relationship woes.
Todd said,
What relationship? You're 19."
Moreover, Todd also opened about his son's dating life while he is at college,
 "Chase is trying to screw his way through the entire campus. He's a typical teenage boy that I have to pray over daily."
But, this very relationship between Chase and Brooke surely eliminates the gay rumors that often surround him. Furthermore, before jumping into the deep end right away, let us wait for the man himself to speak on the matter, addressing whether or not he is gay.
Additionally, the connection Chase and his BFF Brielle Biermann were under questions, as they were often seen having fun together.
An example of that witnessed, when Chase and Brielle were seen getting cozy on Brielle's parents' fourth wedding anniversary. But nothing much got revealed by the two, and thus, there was probably nothing between them other than mutual respect and care.
Interestingly enough, Chase broke up with his former girlfriend on the same weekend his sister Savannah Chrisley bagged the title of "2016 Miss Tennessee Teen USA."
Chase's Family Life
Speaking of Chase Chrisley's sister, Savannah was once in a relationship with Blaire Hanks. After Blair, she began dating a baseball player, Luke Kennard. Savannah and Luke later announced their split.
More On Savannah and Luke's Split:- NBA Star Luke Kennard's Girlfriend Savannah Chrisley Opens Up About The Split! Break-Up Couldn't Be More Lucid
Savannah and Chase share an eternal bond of love. Savannah loves sharing Chase's images on her Instagram as well, which is evident through the picture she shared wishing her elder brother on his birthday.
Not only is the love between Savannah and Chase adorable, but the love, which the entire family shares, is terrific to see as well. He is in absolute love with his mother, Julie. Furthermore, him wishing his father on his birthday gives the fans an insight as to how much he loves his father.
Besides Savannah, Chase has three other siblings- Kyle Chrisley, Grayson, and Lindsie. The family is close-knit!
This lad, who is White in ethnicity, is also someone who loves tattoo/s and pets. He was also made to remove those tattoos by his father, Todd. In Todd's own words,
"Well, here's my thing. I paid for him to go a private Christian school his entire life, So if he doesn't know that Bible verse by now and he has to use his body as a cheat sheet, then I need a refund from the school that I sent him to!"
Chase too addressed this debacle in such words,
"I'm on my third treatment, I have 13!"
He also took over Twitter to shed some light on the tattoo thing. On 16th March 2016, he sent out a tweet which read:-
"In my opinion, I made a genius decision.. $300 for the tattoo... Got $140,000... And people say Todd won ;) #ChrisleyKnowsBest"
There were reports that he was even offered a Range Rover if he'd get rid of Bible inking. Whoosh!
'He offered me a Range Rover to get it taken off,'
Chase then added,
'But... the reason I got it taken off is I saw how disappointed my parents were, and I was just like 'you know what, if it will make them happy, I'll get it taken off,'
His father has a net worth of $5 million. So, a Range Rover is no big deal for your dad, Chase!
Meet Chase's New Girlfriend; Dad Addresses Gay Rumors
Two years after the bitter split with ex-girlfriend Brooke, in late 2018, Chase made a big splash into the dating pool.
And from what it appears, his attempt bore a colossal success. Since the winter of 2018, he and his girlfriend Lindsey Merrick have become very serious on the PDA.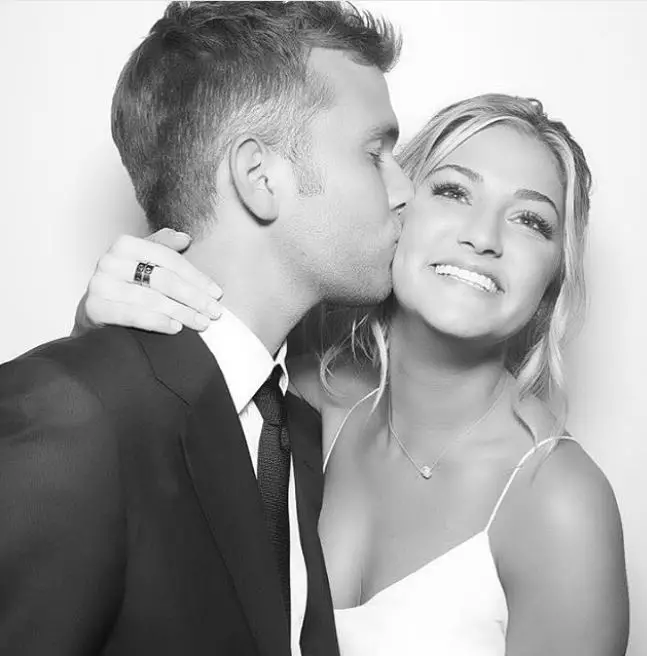 Chase Chrisley lands kiss on his girlfriend, Lindsey Merrick circa Dec 2018 (Photo:- Todd Chrisley's Instagram)
Ever since the time they came out as a couple, Chase and his gorgeous girlfriend Lindsey have gotten very close. The latter even recieved a stamp of approval from the former's father, Todd Chrisley.
Towards the end of 2018, Todd shared the image of the two on Instagram and spoke highly of his son's new wife prospect. An excerpt of the said post's caption read:-
"We are so blessed to have this young lady [in Chase's] life, we love you sweet girl."
Ironically enough, like Chase, his dad too is familiar with gay allegations. Tackling the very issue, Todd once said:-
"I'm flattered that people think I can get laid on both ends. So, that doesn't bother me. And my wife certainly is flattered that as many men want her husband as there are women... "
Perhaps, Chase also shares a similar stance!