Entertainment
Chrisette Michele Husband To-Be Rift? Set To Get Married, What Happened?
Before her performance at President Trump's inaugural ball in 2017, Soul songstress Chrisette Michele had a damn near dent-free musical career with songs and albums that saw her one of the most potent voices of her generation.
Following her said performance, the New York native faced widespread backlash for endorsing Trump's presidency from African-American community; some went as far as labeling her a "sell-out."
The aftermath of the debacle also saw her song Black Girl Magic getting dropped from then up-coming Netflix series "She's Gotta Have It." In retaliation, Chrisette's manager and then soon-to-be husband, Doug, released an open letter director aimed at the show's creator Spike Lee all the while defending her honor.
The Be OK hitmaker, age 35, and her husband prospect Doug, however, are far from being the perfect couple.
From Lawsuits To Soon-To-Be Married: Chrisette & Husband Prospect's Whirlwind Romance
Unlike other marriages whose trouble begins only after the fact, Chrisette and her future husband Doug "Biggs" Ellison's problems started well before they were romantically involved.
Read Also:- Taylor Mills Age 31 Is Married, Intimate Wedding Ceremony With Brett Young!
It was Biggs, the CEO of Four Kings Production, who helped the Ashton Martin Music singer to land her first record label deal at Def Jam. With the backing of Def Jam and Biggs in the role of manager cum love interest, Chrisette released his debut album "I Am" in 2007.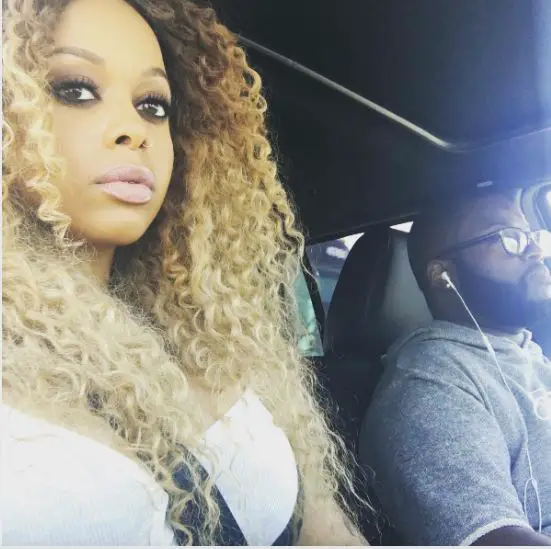 Chrisette Michele and her fiance Biggs (Photo:- Bossip.com)
By then, their relationship had already turned sour resulting from contract dispute among other things, which led to Chrisette filing a lawsuit against Biggs' Four Kings Production accusing his company of money embezzlement.
Three years later, in 2010 Biggs filed a countersuit accusing the Epiphany soulstress of getting engaged in illegal activity to .get out of her Def Jam contract.
The pair would remain estranged for seven whole years before Chrisette decided to send an email to her then-estranged lover Biggs writing her feelings. Biggs then replied by writing that he had "never stopped loving" her.
Discover:- Why Hasn't Fox News' Bill Hemmer, Age 52, Not Married Yet? Does He Have a Girlfriend or Engaged?
Within days of getting back together, the pair got engaged. The one-time Motown signee took to Instagram to share the news. The caption of the post read:
"The Queen of Four Kings | My heart has been officially stolen | Soon to be Mrs. @biggs4k"
The head honcho of Four Kings Production followed suit by posting the engagement ring.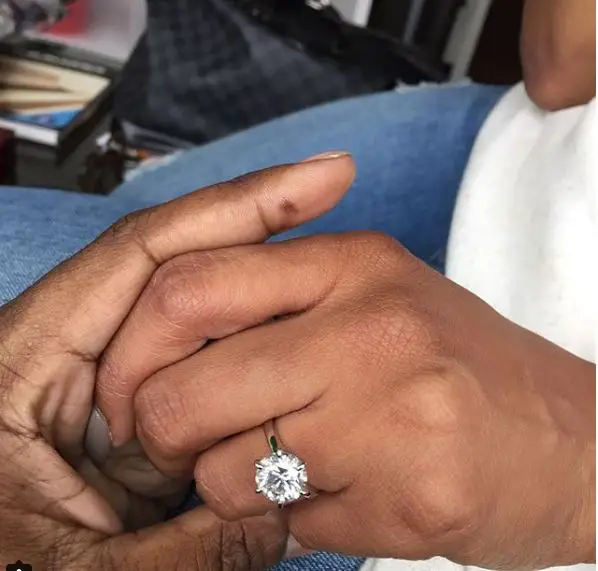 Biggs showcases the engagement ring via Instagram (Photo:- Bossip.com)
Following their engagement in October of 2015, Chrisette soon-to-be husband Biggs threw an all-white surprise engagement party. The couple's close industry friends and family had attended the party.
Interesting:- Piers Morgan, Massive Net Worth Holder Fired By CNN? Here's The Truth
When asked why she had chosen to give their relationship another go in the Bossip's Don't Be Scared Podcast six months later, the former Def Jam act gave her explanation by saying:
"In college, my boyfriend and I worked together and we got our first record deal together. We got into the music industry and things went haywire with litigation and when litigation was over, we missed each other."
Now that the soon-to-be-married pair has seemingly put their past transgressions behind them, they can focus on their respective careers.
Chrisette Michelle In 2018: Albums, Songs & Net Worth
Before dropping her debut album, "I Am" in June of 2007, music lovers at large had become familiar with the R&B singer through her now classic features in numerous songs including fellow Def Jam artists Jay-Z's Lost One and Nas' Can't Forget About You.
"I Am" boasts some of her most potent songs including Be Ok, which won her solitary Grammy in 2009. Chrisette's second album Epiphany, on the other hand, is often considered her most significant work -- a magnum opus if you will.
In the subsequent years, Chrisette - who has a reported net worth of $1 million - released three more albums: Let Freedom Reign, Better, and Milestones under the imprints Def Jam, Motown and Rich Hipster respectively.
Musicians In Our Vault:- Little Richard Now In 2018; Gay Man Who Denounces Queer Relationships
Her fifth studio album Out Of Control is set to hit the various Streaming Platforms towards the latter end of 2018.