Entertainment
Christie Brimberry Beats Cancer At Age 44, Husband and 6 Children Supports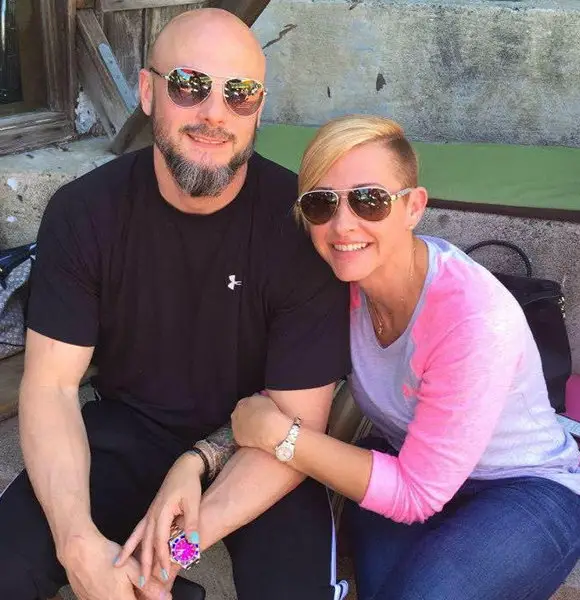 Quick Information
Divorce/Split

Yes (Once)

Lesbian

No

Body Measurements

37-25-36 inches

Eye Color

Blue

Hair Color

Blonde

Hair

Short

Weight

68 Kg (150 lbs)

Height/ How Tall? 5'9" (1.78 m)
Education

Not Known

Net Worth

Not Disclosed

Dating/Affair

No

Ex-Husband

Name Not Disclosed

Date of Birth Mar 25, 1972
Husband/Spouse

Darren Brimberry

Relationship Status

Married

Children/Kids

6

Daughter/s

Malik Grinage

Son/s

Jordan Grinage

Parents

Not Revealed

Ethnicity/Race

White

Religion

N/A

Zodiac Sign

Aries

Profession

Reality Star

Nationality

American
American Reality star Christie Brimberry first rose to fame in 2012 after starring in the Discovery Channel car-makeup series, Fast N' Loud alongside highly-skilled employees such as Aaron Kaufman, a talented mechanic. The show features American entrepreneur Richard Rawlings and his crew restoring old cars for profit at the Dallas Texas-based car garage brand, Gas Monkey Garage.
Brimberry does not have issues in the money department as she is the manager of Gas Monkey Garage from where she earns a lofty income. Plus, the personal front of her life is equally rewarding like her-high-net-worth contributing career. Christie has an estimated net worth of around 1 million US Dollars.
However, her life hasn't always been a doozy tale. In the past, she suffered from a horrifying disease.
Twice Married
; 2 Children With Former Husband, 4 With Present
Christie Brimberry is happily married to Darren Brimberry. Her husband owns two salons, including Muse The Salon and Craft & Company Salon, in Texas.
Read Also:- Did Mary DeAngelis, The QVC Host Achieved Weight Loss With Surgery?
He is a  hair stylist by profession and is also the hairdresser for Gas Monkey Garage's owner Richard Rawlings. Similarly, Darren has dubbed himself a Balmain extension specialist.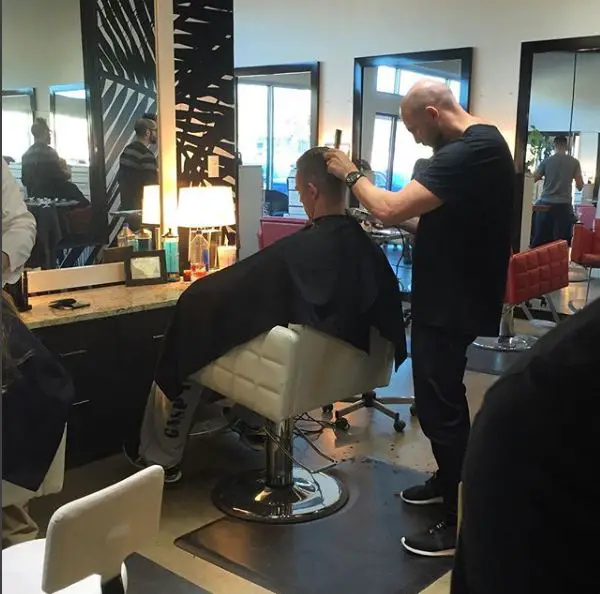 Gas Monkey Garage manager Christie Brimberry's husband Darren in action inside his Muse The Salon in 2015 (Photo: Darren Brimberry's Instagram)
However, Darren Brimberry is not her first husband. From her previous relationship, she has two children. Her elder son named Malik Grinage was born on 4th July 1997 and her elder daughter named Jordan Grinage was born on 5th July 1999. 
Malik completed his graduated from Birdville High School and finished his graduation on 30th May 2016.  Post graduation, he shared a picture of his graduation ceremony in which he was with his mother, Christie.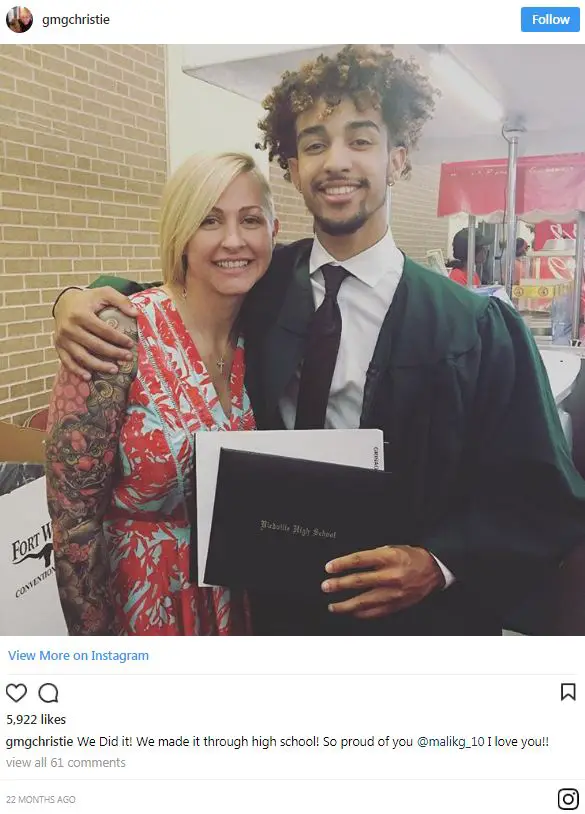 Christie Brimberry attends son Malik's graduation ceremony in 2016 (Photo: Malik Brimberry's Instagram)
In 2018, Malik is set to attend Blade Craft Barber Academy in September. Like his dad, he seeks to pursue a career in hair-styling and designing. Nevertheless, he also contributes to e-commerce clothing site Kycvintage.com. 
Discover:- Abby Huntsman Post Pregnant Bliss; Married Life To Banker Husband
Like every other mother on Earth, Christie has yet to learn to cope with the fact that her children aren't babies anymore. This motherly instinct was on full display when she penned a heartfelt Instagram post on Malik's 21st birthday, whose caption read:
"It's funny how some things in life seem to take such a long time. BUT, it seems like it was just yesterday that my son was born. My little man is not little anymore! I can't believe today he is 21!! I love you @malikg_10 to the moon and back!!! HAPPY 4th of JULY!!"
Her elder daughter also completed her high school graduation from Birdville High School, and since 2017, she has been attending Texas Wesleyan University. She is a team member of the university's elite dance cheerleading team called The Gold Line Dancers
Christie and Darren themselves have four children from their marriage. Despite their busy schedules, the married couple manages time for the family. On 29th November 2014, Christie had shared a post on her facebook in which she notified that she was enjoying a vacation with her husband, Darren.
Before, After Cancer Surgery; Struggles Cancer But Survives
As of now, Christie, who is currently running at the age of 46, is cancer-free and living a happy life. She is the first-in-command at Gas Monkey Garage after Richard Rawling.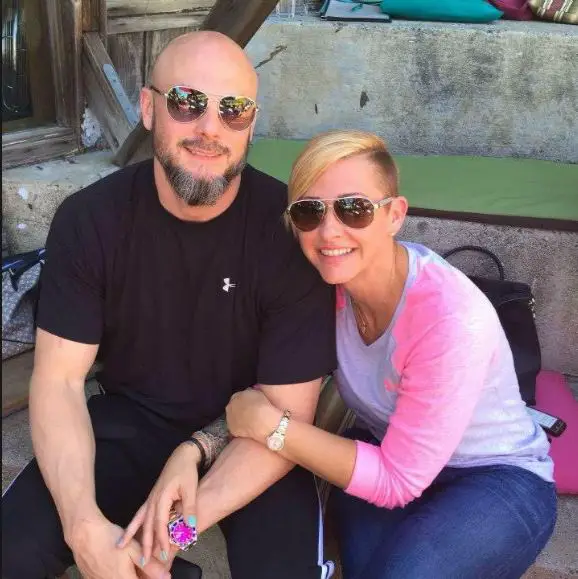 Christie Brimberry poses with hair expert husband Darren (Photo: Pinterest)
When she isn't managing the garage or implementing owner Richard's vision, she lives her life to the fullest with her husband and six kids.   
Previously, Christie had thyroid cancer. Cancerous cells from her thyroid had spread up to at least one lymph node. On 20th October 2016, she underwent thyroidectomy to remove the cancer cell from her thyroid, nodes, lymph, and trachea.
 Interesting:- Oscar-Winning Director, Ray McKinnon Still Misses His Wife Lisa Blount, Who Died in 2010. Says no to Second Marriage?
After she underwent the cancer surgery, she lost her voice for almost six months. Shortly after, she succeeded to overcome cancer, and on 24th October 2016; she shared a post on her facebook expressing her feeling about battling cancer. Part of the post reads:
 In the process, the nerve to my voice box was cut and I will have no voice for a while, maybe up to 6 months. I am home, and I am OK. I have a tube in my throat, but I will get that removed today and hopefully it will start to heal QUICKLY! I will have to take radiation soon and hopefully that will be the end. Despite everything, I feel lucky and I feel blessed to have so many supportive people around me helping me and my family get through this. The reason I'm putting this out there is because I want you guys to realize how important it is to see the doctor if you have something that doesn't feel right. This journey only started 7 weeks ago and it had already progressed this far! PLEASE LISTEN TO YOUR BODY! I love you guys. #fuckcancer
In the post, she advised her fans not to ignore any sorts of health problems.
Gas Monkey Garage followed Christie's suit and tweeted the screenshot of the Facebook post, two days later. Not only did GMG Twitter handle accentuate her winning spirit, but it also let the world know what she meant to Gas Monkey Garage family. The tweet read:
"Way to kick cancer's ass @gmgchristie. #gasmonkeygarage #FastNLoud"
A year earlier, while she was still going under chemo, she was showered with words of praise and support from a plethora of people including fans of the Gas Monkey Garage and Richard Rawling himself.