Entertainment
Christopher Heyerdahl Is Married! Who Is The Twilight Star's Wife?
While some celebrities do not bother their married life being a public affair, some strongly want it to be low-key.
Sharing the latter desire is a very popular vampire of Twilight series, who goes by the name of Christopher Heyerdahl. Despite his professional life, his relationship status has not been the topic of his talk before: but he is married and happily living with his wife!
Are you wondering how his married life looks like?
Dive in, as you're in for a treat!
Christopher Heyerdahl is Married. Who is She?
Christopher Heyerdahl (55) is a famous vampire, best known for his work in the three series of Twilight and familiar territories. Back in 2012, he joined HBO's hit vampire drama 'True Blood' in a recurring role, whereas, he also portrayed the role of a demon in an arc on the CW's 'Supernatural.'
Secret Wedding:- Adrienne Elrod Bio: Did This Blonde Beauty Get Married Secretly?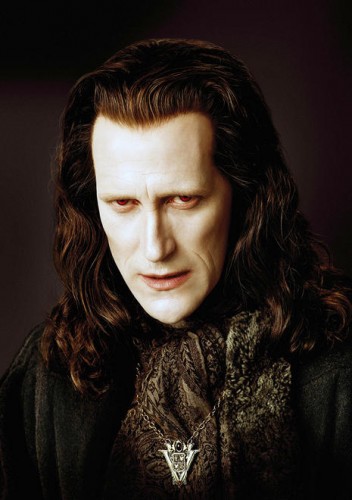 Christopher Heyerdahl portrays the role of Vampire in Twilight Series (Photo: cdn.collider)
But besides his professional achievement, his personal life is kept a bit away from the public. His relationship status was kept secret, until an interview back in November 2011!
Twilight Star Dating:- Taylor Lautner Dating New Girlfriend & It's Official | Announced With A Kiss
When he was questioned about his idea before entering the Twilight movie; he shared that he was made aware of the book by his nieces and his wife, who is a high school teacher and a fan of books.
"I was made aware of the books by my nieces, and my wife is a high school teacher, so she, of course, was in the middle of that, watching it go down, in and around school time. So, I had a good feeling that it was going to be a very popular event."
He credited his wife for sharing knowledge about the book, so he had the strong instinct that the movie would be trendy. However, besides that interview, he has not revealed any information about his wife, let alone the report of the children they possibly share together!
Heyerdahl's Short Bio:
Award-winning actor, Christopher Heyerdahl was born on September 18, 1963. He is 6 feet 4 inches tall and is half Norwegian and half Scottish. As of now, he resides in Montreal with his wife and family.
Christopher is internationally known for his dominant performances in the film industry. He has portrayed the role of a vampire in two very different productions: the 'Twilight' film franchise and HBO's 'True Blood.' He has also played the role of a demon on 'Supernatural' (2005) and villains on both "Smallville" (2001) and "Gotham"(2014).
Read Also:- Lucy Fry Has Boyfriend? Dating Status Of Vampire Acadamy Actress
Heyerdahl was nominated for a Gemini Award nomination for the Best Performance by an Actor in a Guest Role in a Dramatic Series for "Sanctuary" in 2009 and for the best Supporting Performance Male in a Dramatic Series for "Sanctuary- Revelations Part 2."
Besides his work in movies, his effort in Television and Theatre are well-recognized as well. In 2012, Heyerdahl won the Best Performance in a Children's Program for R.L. Stine's "The Haunting Hour - Fear Never Knocks" and a Leo Award for Best performance by a male (supporting) in a motion picture for his performance in "Eadweard" in 2015.
Moreover, in 2006 and 2010, Heyerdahl won Best Guest Performance Male in a Dramatic Series for his performance in "The Collector" and Leo Awards for Best Supporting Performance by a Male in a Dramatic Series for his performance in "Sanctuary."
As of 2018, he got nominated for Leo Awards in the category of Best Lead Performance by a Male in a Dramatic Series for the TV show, Van Helsing. For his nomination, he shared the happiest moment in the Twitter back in April 2018 expressing his gratitude to the Leo Awards nominating committee.
"A thousand thanks to the @leoawards nominating committee. Looking forward to celebrating with you et al at the big 20th. #LeoAwards18"
In addition to his nomination, Christopher, who has a net worth of $4 million, also attended a screening of Stockholm during the 2018 Tribeca Film Festival at SVA Theatre on April 19, 2018, in New York City. Further, he made his presence at the Whistler Film Festival that was held in December 2018 in Canada.
Apart from his brilliant performance as Sam in Van Helsing, Christopher was cast in the role of Louis Gagnon in the 2019 show, Tin Star. The series received positive reviews from both audience and critics, due to which it may soon be extended for a second season as well.
Think we're missing something? Do let us know in the comment section below!