Entertainment
Comedian Gabriel Iglesias's Weight Loss Campaign because of Girlfriend? See Also: Married, Wife and Son
Comedy has become one of the modern times' most important and powerful tool. Indeed, to make others forget about their worries or problems and to make them laugh off their seats is very noble in a way.
However, as you can't fill someone else without being satisfied yourself first, similarly you can only make others laugh if you are in a positive state of mind and body.
Health is wealth and sometimes even if you forget it, there are people and events which make you realize it once again. Comedian Gabriel Iglesias, who has taken it seriously to make the world laugh was undergoing serious health problems with his health a while back and it was not making him laugh at all.
The man literally lost 117 pounds weight and came down to 320 pounds after his doctor warned him about the serious nature of his health and how it could easily become a reason of his death. So, he adjusted his work and diet and started to do yoga amongst other physical exercises to lose weight, and his new look seems to have confused, even shocked some of his fans.
Known as the "Fluffy guy" on Twitter, he also appeared in The Fluffy Movie as well as in Magic Mike. His fans have given him several other names like Pikachu or Chippie because of his huge body size.
However, his latest interviews with Today.com he revealed his eating habits,
"Believe it or not, bread will take you down,I'm known for being the guy who eats chocolate cakes and stuff, so I stopped eating whole cakes."
Not surprisingly, people have started to ask him about his methods of getting slim because it seems that their's isn't working properly.
As of now, it looks like his wealth is getting bigger than his weight and he currently has a net worth value of 30 million US dollars.
Is it because of his Girlfriend or Son?
This was one of the most important questions because according to him, he himself was not very serious about his health issues. However, he has revealed that the initials were taken by his girlfriend Claudia Valdez. Claudia, who is a food lover as well used to often go out and eat with Gabriel, but has been very strict since his health started to give problems.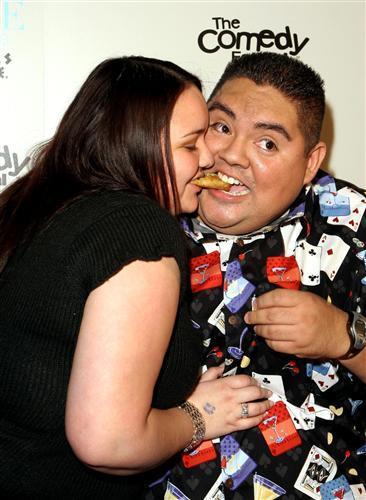 Caption: Gabriel and Claudia together, 2016
Source: lovebirdsblog.com
It is revealed that it was Claudia, who wanted Gabriel to start working out because she told him that she did want him around rather than him being dead. As a result, Gabriel started to work out so that he could spend the rest of his life with his girlfriend and their son; who comes from her previous relationship.