Entertainment
Comedian Rodney Carrington's Family: Divorced With Wife in 2012, Where Is He Now?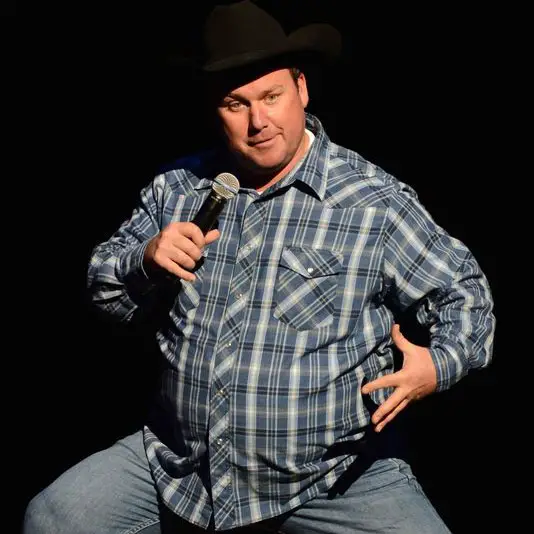 Quick Information
Divorce/Split

Yes (One)

Official Site

rodneycarrington.com

YouTube

youtube.com/user/rodneycarrington

Twitter

twitter.com/laughtersgood

Facebook

facebook.com/rodneycarrington

Height/ How Tall? 5 feet 10 inches (1.77 Meters)
College

Kilgore College

Career

1988-present

Net Worth

$6 Million (Estimated)

Ex-Wife

Terri Carrington (m.1993–2012)

Date of Birth Oct 19, 1968
Relationship Status

Single

Children/Kids

George Carrington, Sam Carrington, Zac Carrington

Ethnicity/Race

White

Zodiac Sign

Libra

Birth Name

Rodney Scott Carrington

Profession

Comedian

Birth Place

Longview, TX

Nationality

American
Rodney Carrington is a standup comedian who is also a talented music artist. He has been bringing smiles to people his whole life. But who would have thought that the funny man himself would be in pain?
The person who always made people laugh got into depression after the divorce from his wife of eighteen years. 
Let's find out the reason behind his troublesome married life. 
Rodney Carrington's Wife
Rodney is a multi-talented person who is a comedian, singer, actor, and writer. However, seeing his successful career, we can't say the same about his married life. 
Rodney was married to Terri Carrington. He met his wife, who was attending the University of Central Oklahoma. After knowing each other for a while, they started dating and eventually got married.
Know More: Orlando Jones and His Wife Onlooking Divorce? What's the Truth?
Rodney married Terri in 1993. He has three sons with his wife of eighteen years; Zac Carrington, Sam Carrington, and George Carrington. 
However, the marriage between the couple did not work out and ended in 2012. Their divorce process started in 2010, and they officially split in 2012.
In a telephone interview with The Free Press, Rodney revealed that he tried his best to make his marriage work, but it wasn't meant to be.  He said, 
"I was married for 18 years and that ends tomorrow (Tuesday) — thank God," "It's an official date. I've been going through it for two years and it's gonna be kind of a relief.
He added:
"I will tell you this. Once you come out of the cave of divorce, good God is the sun much brighter. Everything in the f— cake is much sweeter and so is the candy . . . life begins."
Things got hard for Rodney when he had to move out temporarily to a guest house while his wife, Terri, lived in their big house with their children. 
Rodney also accepted that he was not able to communicate with his ex-wife but only talked for the sake of their kids. He said, 
"We split them half the time. I get my boys half the time."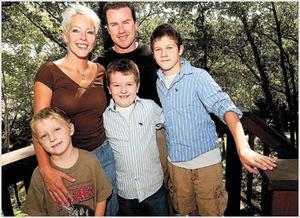 Rodney Carrington along with his wife, Terri, and their three sons – George (left), Sam, and Zach for the Tulsa Walk for PKD on September 10, 2006 (Source: tulsaworld.com)
Rodney often stated that he wanted their marriage to work and tried his best to keep his family on a page.
"I was doing really good, and out of the clear blue, she says, 'I'm leaving.' Well if that (relationship) don't work, I don't know what the. ... "
The couple did not reveal the real reason for their divorce. But, it is speculated that Rodney's marriage was affected by his absence due to his busy schedule. 
Similar Divorced Couple:- Richard Tyson Wife, Relationship, Divorce, Family
After his wife left him, Rodney struggled with depression and even put on weight which caused a different problem. 
Terri completely vanished from the spotlight after her split with her comedian husband. It has been a long time since their divorce, but Rodney doesn't want to get involved in any relationship. 
What Is Rodney Carrington Up To These Days?
It has already been almost a decade since Rodney's divorce. But he has not been in any relationship with anyone. However, he did find a new perspective in his life. 
He has been busy in his career with his tour and musical albums. Carrington said in January 2015 to Amarillo:
"Every bit of comedy comes from something typically horrible or embarrassing or tragic, and once you come through it, there's something funny,"
He was indeed working with shows in Pennsylvania & New Jersey in October 2015 and in Kansas in November 2015.
Further, he also released his album Laughter's Good in October 2014.
Recently, Rodney has announced an additional 14 tours to his touring schedule for the Let Me In! Tour. He began in January, and it will continue till the end of June.
With his hard work, he has established his name in the industry. 
Rodney Carrington's Career
Rodney Scott Carrington was born on 19th October 1968 and is an American stand-up comedian, singer, and writer.  He has released eleven comedy albums altogether. 
Out of the comedy albums he did, eight of them were with significant record labels. Due to the experience accumulated over the years performing in the business, he ventured out with his record label, Laughter's Good Records, and managed to release three albums via his own company.
Explore:- Darren Knight Gay, Married, Wife, Family
Well, the multi-talented comedian added another feather to his cap when he starred in a self-titled sitcom in 2004. The ABC show ran for two seasons. After working as a TV actor, his interest in acting increased; thus in 2008, he co-wrote and starred in Beer for My Horses. The film was much appreciated and managed to win the Tex Ritter Award from the ACM.
Multifaceted Rodney didn't slow down; he became an author when he wrote the book, Rodney Carrington, Coming Clean.
Due to all his endeavors, he has accumulated a net worth of $6 million. However, he still has not stopped and has worked hard on his tours. 
Apart from his working life, he prioritizes his time with his sons and tries his best to be a great father. 
We hope he is not hiding his pain behind his smile. We will surely update you more on Rodney Carrington in the future. Till then, stay tuned.