Entertainment
Beautiful Comedian Tiffany Haddish: Is She Married? Or Is She Dating Someone? Searching For Boyfriend?
Beautiful Comedian Tiffany Haddish: Is She Married? Or Is She Dating Someone? Searching For Boyfriend? Tiffany Haddish is that well-known personality who make's sure you laugh until your stomach hurts, but I guess you don't know about the personal life of this actress and comedian. In fact, she had a difficult childhood period. She struggled to be a star she is today.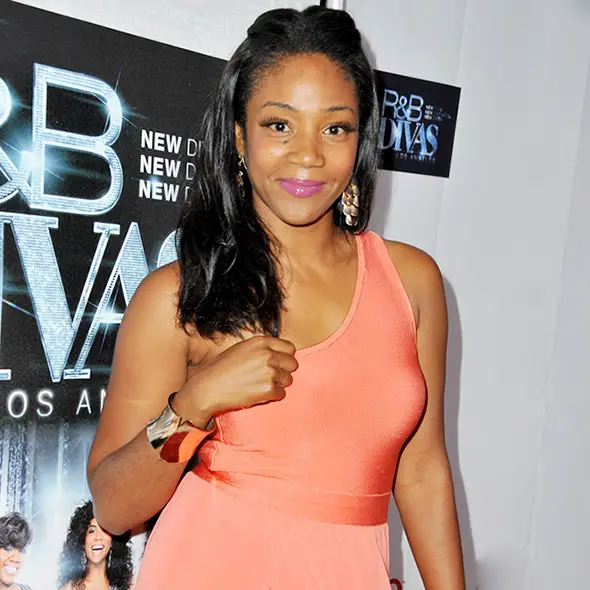 Comedian Tiffany Haddish's 2018 offering The Girls Trip might have put her on "the map," but it's her out-going personality as a stand-up act and media personality that has helped maintain her relevancy.
Her newfound fame hasn't been her kindest ally. From getting riled up in a public beef with fellow comedian Kat Stacks to getting sued by her ex-husband for the content in her memoir, the price of fame has proved little too costly for Tiffany.
Read along to learn about the comedian's troubled married life as well as a current boyfriend!
Comedian Implies She's Married For The First Time
Tiffany took over her Instagram to share the news of her father struggling with his health, and while doing that, she also revealed that she was once married.
See Also:- Imani Hakim Soon To Add Husband Tag? Boyfriend & Dating Affair Reflect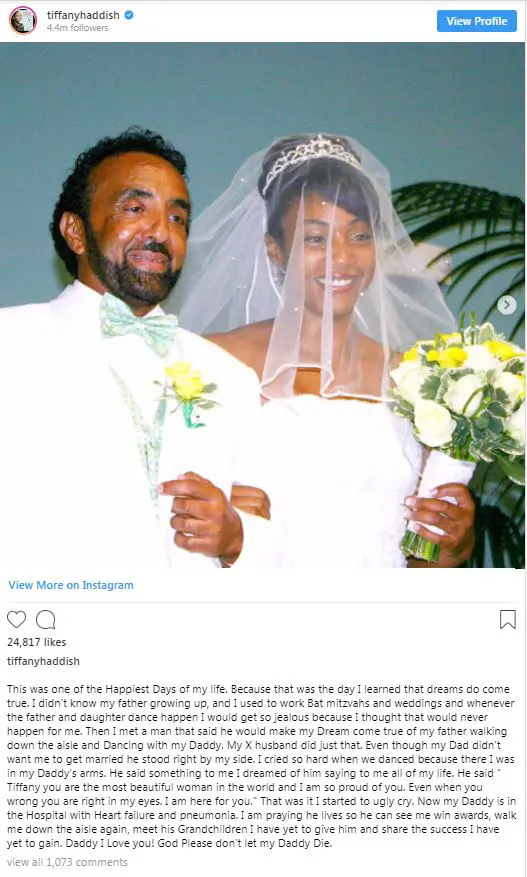 Tiffany seeks prayers for ailing father (Photo:- Tiffany Haddish's Instagram)
In the post, she addressed her father's battle with heart failure and pneumonia, but she also expressed her will to walk down the aisle with her father by her side.
To her dismay, less than a month after she had put up the Instagram post seeking prayers from her followers, her father succumbed to pneumonia.
Tiffany Gets Sued By Ex-Husband Of 5 Years
Soon success would follow for The Night School actress; so did controversies.
Following the success of her film The Girls Trip, Tiffany became a sensation of a sort. She even managed to captivate her fans by publishing a memoir titled The Black Unicorn.
In her deeply personal memoir, she opens up about the abuse she had suffered from the hands of her ex-husband William Stewart. She and William were married for 5 years between 2008 and 2013.
Other Celebrity Linked With Tiffany:- On-Reel Gay Romany Malco Wife Rift | Reveals Dating Status Now
Her ex-husband countered with $1 million lawsuits accusing the comedian of defamation and slander.
Boyfriend Talks: Who's Tiffany Haddish Dating Now?
A lesson Tiffany has learned from the best husband: dating someone with a lower credit score is a bad look.
Sticking true with the very mantra, The Last OG star has allegedly been dating philanthropist and entrepreneur Unik Ernest for a while now. However, it wasn't until July of 2018 that the pair first made a public appearance.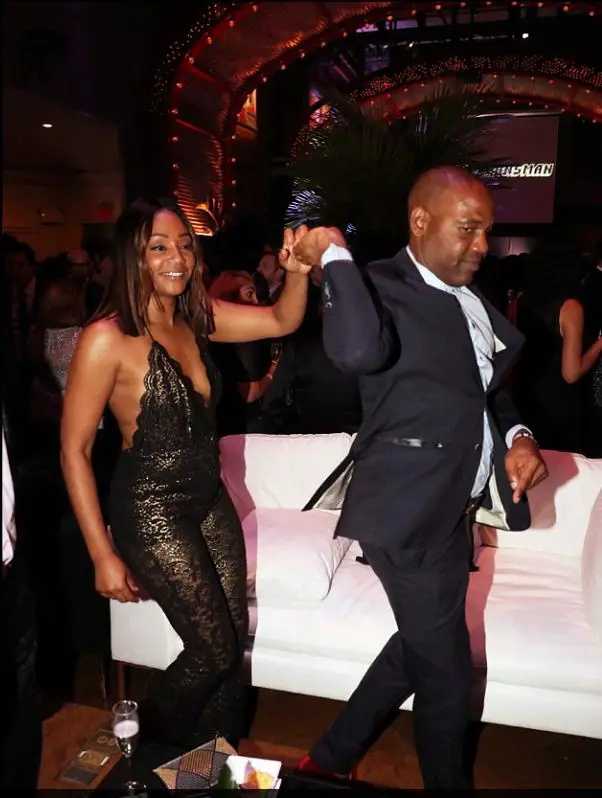 Tiffany and her rumored boyfriend Unik at the Brooklyn premiere of BlacKkKlansman (Photo:- dailymail.co.uk)
The recent development in the pair's relationship reveals that Tiffany - who is believed to be a leading cast in the female reboot of 21 Jump Street - and her rumored boyfriend have been dating since the beginning of 2018.
Tiffany Haddish - New star of  NBC's "The Carmichael Show"; Her Biggest Motivation
As of 2016, Tiffany Haddish is living the dream of her life as a co-star on NBC's "The Carmichael Show." The achievement she has made from being a former foster care child from South Los Angeles to a Beverly Hills vagabond sleeping in her Geo Metro. In gist, imagining that she would be an actress one day was unimaginable, but she beat against the odds.
Discover:- Here's How Dawn Staley Won Second Basketball Coaching Award 2018
In an interview with latimes.com on April 1, 2016, she talked much about her now an 11-year long and struggling career in the entertainment industry, Haddish said;
"It's been a lot of times where I thought this wasn't going to happen,"
she further added,
"I thought I needed to just go on back to the airlines or go and be a babysitter. I'm not smart enough to be a teacher, but I'm not stupid enough to do customer service. So, to be here and walk out on that soundstage, this is a dream I didn't know I had come true."
Haddish's past holds a tragic story about her. Her mother flew headfirst through the window of a car during a horrible accident when Haddish was 13 years old. This accident triggered her Mom's schizophrenia. This led Tiffany and her four siblings to be forced to enter foster care even until the day their grandmother received their custody.
Moreover, she confessed that she was previously a victim of school bullying and that motivated to be a star she is today. On a statement to huffingtonpost.com on 2016, Haddish said;
"I was getting beat up and being made fun of all of the time. They used to be so mean to me, and I used to cry,"
Furthermore, she added,
"Then I watched Who Framed Roger Rabbit one day, and the detective asked the rabbit, 'Why are all of these people doing nice things for you?' He goes, 'Because I make them laugh. If you make them laugh, people will do anything for you.''
Tiffany's Origin As A Comedian; Astounding Net Worth
It is evident that her past was quite dark and in a sense motivated to improve herself but what led her to choose the path of a comedian?
Fortunately, Tiffany has revealed as to why she found the career of a Comedian as a plausible future for her, if not the only one she could manage. Tiffany confessed that she discovered the idea of becoming a comedian while watching the iconic Walt Disney movie 'Who Framed Roger, the Rabbit?'
Comedian In Our Vault:- How Chris Rock Wrecked Wife Relationship, Girlfriend Affair Fueled Divorce
After years of bullying, she was fed up with how she was treated. Haddish confessed that she discovered the idea during a scene in the movie where Roger the rabbit says his buddy(Angelo) won't turn him in and detective Eddie Valiant asks the reason why he wouldn't do that just because Roger made him laugh to which Roger responds with:
"A Laugh can be a power thing, Eddie. Sometimes it's the only weapon we have in life."
This quote is something that has personally stuck with me for a significant portion of my life and the same can be said for Haddish. Her reenactment of the scene itself might be different, but she was quoted talking about her comical origin saying,
"I was getting beat up and being made fun of all of the time. They used to be so mean to me, and I used to cry. Then I watched Who Framed Roger Rabbit one day, and the detective asked the rabbit, 'Why are all of these people doing nice things for you?' He goes, 'Because I make them laugh. If you make them laugh, people will do anything for you.'' "
After her revelation, she started presenting herself as this funny person, and when her social worker saw her talent, she was given a chance to enroll in the Laugh Factory Comedy Camp. 
In an ironic twist of fate, it so happened that her instructor was Charles Fleischer himself, the voice of Roger Rabbit.
She talked about how much she learned at the camp and the skills she learned such as finding the right time to be funny, how to approach various situations and the ability to control a crowd.
"It helped me because I was also the school mascot. Girl, I was a weirdo! I was the only talking mascot in the whole school district." says Haddish, talking about the result of her experience at the camp.
Interesting:- MacKenzie Bezos, 48 & Husband, How Much Is Wealthiest Couple Net Worth?
However, dark times were ahead for Haddish. She quit the mascot work after a few games because she didn't have a boyfriend and eventually became homeless at the age of 18 when she had to leave foster care.
"I was living in my Geo Metro in Beverly Hills, so you couldn't tell me I wasn't doing it right. I was sleeping in front of this one house every day, and every morning at 6:45, the police would come and make me move," explains Tiffany talking about her life in that period.
After graduation and a few retail jobs, she went to Career Counselling where she confessed to her Hollywood dreams. After a bit of a push by her counselor, she found herself in the middle of the Comedy showbiz. 
She would eventually go on to appear in standup specials such as Who's Got Jokes and Def Comedy Jam and even worked on Sitcoms such as The Game, Real Husbands Of Hollywood, and OWN's If Loving You Is Wrong.
But we're not done with the ironic twists of fate yet. When invited to a super bowl party thrown by a director of Defcom Jam she found herself in front of the house she slept in years ago. It turns out; she used to sleep in front of her director's house all that time!
She talked about finding out this fact and said,
"After I did the show, one of the directors invited me to his house for a Super Bowl party. I pull up to the house, and I was like, 'I used to live right here!' He said, 'What do you mean? I've been here for 20 something years, and I've never seen you.' I told him, 'Yes, I did. I used to live in my car right out there.' He said, 'That was you?'...I feel like my whole life keeps coming full circle."
Certainly, it seems her life keeps going on full circles.
Don't Miss:- How Much Is Kendu Isaacs Net Worth? Bio Unveils Kids & First Wife Info
Tiffany Haddish's net worth is that of $4 million dollars. She is a multi-talented person and is involved in multiple entertainment businesses such as dancing, comedy and is also an actress, so she has a lot of sources that contribute to her incredible network.