Entertainment
Dan Harris: Entangled in Wife and Children, Gets Complacency From Meditation
Quick Information
Date of Birth

1971-07-26

Age

49 Years 3 Month(s)

Nationality

American

Birth Place

Newton, Massachusetts, United States

Profession

Journalist

Birth Name

Daniel B. Harris

Zodiac Sign

Leo

Father

Jay R. Harris

Mother

Nancy Lee Harris

Brother/s

Matt C. Harris

Son/s

Alexander Robert Harris

Relationship Status

Married

Wife/Spouse

Bianca Harris

Divorce/Split

Not Yet

Wedding Date

30-05-2009

Gay

No

Net Worth

Not Disclosed

Career

1993 - Present

College

Colby College

Hair

Short
Dan Harris is the same man who transplanted from a journalist to a meditation guru. Yes, people he is fond of mediation and is a teacher himself. Now that doesn't mean he's retired from ABC. Harris has been doing meditation lately, and it has indeed changed his life. Want to know more? Follow this story:
It all started when Harris dealt with anxiety panic attack. Anxiety attacks are somewhat common these days, but things took an unfortunate turn for Harris when he had a panic attack on live television on Good Morning America in 2004.
I just lost it
He recalled,
My heart started racing, my lungs seized up, my palms were sweating, my mouth dried up, I couldn't breathe.
He struggled through the last few lines of the bulletin, then signed off as professionally as he possibly could. It was evident to him that he had experienced his worst panic attack ever. While it may not have looked as bad as it could have, he insists that inside, "the universe was closing in."
Dan Harris panic attack at television was then that of personal and professional issues. Harris was a young reporter, and 9/11 news related matters drove him to cover stories around the world. His reporting on war field and battleships came with an expense of psychological consequences. He believes he was addicted to it when he traveled through Iraq, Gaza Strip and Israel. Whenever he returned to States, Harris was already in the state of depression both physically and mentally.
This led to his drug abuse issues which he confessed to in a blog post and even considered it the primary cause of his panic attack.
After a sustained attack, Harris decided to solve the problem and lifeline being meditation. He believes miracle don't happen overnight.
"I always thought it was a bunch of malarkey" Dan recalled to Huffington Post. "I thought meditation was something for hippies and freaks and weirdos..."
But practice changed Harris's life, and he reveals "There's an enormous amount of science that says meditation is good for depression, anxiety, and dealing with your moods." Daily meditation isn't just freeing your mind - in fact, it's more like "exercise for your brain," and it's something Dan has not only adopted, but devoted his life to spreading.
"Meditation is not 'reaching a special state,' " said Dan to Huffington Post. Instead, it is "noticing when you've become lost and are starting over." This cycle of focusing refocusing is the foundation of the "mental workout" that has changed his life.
Harris Personal Life: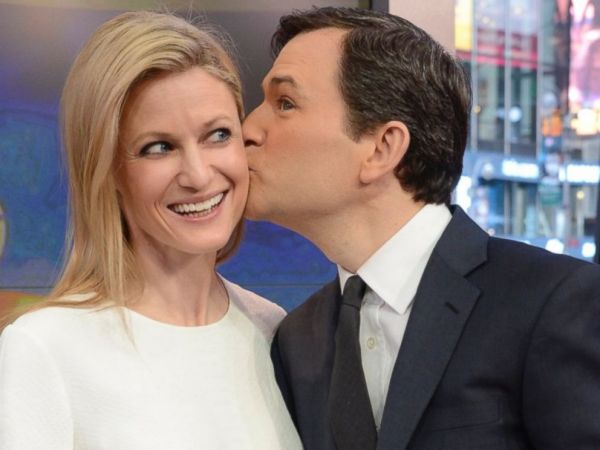 Caption: Dan Harris and his wife Bianca wait for backstage on the set of "Good Morning America" on March 11, 2014, in New York City.
Source: abcnews.go.com
Dan Harris is indeed married and has a child. Harris got married to Dr. Bianca Harris, a Pulmonologist in New York in May of 2009. Bianca gave birth to a baby boy, Alexander Robert Harris on December 15, 2014. They currently live in New York City. Dan and his wife have not revealed any plans for having any more children yet.
Caption: Dann Harris becomes a father.
Caption: Dan's son Alexis Harris
Dan Harris: A Short Bio
Dan Harris is a Newsreader and journalist for ABC News. He is also the host of the show 'Nightline.' Harris joined ABC in 2000 at his 30s and in October 2010, he was co-anchor of the weekend show "Good Morning America." Dan Harris won Emmy Award for his reports on 'How to buy a child in ten hours" in 'Nightline.'
Along with Emmy he also received Edward R. Murrow Award. Harris is also an author of books '10% Happier: How I Tamed the Voice in My Head, Reduced Stress without Losing My Edge, and Found Self-Help That Works – A True Story'.
Co-workers and Fellow Journalists such as David Muir, Paula Faris, Juju Chang, Ron Claiborne and Dan Abrams amongst others, highly respect Harris as a reporter and have commended his ability to go one step further to share helping out the Public both through the use of media and through his preaching of the benefits of Meditation.