Entertainment
Danny John-Jules's Wife: Curious Who is He Married To? Or Wondering About Children?
Danny John-Jules is a well-known actor who has appeared in some of the big TV series and movies. You might know his on-screen characters very well but what about his personal life. Is he married? Does he have a wife? What about his children? Get all your answers here.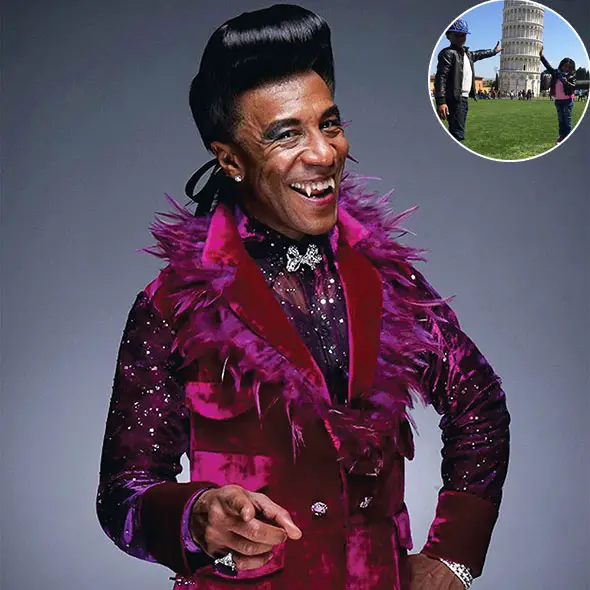 While Danny John-Jules has broadened his arena by stealing the limelight from the show Strictly Come Dancing in 2018, his followers witnessed his best moves with his professional dance partner Am Dowden. 
 The 58 aged actor is a well-known actor who has appeared in some of the big TV series and movies. But he claims that his wife and children enjoy his dancing cha-cha moves aside from his brilliant acting career.
Married Life Includes Two Children; Wife Flaunts Strong Family Life
The actor shares two children, a 12-years old son Danté Langlais-John-Jules and 10 years old daughter  Danaè Langlais-John-Jules with her wife named, Petula Langlais. He has been married to his wife since 2001 that counts their 17 years of married life.
The proud parents of two children faced survived many thrones but still, they are happily walking together in their married life. The couple was apart for the seven long years while he was busy in filming Death in Paradise. 
See Also:- Charlotte Hawkins & Husband Keeping Wedding Vows Strong At Age 43, How?
While he prefers to rest his family life behind the camera bars, his wife reflects the glorious family life with two children on social media. On December 2014, she posted a family picture on facebook hinting their beautiful married life.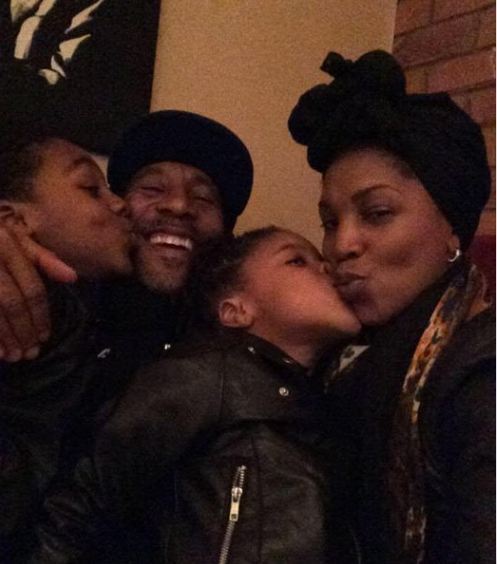 Danny Jones with wife and children (Photo: Petula Langlais' Facebook)
While he rarely shares the snaps of his wife on social media, he posted his children's picture for the first time on his Instagram in April 2015 calling them as his "Prince" and "Princess."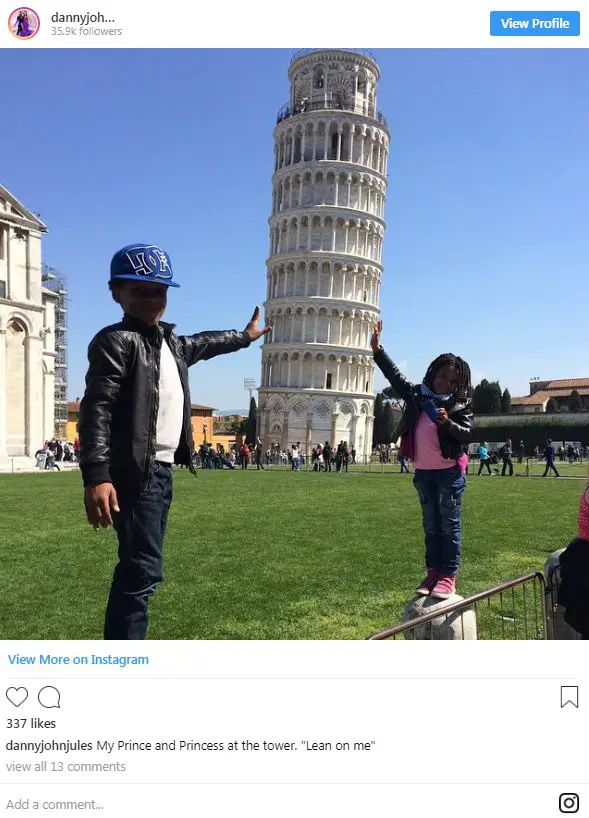 Danny John's children, son Dante and daughter (Photo: Danny John's Instagram)
While the Red Dwarf actor faced difficulty growing up, he revealed to Mirror in September 2018 how his 12 aged son's demand is increasing. His son asked him for the en-suite bathroom to be attached into his bedroom.
The moment his son asked him for the attached bathroom, he went flashback to his childhood when his brother, sister and he used to had to take bath together once a week.
Siding a mile away from the gay tag, Danny, who started working since the age of 12, revealed how he consoled his son stating he has already had worth more than his father ever had. With his difficult upbringings, like every parent he wants his children to bring up in peace by fulfilling their every needs and desire.
As of now, The Death In Paradise star resides in West London's £1million terraced house with wife Petula Langlais, 41, and their two kids.
Career-Strictly Come Dancing Oldest Contestant
The Ghanian ethnicity actor has been entertaining the audience with his new avatar after he participated in Strictly  Come Dancing in 2018. And the first person he unveiled the news was his wife.
Discover:- Joseph McFadden Got Engaged; But He Won't Get Married and Have a Wife! Why?
He exclaims that his wife and children enjoy watching him on the screen:
"They watch it with the kids so they're all over the moon and so is everyone who knows me pretty much."  
In an interview with Hello magazine in October 2018, Danny rejoices his dancing feeling claiming he enjoys dancing. While the show is evident to be a curse to many fellow contestants, he stated to Mirror that he wants to dispel the curse.
And his beautiful dancing partner seems to have a good relationship with his wife and children. On October 2018, Danny Instagrammed the picture of "Team Damy" where his wife and children were standing alongside Danny and Amy.
You May Also Like:- Strictly Come Dancing's Daisy Lowe Split With Her Model Boyfriend!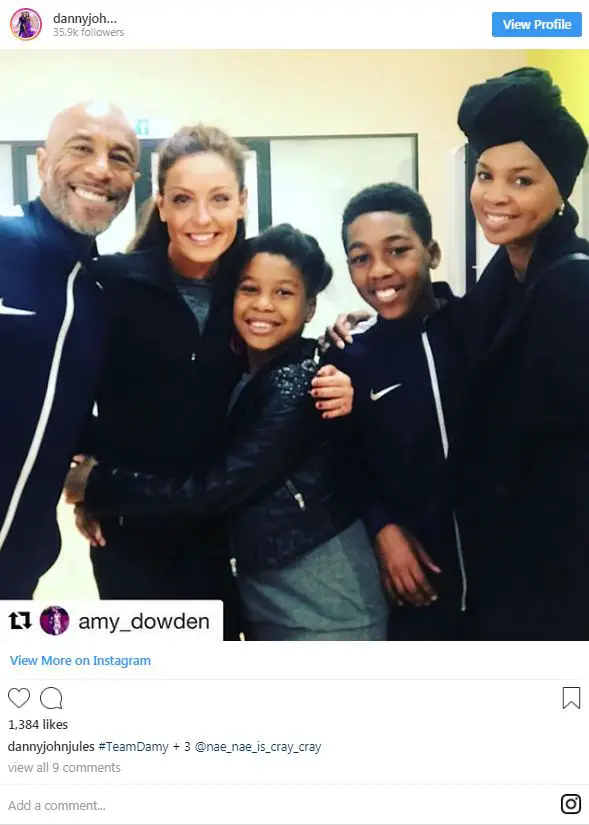 Danny John's family and dancing partner (Photo: Danny John's Instagram)
Well, Danny is the oldest contestant in the show and is looking forward to winning the show for his children.