Entertainment
Danny Pino Left The Show To Be With Family? What Is He Doing Now Then?
It had been a 4-season stint on "Law and Order: Special Victims Unit" for Danny Pino as Detective Nick Amaro from the last quarter of 2011 to 2015th second quarter. 
While the series' Season 16 finale concluded with a battering incident at a courtroom, the fans felt the real bang when their favorite character Detective Nick broke the news of leaving the force, and that was indeed the end of Danny for the series.
But what was the actual reason behind Danny leaving the team? And what is Danny up to these days? If you're also wondering about the same, worry not, as we explain that to you in this segment.
What's Danny Up To After Law And Order: SVU?
The reprising character from the last four seasons, Nick shocked the department and moreover, the viewers with his decision to leave the force.
On the show, he broke the news to his partner Detective Benson(Mariska Hargitay); revealing that he is retiring and moving out to California to be closer to his daughter and son. But what's the reason from Danny's side?
The fans of Danny ultimately reckoned his move to join the series Chicago P.D., where he guest appeared for two episodes in 2014-15.
Later, in an interview with TVGuide.com, the showrunner of the series, Warren Leight told that the anger of Nick had put him in a wrong place at the NYPD, so it felt right for him to start fresh somewhere else.
Well, it was good not to witness our favorite detective, Nick in the line of fire!
On May 21, 2015, Danny Pino shared a tweet to thank his fans and SVU cast and crew.
Moreover, his co-star Mariska Hargitay, who impersonates his colleague Detective Olivia Benson in the show, bid him a fond farewell on Twitter.
Talking about the recent project of Danny, he has joined a 12-episode procedural drama TV series 'Gone' of NBCUniversal International Studios and France's TF1, where he is in the lead opposite to Chris Noth and Leven Rambin.
The show is going to debut as part of the 2017-18 United States network television schedule.
The Ultimate Secret Of Danny's Success; His Family!
The 43-years-old Danny Pino is a married man since February 15, 2002. He has been sharing a marital life with his wife, Lilly Pino Bernal, who is also involved in the entertainment field and is known for a 2006's short drama, Rosa.
The Instagram-lover actor and writer Danny has also shared his beloved wife's picture amidst his fans.
Furthermore, he also attends several events with Lilly. One of such events was 2012 NCLR ALMA Awards, where the duo made a notable appearance with their elegant styles.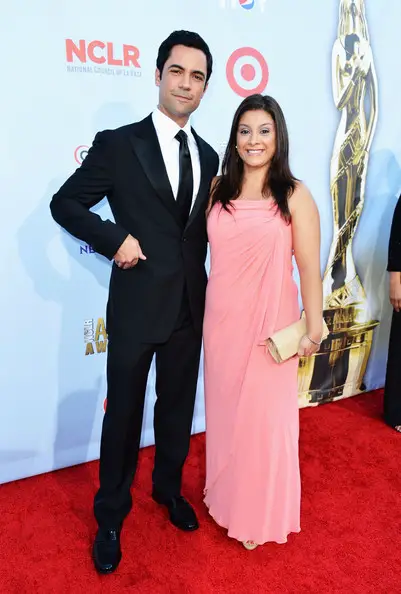 Caption: The attendees of the 2012 NCLR ALMA Awards, Danny, and his wife, Lilly on September 16, 2012, in Pasadena, California.
Photo Credit: zimbio.com
The beautiful couple shares two children together, Luca Daniel (11) and Julian Franco (10).
The dad-of-two, Danny has also talked about his family and his work on the Law and Order SVU addressing his fans in an interview with Bethany.
Caption: Danny making his appearance on Bethany. (Published Jan 15, 2014).
Danny, who earned a handsome salary of $75 thousand per episode while in SVU, accumulates a total net worth of $3 million.
Stay with us for the budding updates on Danny Pino!