Entertainment
Dave Kindig Wiki: Age, Wife, Family, Net Worth Of Bitchin' Rides Star
Bitchin' Rides Star Dave Kindig found the love of his life with the woman who shares the same passion as him. He is married to....for ..... With their almost three decades of married life, the couple shares.....children. They are currently enjoying their family time together at their.....house.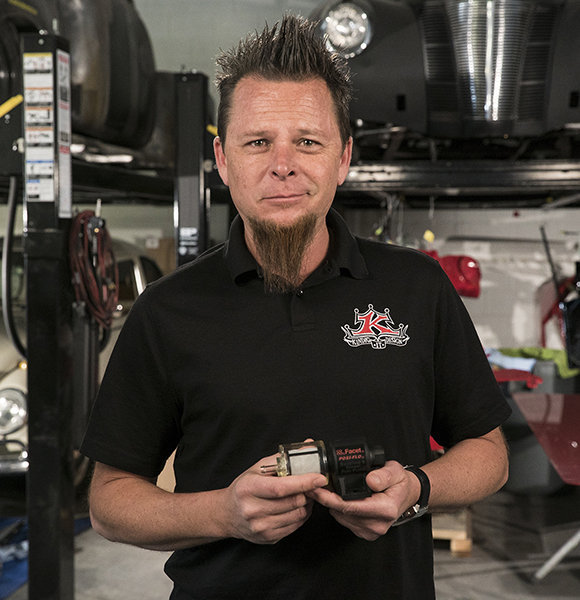 Talk about drawing childhood passion into a full-fledged company, you may find hard to better fit than Bitchin' Rides star, Dave Kindig. 
Dave "grew up very poor"  in the Rose Park area of Salt Lake City and without any college degree, the TV personality had nothing but pure talent and desire to form his high-profile automotive design business.
While bringing a significant growth in his net worth, he has also blended his married life with his car-designing passion. He tied the knot with the woman, who also shares the same professional passion and together, they formed a car restoration business, Kindig-It Design, and a beautiful family.
Why don't you scroll down his wiki-like-bio for the full story!
Married For 26 Years; Daughter Married, Son Dating 
The custom shop owner, Dave Kindig found the love of his life with the woman who shares the same passion as of him. He got married to the custom car fabricator, Charity Kindig in 1992, and together, they have completed their glorious 26 years of wedding anniversary.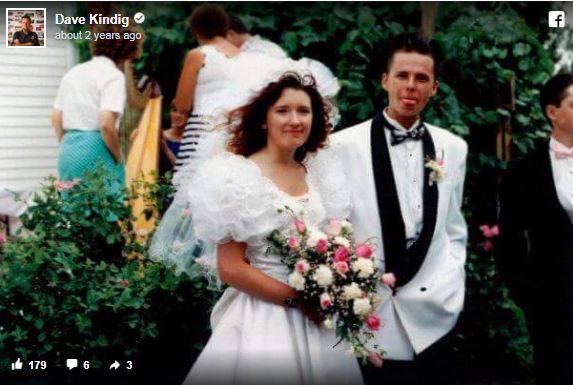 Dave Kindig and wife Charity on their wedding day (Photo: Dave Kindig's Facebook)
In an interview with Kutv magazine in March 2018, Dave explained how his wife had been the source of support and helped him to stay balanced for the past 26 years. He stated,
"I've always been the 'go, go, go,' she's the 'whoa, whoa, whoa. I think that partnership with my wife and I has been one of the best things that have ever happened to me."
With their almost three decades of marriage, the couple also became the parents to two children, daughter Baylee and son Drew. Their children grew up watching their parents working at the shop and eventually they also grew to build their passion for the car.
At the young age of 16, their daughter Baylee started working as a job of a runner, then office assistant in the shop. As of now, she holds the position of Apparel who managed the websites and deals with the shipping department of the shop. Where her daughter is helping in her parent's family business, their son, Drew graduated in June 2017. 
See Also:- Bel Powley Dating Hunky Actor! Subtle Love For Boyfriend With Sharp Jawline
With their successful family life, Dave shared the glimpse of their romantic time from their busy schedule on their 26th wedding anniversary by sharing a post on Facebook back on 12 July 2018. He captioned:
"Well we made it longer than 25years, yep 26 years of lovin' this sweet lady, and love of my life Charity! We truly have had the best life together in all aspects. Kids, careers, family and life in general. We will keep everyone posted or just check back with us in another 26 years!!! Love you Charity, and I will still follow you in to the dark."
Since the owner of Kindig-it Design, Dave marched onto his 26th wedding anniversary with his wife, Dave's 22-aged daughter, got married to her barber fiance in August 2018. Dave took to Facebook back in August 2018 sharing the adorable picture from his daughter's wedding writing:
"I would like to Congratulate my daughter Baylee and my new son in law Kaden on their recent nuptials! You guys are rockstars and your mother and I could not be happier for you!"
Not only their daughter stepped into her new world with her husband, but also their young son Drew is dating the beautiful lady.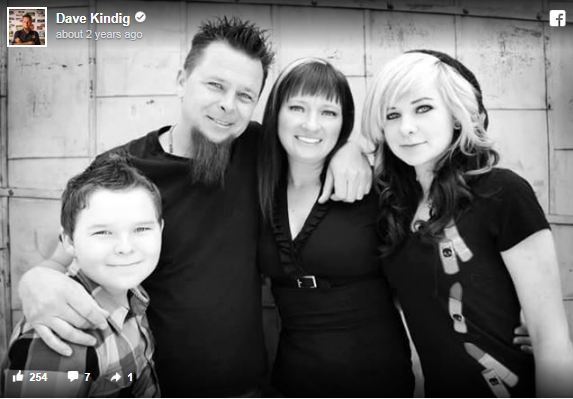 Dave Kindig, his wife Charity, daughter Baylee, and son Drew (Photo: Dave Kindig's Facebook)
Since their daughter is a married woman, the Kindig's parents might be eager to welcome their grandchild. Moreover, Dave's married life is full of love and car with the exciting journey.
The married couple now lives in Salt Lake City's house with accomplished family life. 
Don't Miss:- Angel Brinks Wiki: Boyfriend/ Baby Daddy Doesn't Care, Craves Love
"Bitchin' Rides" Star's Career; Networth In Millions 
Sharing the same passion as his wife, the married couple started their joint-venture business, Kindig-it Design in Salt Lake City in 1999. Without any education or degree from the college regarding cars, his childhood dream for Hot Wheels, Legos, and drawing made him the best craftsman in this industry.
Bringing the old rusted cars to the studio, he uses his artwork to renovate with his own new design. The self-made profession by the then-29 aged Dave back in 2000 honored him with $400,000 on the first year of business.
Read Also:- Noah Cappe & Wife Keeping Married Life Alive! Bio Reveals The Secret Recipe
Dave's artistic work does not limit only to his shop but the whole world has witnessed his creative work, and his skills were more enhanced since 2014 after he was invited to star in the Velocity's show Bitchin' Rides which transformed him into an ordinary car-renovator to a celebrity.
The TV star's, who was born on 6 February 1971, company uses high quality of the engines, colors and importantly, the handmade designs are applied using the airbrush and by hand. 
His lone effort does not make his successive career his co-workers are equally loyal and dedicated, and he gushed that about his co-workers:
"I've never had a guy call in sick either. Everybody is tightly knit. We have a lot of fun here." 
Similar to sharing the same date of birth to British actor Charlie Heaton and American actress Crystal Reed, Dave, who owns a net worth of $2.8 million, is also no less popular than any celebs of the entertainment industry.