Dawn Steele's husband took the opportunity to propose her on the...wasn't in any rush to get married too...was to become parents together of her future children...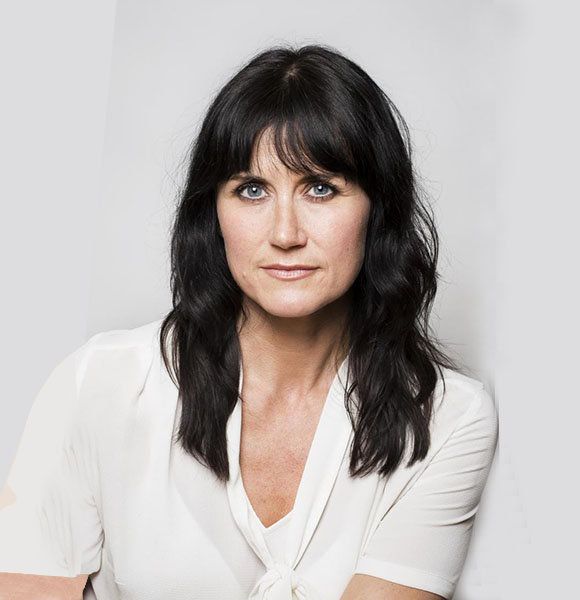 Working in the film industry can seem all glamour and fame at the rudimentary level. But, everyone knows that's just one side of the picture. After all, depending on the project, an actor has to be in an unexpected location, and timing can differ from places to places.
Yes, it's almost a dream come true when the work contains traveling to different places. However, what if amidst the traveling and work, relationship management comes in the way?
Actress Dawn Steele too, found herself in the same situation. But, did it work out in the end? See for yourself.
Filming In Africa, Long Distance Relationship With Partner
Dawn was in a live-in relationship with her boyfriend, Paul Blair, a Scottish actor since 2008. 
Scottish Radio Presenter :- Shereen Nanjiani Is Not Married But Her Partner Is No Less Than A Husband!
The two had known each other for a very long time before they started dating. Attracted towards Paul's talent, the actress had taken a liking towards him. They even shared a flat in West London, but due to her work demands, she spent most of the time in Africa filming her show, Wild At Heart.
But, the two managed to spend time with another despite the gap in the location. Paul visited her once in six months, taking a vacation in Africa instead of other places. Moreover, the two never let the distance have any effect on their relationship.
The artist wasn't in any rush to get married too, and in her own words had expressed,
"I'm quite old-fashioned like that. I've never been one of those people who's been like, 'Oh I have to get married', and who's picked out a big white dress, but I would like to get married."
But, what she desired was to become parents together of her future children, and had added,
"I would like to be a mum, definitely, but Paul and I would have to be in the same country for that to happen!"
She was right to some extent, as most of her days were spent filming in the wild in risky situations most of the time. She even shared scenes with vulture, lions and once had to flee from a lion due to a mistake by the crew.
Start Of A Family Life, Engagement
Interestingly, during her time in Africa, Dawn managed to find time to take some serious decisions and act on it. After all, their baby daughter Coco Christie Mary was born in 2012 while her show Wild At Heart was still airing.
Moreover, in 2016, Dawn's beau took the opportunity to propose her on the 40th birthday. With another significant step up in the relationship, she was already planning her summer wedding for next year.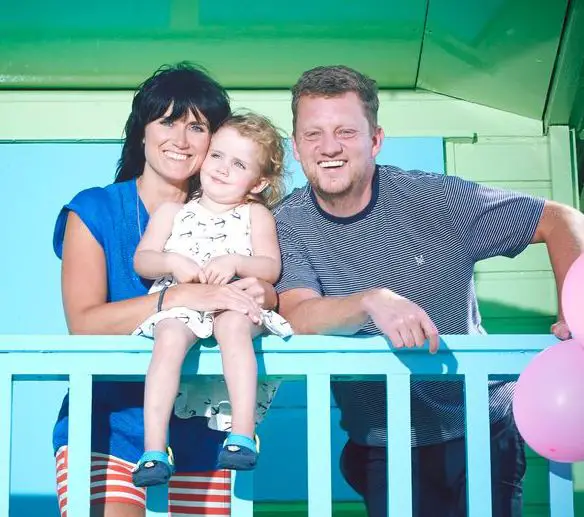 Dawn Steele with fiance Paul Blair and daughter Coco Christie Mary in 2016 (Photo: daily record.uk)
The River City star had even decided the wedding venue as she wanted to hold the wedding on a beach near her home in Whitstable, South East England.
But, none of the reports came in the media that confirm their planned marriage. However, with the responsibilities of being parents to a daughter, their plans might have switched direction.
Age, Movies, TV Shows, Recent Years
Dawn made her debut onscreen with an appearance in the 1999 TV show Highlander: The Raven, and since then, she has stuck to her TV show roots. However, she appeared movies, but most of them are TV movies like Split Second, Haywire, and Magnolia.
Award For TV Shows :- Emmy Nominations 2019: Full list of Emmys Nominees
As of 2019, at the age of 43, she is active in her recurring role in the TV show Holby City that runs on BBC Network. She portrays the character named Ange Godard, but it's not confirmed if the show will be revived for a second season.
Taking about her measurements, she stands at a height of 5 feet 3 inches (1.6 m) and boasts a weight of 62 kg.