Entertainment
Dennis Collins, Age 53: Considers Wife His Secret To Success! 25 Years & Strong
Rebuilding, refurbishing, and maintaining is what the owner of Collins Bros Jeep, Dennis Collins masters in. And besides maintaining vehicles, Dennis has successfully sustained his relationship for the past 25 years.
The Dallas Native is happily married to his wife, and the couple has spent a quarter-century of their life together. The famous car restoration guru is still going strong with his wife and even considers her to be one of the reasons for his successful career. 
Silver Jubilee With His Wife;
Wife Pic And Daughter

"Happily married ever after" is a phrase associated with fairy tales, but in reality, this applies only to some lucky fellows and Dennis Collins, 53, is one of them.

Dennis celebrated his 25th anniversary with his wife Kim Kimberley on 12 February 2018 and the special occasion, Dennis explained that his wife's wedding ring needed a change and gifted her a new diamond ring. Thrilled with the unique gift, Kim could not believe her eyes and planted a kiss on her husband's lips. 
See Also:- Michael Sheen, Dating New Girlfriend After Split With Ex! Back In The Rack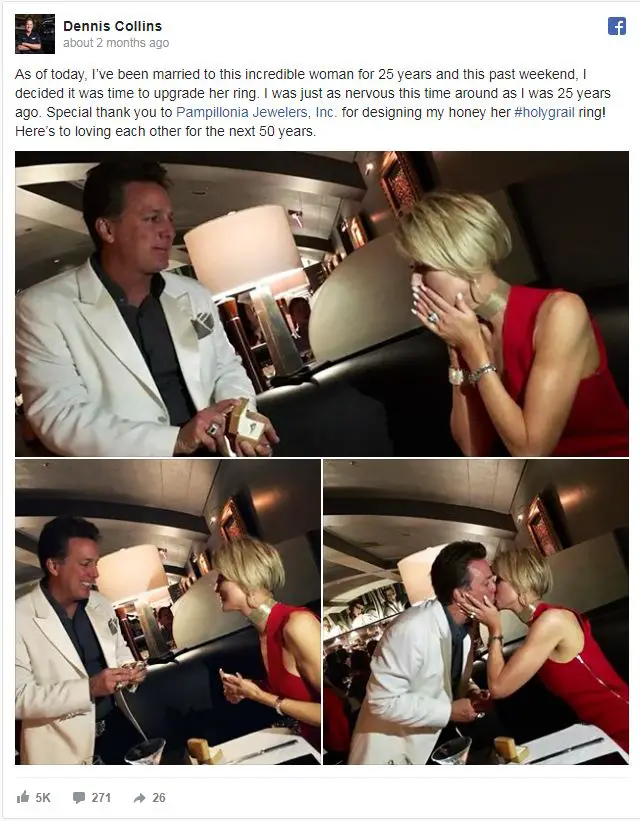 Dennis Collins' wife pic, celebrating their 25th anniversary on 12 February 2018 in Texas (Photo: Dennis Collins' Facebook)
The couple, who has a daughter Kesley Collins from their marriage, are still madly in love with each other; they enjoy holidays together, attend events, and share the same passion for each other as they did 25 years back. 
Back in January 2018, Dennis posted a picture of him and his wife quoting that he could not have achieved what he had if Kim was not in his life.
Dennis, who is an extremely dedicated family man, often loves to flaunt his love for the family through his social media accounts. He also shared a heartfelt message for his dad on the occasion of father's day 2018, where he wrote,
"Wanting to wish a Happy Father's Day to my awesome dad, Jim, and all of the other dads out there! #fathersday#family"
Further, he also has a brother named Jamie, who often collaborates with Dennis to repair and modify vintage cars. Moreover, his daughter Kesley has also grown up to be a beautiful lady and shares the same passion for cars as her father.
Talking about his daughter's love for cars, he shared an Instagram post mentioning that his Kesley was no different than her father.
"Like father like daughter #prouddad @thekelseycollins"
Dennis regards his wife as one of the pillars of his success which has seen his company Collins Bros Jeep, go from a small town establishment to strong nationwide brand.
You May Also Like:- Heather Storm Age 26 Needs Car Lover Husband; Love For Cars Reflect
Dennis and his wife recently celebrated Kim's birthday on 18 July 2018. The couple was on a trip to Texas during her birthday where the duo spent some quality time together and Dennis even shared a photo from one of their dating locations. In the Instagram post, Dennis wished his wife on her birthday and thanked her for being together with him for 25 years.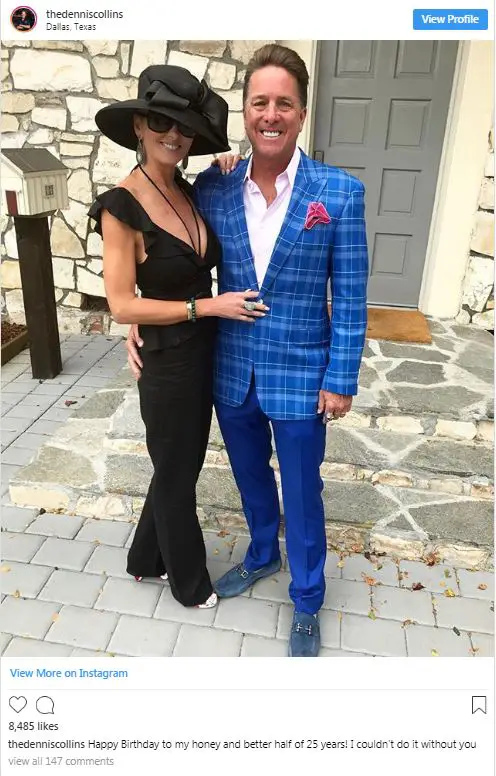 Dennis and wife Kim Kimberley celebrate her birthday on 18 July (Photo: Dennis Collins' Instagram)
Dennis was married to Kim Kimberley in February 1993, and it's been love all the way along.
Entrepreneur, Fast N' Loud, Record-breaking Mustangs, Car Collection, House And Net Worth
Dennis Collins established Collins Bros Jeep in 1984 as a specialized firm for refurbishment and restoration of jeeps. His time as the president of Collins Bros Jeep has seen him go from a small entrepreneur to an accomplished businessperson with a net worth of $30 million.
Apart from the Collins Bros Jeep company, he also owns Black Mountain Jeep, a firm that provides parts, accessories, and Customization services.  
Apart from being a business person, Dennis is also an accomplished driver and along with his friend Richard Rawlings, allegedly broke the 1979 Cannonball Runtime from New York City to Los Angeles of 32 hours and 51 minutes.
More From LiveRamp Up:- Carol Channing Is Still Alive! She Only Hit the Age Where There's Possibly No Room For A Spouse
Similarly, he shares a special friendship with Richard Rawlings, the owner of the Gas Monkey Garage, who is famed for marrying his wife twice. They stuck up the chords during a Harley Davidson bike ride from Dallas to Daytona in 1996 and remain friends till date.
Dennis also appeared in the reality show aired in discover network, Fast N' Loud which chronicled the life of his fellow friend, Richard Rawlings.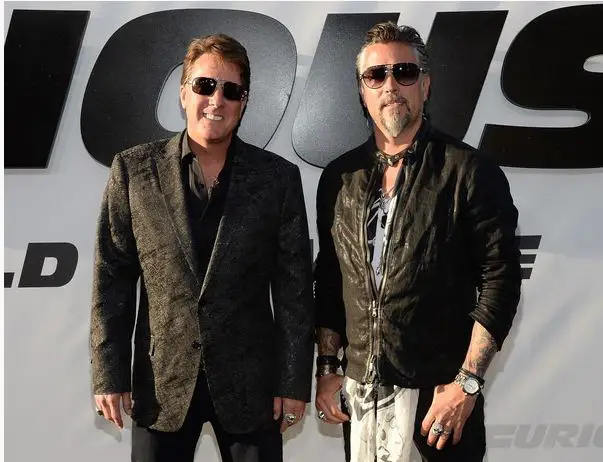 Dennis Collins Pictured with Richard Rawlings attending the premiere of Fast and Furious 7.
Apart from TV shows and jeep restoration, Dennis is an avid collector of vintage cars and Mustangs are his personal favorite. In January 2017, he sold seven mustangs from his collection and six of them sold at a world record price during auctions at the Barrett Jackson Stocksdale. Similarly, he also auctioned 18 Mustangs at the same venue about a year later.
Despite selling his mustangs, his car collection still consists of 1958 Austin Healy Goldie, Lamborgini Super Trofeo, and 1971 Hemi Challenger. 
Apart from selling his collection of Mustangs, the car enthusiast also listed his Dallas based 2-acre ranch and house for sale for a cool 2 million dollars. The home, along with all other luxuries, boasts an air-conditioned garage capable of housing 20 cars.
Keep Visiting for the emerging updates on the life of Dennis Collins!