Entertainment
DeRay Davis Is Concurrently Dating Two Girlfriends; On Top Of Double Trouble, He Has A Daughter To Raise
Three women and a child to look after, some would say that's a lot of weight to carry, but for De Ray, it's just a matter of management. Most men only fantasize about having two women in a single relationship while De Ray lives the dream as he lives with two different women and sleeps in the same room. All this including his daughter he cares so dearly. We dive in the ingeniousness that is De Ray's relationship in keeping up with his family.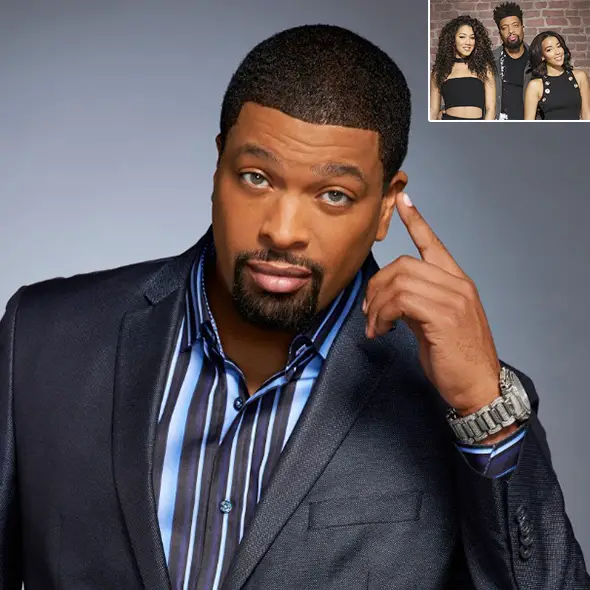 Quick Information
Divorce/Split

Not Yet

Official Site

deraydavis.com

Weight

N/A

Height/ How Tall? 6 Feet 2 Inches (1.88 Meters)
Career

2002-present

Net Worth

$1.5 Million

Dating/Affair

Dating

Gay

No

Partner

Coco Crawford, Caro Peguero

Date of Birth Feb 28, 1968
Relationship Status

Dating

Daughter/s

Brooke Davis

Brother/s

Steph Jones

Ethnicity/Race

Afro-American

Zodiac Sign

Pisces

Birth Name

Antoine DeRay Davis

Profession

Comedian

Nationality

American
Three women and a child to look after, some would say that's a lot of weight to carry, but for DeRay, it's just a mere act of management.
While most dread the thought of having two girlfriends with the fear of one finding out about the other, DeRay here is balancing it up with his two girlfriends, and it's not even a love triangle!
While DeRay is having two desserts at the same time, there's a cherry at the top; his daughter. Surprised? Well, there's more!
DeRay & Two Girlfriends: Match Made In Heaven
Actor and Comedian DeRay of "Living with Funny" lives with his two girlfriends, Kartya, and Coco in the same house. This may come as a surprise, but DeRay and his girlfriends have been together for over a year without a snitch. 
Fellow Comedian In Our Vault:- How Chris Rock Wrecked Wife Relationship, Girlfriend Affair Fueled Divorce
Of his two girlfriends, DeRay seemed to have been with Coco for the longest -- four years, to be more precise. Before teaming up with Kartya, Coco had partnered with Caro to make their "threesome" work.
It is unsure when or who met whom first or when they started this improv-a-ganza, but they had, so far, managed their "this-may-fall-anytime" sort of relationship.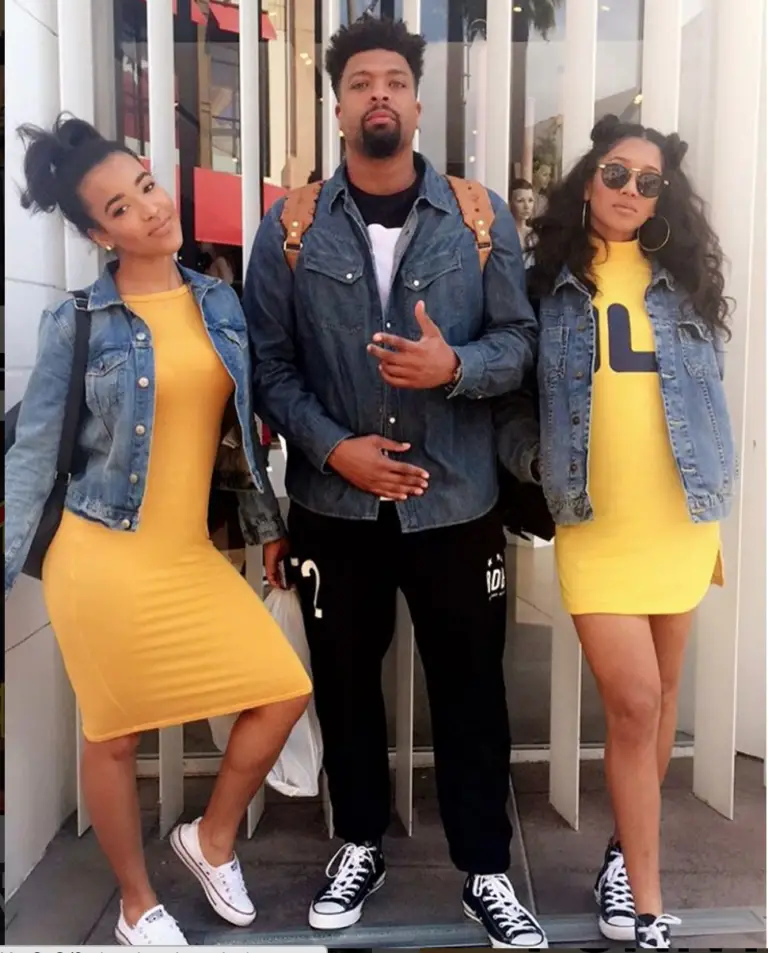 The three comfortably poses for the camera of their taboo relationship on June 10, 2016 (Picture Credit: xonecole.com)
On 5th April 2016, during a phone interview with Tribune, he said:-
"It's like a dream, I cannot lie,"
Adding afterward:-
"Two beautiful girls, getting along ..."
He expressed that his relationships with his then-girlfriends were more of hard, like any relationship rather than a party every day saying:-
"We're able to show that it's not exactly what people think. It ain't no huge sex party going on. It's a real, mature relationship,"
Till date, neither Caro nor DeRay have commented on their falling out. However, it is likely that the former had opted to focus on her career as a multimedia journalist. DeRay's ex-girlfriend, Caro currently works for a Boston-based news outlet.
Read Also:- Mike Epps Wife End In Divorce, Who Is His Two Daughter's Baby Mama?
DeRay Finds Love Again With 2 Girlfriends
Coco, on the other hand, is happy being the so-called third wheel in DeRay's relationship.
With Kartya Santons being added to the mix, it seems as though the dynamic duo of DeRay and Coco took little to no time to move on from their collective breakup from Caro.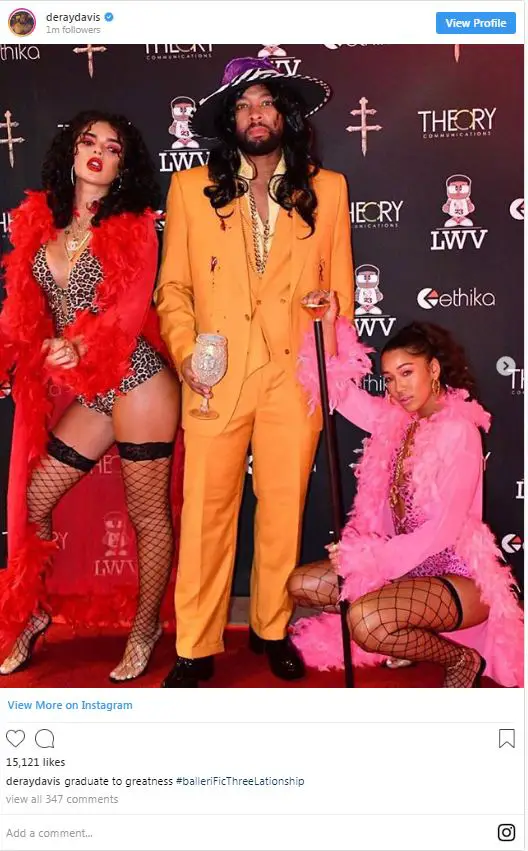 DeRay joins his girlfriends Kartya and Coco for a red carpet event in Hollywood (Photo:- DeRay Davis' Instagram)
According to Kartya, an LA-based Instagram model, she has been dating DeRay since 2017. She provided her Twitter followers with a rare insight into their lives by tweeting:-
"When I first started dating @DeRayDavis he invited me to lunch. He said just wear something cute & some heels. We went to Fat Burger."
Since becoming an item, the trio has been making regular red carpet events including BET Hip-Hop Awards and LWV.
Interesting:- Charlie McDowell Talks Future Wife After Reportedly Dating Actress, Past Girlfriends
Behind Daughter's Mother; Is Baby Mama His Wife?
Surprising enough, but the 32-year-old comedian is also a father. With two girlfriends by his side, he also has a daughter, Brooke Davis looking upon him.
However, her mother is not exactly revealed, and De Ray has chosen not to reveal if the baby mama was his girlfriend or his wife.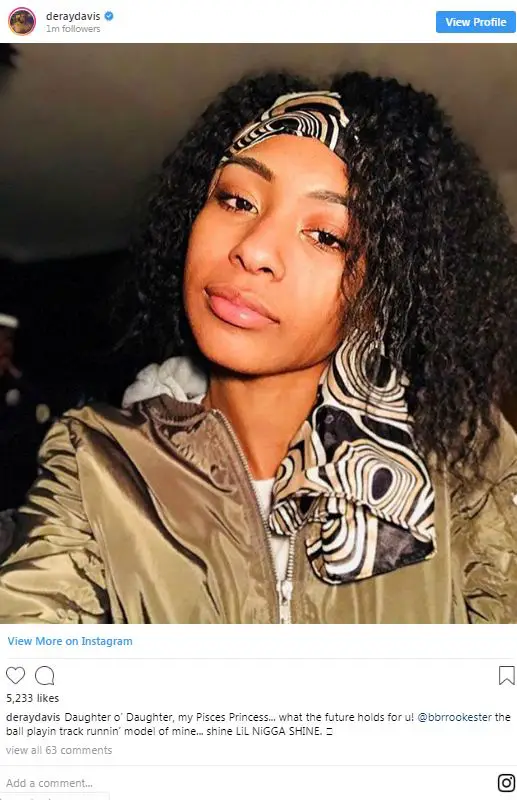 DeRay pens a fatherly post dedicated to his daughter (Photo:- DeRay Davis' Instagram)
There is no word on how he parents his daughter with two girlfriends, but through the tweets, they seem to be doing a lot better than most.
Don't Miss:- Rapper 6ix9ine 'Daniel Hernandez' Daughter & Baby Mama | Facts Uncovered
There is, however, another relationship that DeRay had before the dynamic three-o, and it was with Claudia Jordon. The relationship ended on a note; when Claudia was asked by her followers why she had broken up with De Ray, she replied:-
"Because he had too many bitches."
Nevertheless, DeRay seems happy raising his daughter on his own. While he may never "wife" his girlfriends, the Barbershop star remains indebted to his daughter's biological mother for the experience.
DeRay Davis Bio Unveils Parents & Net Worth
He first reached stardom is his debut to television movies include "Barbershop" in 2002, again in "Barbershop 2 back in business" in 2004, "21 Jump Street" and "Wild and Out."
He has amassed the net worth of a massive $1.5 million through his comedy; going on world tours appearing in comedy clubs and winning the Comedy Central Laugh Riots competition.
Discover:- Lydia McLaughlin Age 37 Wiki Reveals Parents & Hefty Net Worth In Detail
As of now, he has not spoken about when he plans to get married, but with two girlfriends and being a parent to his daughter, he has a lot on his plate, including his career but as always, he has managed three girls in the same household, so managing still could be the least of his problem!