Entertainment
DeRay Mckesson Black & Gay | Has Boyfriend Amid Complexity?
A civil rights activist, DeRay Mckesson has profoundly influenced the internet community using his fame and social media presence. An advocate for Black Lives Matter movement; he is one of the most vocal protestors of the incidents that took place in Baltimore and Ferguson.
The Maryland native, apart from his social contributions, has also been famed for his personal life!
A gay man famous for his close friendship with a billionaire entrepreneur, he has raised speculations whether the pair is more than just friends and possible boyfriends.
Openly Gay; Went To Bed With Suspected Billionaire Boyfriend?
A gay man, DeRay had long ago mentioned that he didn't want to hide in the closet. He spoke about his gay sexuality at a GLAAD event held in San Fransisco.
"As a gay black man it's important to me to show up — that I'm able to show up as my whole self, in every space that I'm in, because that's how I'm able to be the most true to who I am."
During the event, the activist also argued against traditional belief that a person could either be black or gay but not both saying that it was normal for a person to be both black and gay, a fact which the orthodox minds often refuted.
More Civil Rights Activist:- Ruby Bridges Now: Still Alive & Thriving! Surprising Never Known Facts
While one might assume that a social worker must be self-less and devoted to sacrifice his life when the time comes, DeRay is often seen as a man who shares an attachment and probably an affair with Twitter CEO, Jack Dorsey.
The pair first came encountered each other during the 2014 Ferguson riots, when the activist saw Jack and posted his photo on Twitter. His action got the attention of the CEO, and he followed DeRay on the social site.
Jack, who claims a net worth of $4.6 billion, is frequently accused of promoting Black Lives Matter movement on Twitter because of his close friendship with DeRay. The civil rights activist was also selected as one of the 20 beta testers of Periscope, an app developed by Jack's company.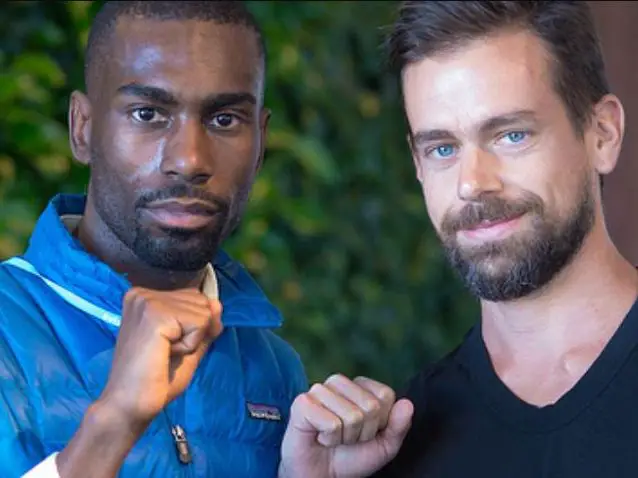 DeRay Mckesson with Twitter CEO, Jack Dorsey (Photo: Breitbart.com)
While the pair's friendship was known to many, a website claimed that the two were more than just friends. Jack, who is often suspected of being gay, was rumored to have involved in sexual activities with DeRay.
Gay Rumors:- Osric Chau Talks About His Ideal Wife & Married Status Amid Gay Rumors
Breitbart, a news network, claimed that the assumed boyfriends regularly went to bed together. The ongoing gossips between the two can be understood from the site's headline, which read as,
"Twitter CEO Jack Dorsey Is In Bed With DeRay Mckesson"
While the article didn't contain much about the alleged affair between the duo, it certainly fueled rumors among the readers. One thing that caught everyone's eyes was that Breitbart's tech editor is Milo Yiannopoulos, whose account was permanently suspended by Twitter.
It's not revealed if Milo was acting out of sheer anger due to his suspension or whether there was any genuineness to the report. A theory even suggested that there was a romantic connection between Milo and Jack, but once the Twitter CEO chose DeRay over the editor, Milo got furious and started leaking their secrets.
In both cases, it seems like DeRay was the victim as he had no say in the matter. And even if the social activist is a boyfriend to the billionaire, the pair is not yet ready to publicly acknowledge their relationship.
More About DeRay Mckesson: Family, Age, Net Worth, And Salary
Born in Baltimore, Maryland, DeRay was raised among his siblings by his father and great-grandmother. The activist's bio even revealed that both of his parents were drug-addicts and his mother had left when he was aged 33.
His family home was located in a rough neighborhood as there were regular gunfights in the locality.
During his teenage years, DeRay worked for the Chairman of Youth. In 2016, he was appointed by Baltimore public schools as the interim chief of human resources.
More From LiveRamp Up:- Vincent Martella Movies, Net Worth & Family; Is Walking Dead Actor Gay?
The activist, now aged 33, even ran for the position of Mayor in the 2016 election of Baltimore but could only garner 2.6% of the Democratic votes.
DeRay, who previously earned an annual salary $110,000 as a human-resources official for the Minneapolis public schools, has not revealed his net worth but looking at his successful career as a social activist, he has already reached his career heights.