Based in Chicago, Illinois, Donovan Eckhardt is a property developer, who skyrocketed to fame as an HGTV reality star. A graduate of the University of Illinois Urbana-Champaign, he is also the founder of the real estate company called Greymark Development Group.
Donovan stint as a reality star began with the HGTV series, Windy City Flip. Appearing in the episode titled Bucktown Rebuild in 2017, he portrayed himself (a contractor).
HGTV & Net Worth
Two years after his reality TV debut, Donovan returned to the small screen as the star of HGTV series Windy City Rehab.
The first (2019) edition of Windy City Rehab followed Donovan and designer Alison Victoria as the duo traveled around the greater Chicago area, looking for properties to purchase, rehab, and resell.
While Donovan performed all the contracting duties, his co-star Alison handled the design aspect of their business.
From The Same Network:- Ken Corsini Bio, Wife, Net Worth
Spanning over ten episodes, the first season of Windy City Rehab was an immense success. For the second installment, Donovon's appearance got ruled out. City officials suspended his residential real estate developer and general contractor license for a year in July 2019.
Before the suspension, the Windy City Flip sensation got slapped with stop-work order following neighbors' noise complaints. Back in March 2019, he claimed to address the situation by holding talks with the city officials.
Because of the suspension, Donovan's net worth took a massive blow. His co-host Alison furthered the pain by announcing a partnership with a new contractor.
Wife & Married Life
Contrary to widespread speculations, Donovan doesn't share romantic ties with Alison. The two are merely business partners.
A married man, Donovan is the father of two daughters. He and his wife Erica Eckhardt welcomed their first bundle of joy Charlotte in July of 2014. The duo's second child was born in the Winter of 2015.
Equally Adorable Married Life:- Erin Napier Wiki, Age, Net Worth, Husband, Family
The year 2012 marked the beginning of the HGTV star and his wife's marital journey. Tying the knot in August that year, the married couple couldn't have given their relationship a more fitting title.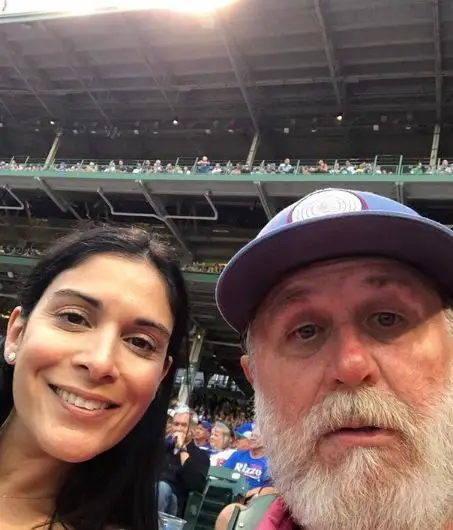 Donovan Eckhardt (using FaceApp) and wife Erica Eckhardt at a Chicago Cubs game in July 2019 (Photo:- Donovan Eckhardt's Instagram)
Through Instagram posts, Donovan regularly flaunts his wife and children. It is safe to conclude that he is a family man at core.
Bio - Age & Family
Donovan's spouse and offsprings aren't the only recipients of his appreciation on social media. His biological parents and brother Ted find themselves at the recieving end of the reality star's virtual affection.
The Eckhardt family is as close-knit as they make. Very supportive of each other's endeavors; they don't mind celebrating little accomplishments in their respective lives.
Fellow Chicagoan:- Vic Mensa Age, Bio, Girlfriend, Gay, Parents, Net Worth
The Windy City Flip alum was born on 25th November 1979. A native of Arlington Heights, Illinois, Donovan turned 39 years of age on 25th November 2018.