Entertainment
Drea de Matteo Leaving Previous Relationship Without Getting Married; Finally On Her Way To Have A Husband?
An end to a relationship is not always an end to the love life. Even after a depressing breakup, you can find someone who can make you feel and believe in love again.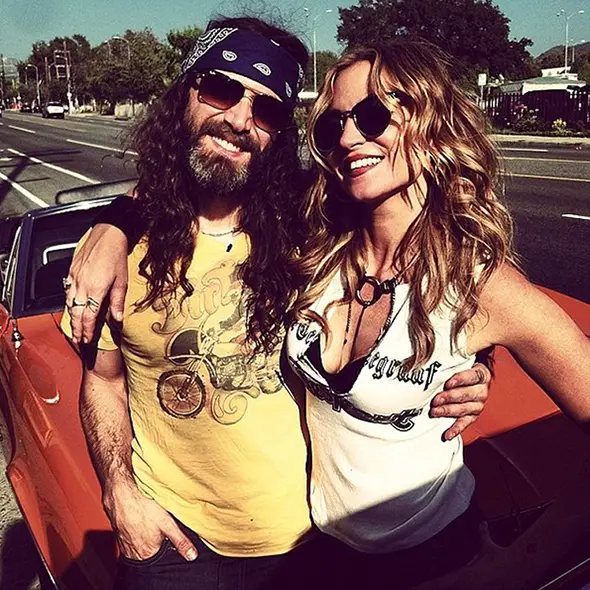 An end to a relationship is not always an end to the love life. Even after a sad breakup, you can find someone who can make you feel and believe in love again.
Drea de Matteo, who portrayed the character of Angie Bolen on ABC's Desperate Housewives, can make you believe that love can happen again even after heartbreak. Matteo, age 46, is finally on her way to have a husband moving on from her previous relationships.
Husband-To-Be Proposes At A Concert
Two months after seeing her East Village apartment burndown on live TV, Drea's then-boyfriend made all her woes go away!
You May Also Like:- Kim Porter Dies At Age 47; Diddy Kids' Mother, What Is Cause Of Death?
Forty-six-year-old Matteo is all set to get married as she is engaged to her long-time boyfriend. Whitesnake musician Michael Devin proposed Sopranos star Matteo in July 2015. He asked her to marry him in a concert in Atlantic City, New Jersey.
Michael during his proposal said:-
"I fell in love with a very beautiful woman a few years ago, 'I want to embarrass her as much as I can. I've been in love with you since the day I met you and I will for the rest of my life, and I hope that you'll marry me. One, will you make sweet passionate love to me for the rest of my life?"
Matteo then stood on stage and replied:-
"Forevermore. Will you love my children forevermore?"
Soon after Michael said "Yes," Matteo screamed:-
"I'm going to marry this motherf***er!"
Drea and her boyfriend Michael who turned her fiancé are now living together happily. The pair will tie the knot soon. However, the wedding date is not revealed by the couple. It seems like that the young and beautiful actress doesn't want to end her relationship with Michael anytime soon following her past breakups.
About-To-Be-Married Drea & Future Husband Happy With Kids; Surrogacy Plans Revealed
About two years after getting engaged, Drea and Michael are yet to get married.
Discover:- What Is Margaret Josephs Net Worth? Her Bio Adds Kids & Loving Husband
Drea and her husband-to-be Michael flaunting love (Photo:- Drea De Matteo's Instagram)
In the soon-to-be-married duo's defense, they don't seem happy with how the things are panning between them and Drea's kids from the previous relationship.
From enjoying pony rides in Griffith Park to dressing up for renaissance festival, Drea's future husband Michael and her kids are exhibiting a budding bond so reminiscent of the father-child relationship.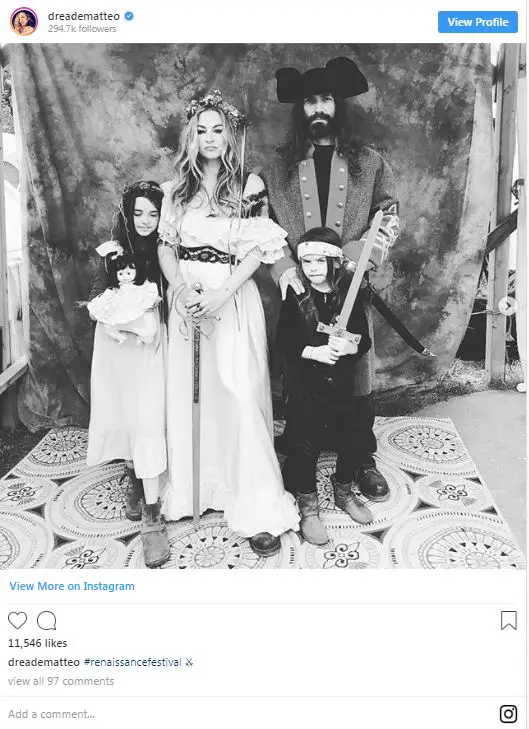 Drea along with Michael & the kids dress up for renaissance festival (Photo:- Drea De Matteo's Instagram)
As if bringing kids in her future husband's life wasn't enough, the Soprano actress - who became a victim of grand auto theft in September 2018 - also wanted her Desperate Housewives co-star John Barrowman to enjoy her the fruits of fatherhood.
In 2018 The Sun interview, John opened up about how Drea has offered to be a surrogate mother. He quipped:-
"Drea said we're like brother and sister, separated at birth and that she'd have my kids.
There's no denying that Drea embodies a motherly figure.
Interesting:- Taylor Mills Age 31 Is Married, Intimate Wedding Ceremony With Brett Young
Young Love: Once Engaged-To-Be-Married Drea Battles Divorce Rumors 
Prior dating Michael Devin, she was in a relationship with musician Shooter Jennings from 2009 to 2012. They were also engaged, and interestingly Shooter also proposed Drea de Matteo on stage at the rocker's concert in Utica, N.Y., but their relationship couldn't lead to marriage.
The shooter was then married to Misty Brooke Swain on July 2013.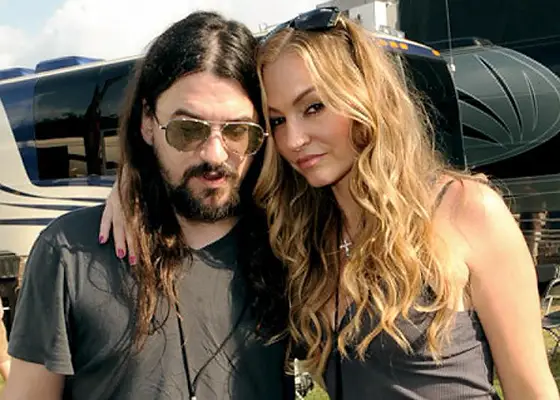 Shooter Jennings and Drea De Matteo backstage during Bama Jam 2009 on June 6, 2009, in Enterprise, Alabama (Photo credit: nydailynews.com)
However, Drea and Shooter have two kids together; a daughter named Alabama Gypsyrose Jennings born in November 2007 and a son named Waylon Albert "Blackjack" Jennings born on April 2011. Though the ex-couple never married many people speculated them to be divorced.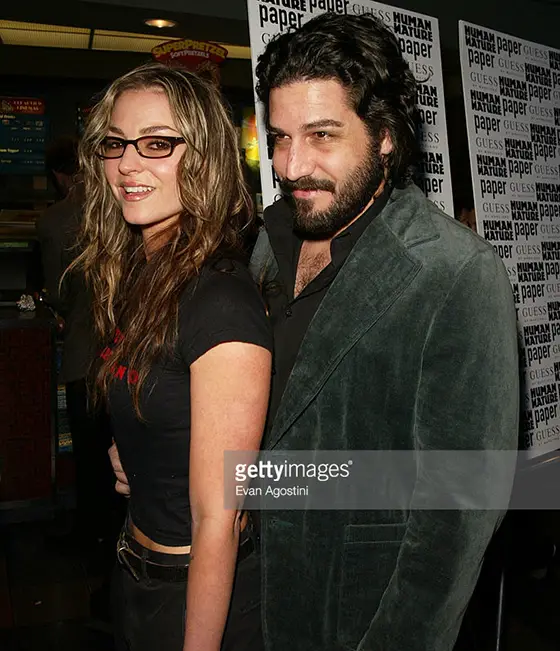 Drea De Matteo with boyfriend Mike Sportes arriving at the N.Y. premiere of 'Human Nature on April 9, 2002 (Photo Credit: Getty Images)
Besides Shooter, Matteo was also in a relationship with Michael Sportes from 1995 to 2003. They were business partners and used to live together. In the year 1993, Sportes moved into the apartment as a platonic roommate.
Read Also:- Is Joe Namath Married After Divorce With Wife? At Age 75, Here's Answer
Drea de Matteo has appeared in a large number of films and television series. She is famous for appearing on ABC's Desperate Housewives (2009-2010), HBO TV series The Sopranos (1999-2006), NBC sitcom Joey (2004-2006), and NBC's Shades of Blue (2016). 
Drea has not only gained immense popularity from her career but also has accumulated hefty net worth as her net worth is estimated to be $15 million.