Entertainment
Why Engaged Emily VanCamp Won't Make Joshua Bowman Husband - Yet
She has been dating actor..... since they first met on the shooting set of the movie, Revenge. However, the couple were first rumored to be dating since.......They have already been dating for..... wedding.....married...
After making an entrance in Entertainment world with the role of Amy Abbott in Everwood, the Canadian actress enlisted herself as a prominent figure with the ABC series, Revenge.
The 2011's series appeared to be a fruitful work for her as she found the perfect partner in co-star Joshua Bowman. And the couple is growing stronger and has already breached to the engaged partner.
And their fans are eager to learn about their wedding plans but the engaged couple seemed to be more concerned for their career than in married life.
Dating Life Marks Seventh Anniversary; Engaged For A Year
Dating in real life could be better than dating in front of the camera!
Emily VanCamp has been dating co-actor Joshua Bowman since they first met on the shooting set of the movie, Revenge in 2011. However, the couple was first rumored to be dating since January 2012.
See Also:- Louisa Johnson On Dating Status & Alleged Affair; New Boyfriend Now?
Then the couple locking the lips in public in February 2012 gave worth to their dating rumors. With their six years of dating life, Joshua Bowman finally asked Emily to be his bride with the diamond engagement ring worth  $100,000 back in May 2017.
On their engagement day, she had multiple reasons as it was her birthday too. After two hours the couple was engaged, she got a call that their show was a success.
"We got engaged and then two hours later they called to say our show's picked up—and it was my birthday. It was like a triple celebration. It was really beautiful."
Within some month of getting engaged, the couple embarked into six years of dating life. Emily's fiance, Joshua Instagrammed the adorable picture on the Halloween day wishing his fiancee on their sixth years of dating life.  
Don't Miss:- Caroline Boyer Wiki & Exciting Details! Age, Wedding Ring, Job - Everything On Luke Bryan's Wife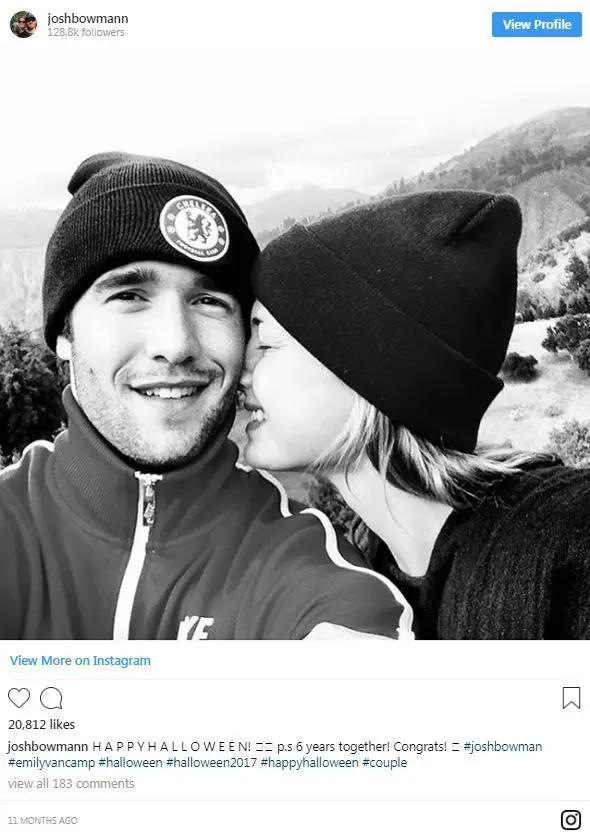 Emily VanCamp  and Joshua Bowman celebrates six years of dating life (Photo: Joshua Bowman's Instagram)
Still, the couple relishes their love life like a new lovebird. After their engagement, the couple was spotted leaving Little Dom's restaurant in the Los Feliz neighborhood of Los Angeles in March 2018.
Since the couple seems happier more than ever, they are going strong with their engaged life. And in May 2018, she highlighted that she said yes to her fiance and further explained that she did not want to spend her life with anyone else.
She Instagrammed the picture with her fiance on 11 May 2018.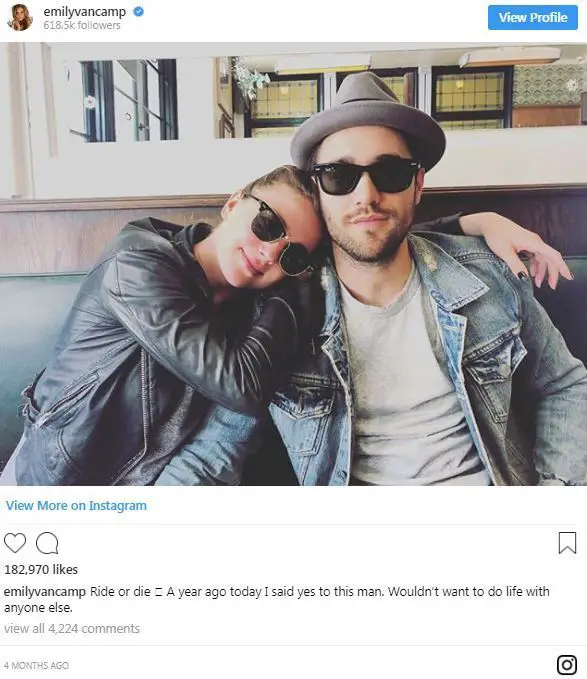 Emily VanCamp, boyfriend Joshua Bowman celebrating the first anniversary of engagement (Photo: Emily VanCamp's Instagram)
The engaged couple seems to be growing more stronger whistling about their married life and had also leaked about their wedding plans. 
You May Also Like:- Iron Man Actress Gwyneth Paltrow & Brad Falchuk Married; "First" Wedding
Not Ready To Call Joshua Bowman "Husband"; Wedding Plans
While their fans are over-whelming to hear the wedding day, sad news to the awaited fans; the couple is not rushing to the alter this soon.
While attending Fox All-star party during the 2018 Winter TCA Tour on 5 January 2018, she revealed to E! News that the couple is yet to plan for their wedding.
"We haven't had any time," The Resident star admitted. "We've been working in different countries. We're just taking our time with it."
But the knitting dream of their fans might come true to witness their favorite actress' wedding as she hinted that she might tie the knot with her fiance in 2018. However, in the same month, she talked with People about her wedding plan. She stated:
"We got engaged and then both hit the ground running with work. We're not in a rush and we're not in the wedding planning zone."
Moreover, she gave a hope to her followers quoting: 
"I think once we start it'll go quickly hopefully, but we're both very focused on our work, so the little time we have together, we just want to be together."
 While the couple is fully-pledged towards their career, probably, they will soon announce their wedding plans once they succeeded into their acting career.
Married With Fiance; Wedding At Bahamas
The couple, whose wedding was dreamt by many, has finally turned true!
The 32-year-old actress said "YES" to her fiance Josh Bowman in front of family and friends in the beautiful Bahamas on 15 December 2018.
Following the long-awaited wedding, the happiest bride Instagrammed the glimpse of their joyous occasion which  she captioned, "12.15.18"
Discover:- Inside NBC's Laura Garcia Age 49 Married Life, Who Is Her Husband?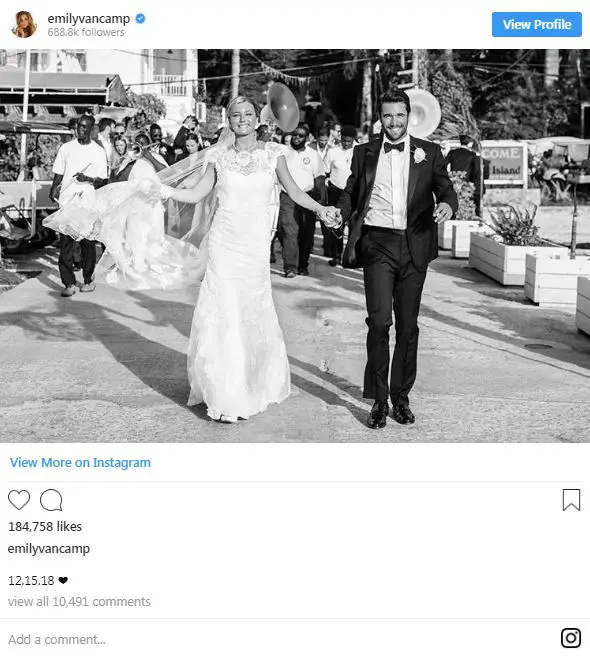 Emily Vancamp, husband Joshua Bowman on the wedding day (Photo: Emily Vancamp's Instagram
Moments later, Emily shared another shot from her wedding and this time, she thanked her friends and family who attended their wedding ceremony. She wrote:-
"Thank you to all of our friends and family who made their way to celebrate with us! We are eternally grateful. And to @lelarose and your incredible team for creating my dream dress... Thank you times a million"
On that day, Emily donned an open-sleeved Lela Rose wedding gown whereas her 30-year-old husband opted for a conventional tuxedo. Additionally, Charlie Daily was the event's designated photographer.