Entertainment
Erin Ryder Married Status Now, Facts On Husband, Today, Bio
Erin Ryder is an American TV show host and producer...is not married and does not have a husband...was rumored to be dating Josh Gates...as of today, works on the TV series In Search Of Monsters...her bio and age are given below...
Erin Ryder, or Ryder as she is commonly known, is a TV host and a producer in multiple shows. She has worked as a producer in travel, entertainment, and sports, having gained experience while producing shows such as the Emmys, X-Games, and the Olympics.
Beginning her career in sports as a production assistant at NBC Olympics, Erin has traveled all over the world working in shows such as Syfy's Destination Truth, National Geographic's Chasing UFOs, and Universal Studios' Myth Explorer. She also makes occasional appearances on various talk shows and radio stations.
Is Erin Ryder Married?
To answer the immediate question - No. Erin Ryder does not have a husband as of December 2019.
However, being famous has its pros and cons. One of the drawbacks is that you get related to other celebrities in terms of romantic connections. Similar is the case with Erin, as she has been linked with one of her colleagues in the past.
Read More:- Larry King Divorce, Age, Bio, Facts
The person that Erin was rumored to be with was Josh Gates. Erin and Josh appeared side by side in four seasons of Destination Truth. Spending such a long time together in front of the cameras was bound to create some speculations.
The rumors dated back to as far as 2010 when the on-screen colleagues first started working together.
In addition to the lack of confirmation, Erin took to her Twitter on 11th April 2019 to shut down the speculations about her secretly dating Josh. Erin pointed out that Josh was married to Hallie Gnatovich, a beautiful woman and a mother of two children of Josh. That should conclusively, for now, shut down the gossips regarding their affair.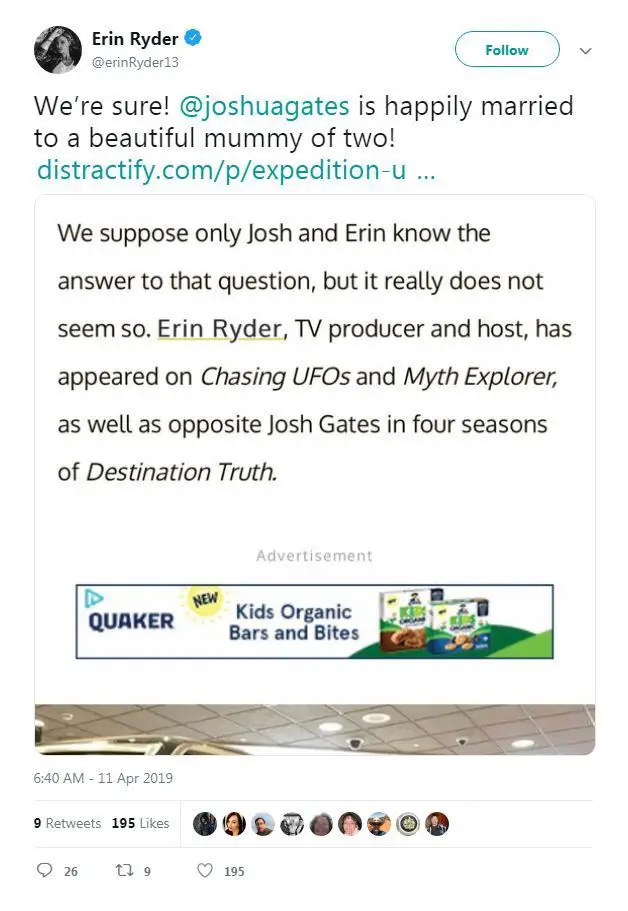 Erin Ryder clears out rumors about her dating affair with Josh Gates on 11th April 2019 (Photo: Erin Ryder's Twitter)
Coming back to Erin, she has dated a guy in the past. She was seen flirting back and forth on Twitter with a guy named Jeffrey Hooks. The incident took place back in February 2015, and the relationship seems to have been over since there have been no interactions past that post. Erin also has deleted posts relating to Jeffrey since then.
Another TV Show Host:- Bill Maher Wife, Married, Girlfriend, Gay
As for now, there are no hints about her current dating life. Her Instagram is void of pictures with any guy that could be considered her boyfriend.
Erin's Parents And Family
Erin comes from a big family. Her father's name is not known, although his Instagram handle says 'C R.' Her mother is Gail Ryder.
Erin grew up alongside four siblings - three sisters and a brother.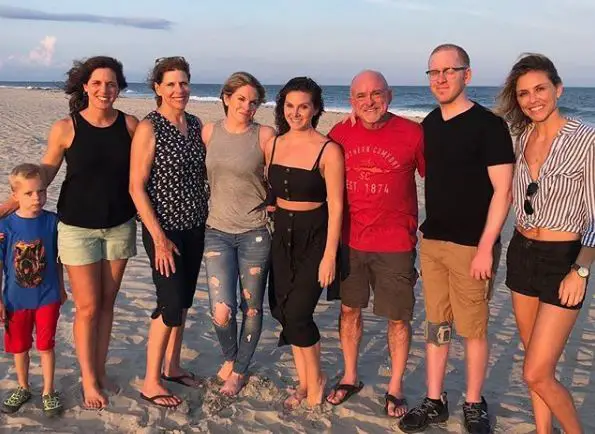 Erin Ryder with her parents and siblings on her mother's birthday on 28th August 2018 (Photo: Caitlin Ryder's Instagram)
Her sisters' names are Courtney Van Ryder, Caitlin Ryder, but the name of her one more sister is unknown. Her brother is Chris Ryder.
Bio And Facts: Age, Height
Erin Ryder was born on 14th August 1980 in New York, US. She was raised there along with her siblings.
She stands at a height extending 5 feet 5-and-a-half inches (1.74 meters).
Her net worth is not known yet. However, she earns an average of $95,697 per year, excluding bonuses as an executive producer and $23,670 per annum as a TV show host.
As of today (12th December 2019), she is working on the series, In Search Of Monsters.