A multi-talented guy, Eriq La Salle has been involved in the entertainment sector for long and has shown his talents in many fields. A successful actor and published author, his significance can be known from his massive net worth which amounts to several million.
His lovelife may not be as accomplished as his acting career, but Eriq isn't a man to get disappointed in his life.
Eriq La Salle Net Worth, Height, & Age
A Connecticut native, Eriq was raised by his mother, Ada Haynes. He also has one sister and two brothers, but none of his family members are as successful and popular as Eriq.
Family With Wife & Children:- Rick Rubin Wife, Children, Family
Now age 56, Eriq has appeared in multiple TV shows & movies and has even amassed a considerable fortune from his career. Known for films & series like Logan, ER, Under the Dome, Madam Secretary, The Night Shift, and more, Eriq today possesses a net worth of $25 million.
The tall actor (height: 6 feet 2 inches) also credits his massive net worth to his book-writing skills as he is a well-recognized author.
Crime Novel Series
While Eriq takes inspiration from real life to build his onscreen personalities, his books' characters are based on imagination. After establishing himself as a novelist with the release of his first crime novel "Laws of Depravity" in 2012, Eriq came up with its sequel two years later.
In 2014, he published "Laws of Wrath" which resumed the journey of police officers Quincy Cavanaugh and Phee Freeman. In the second installment of the crime series, Phee must catch a serial killer while also making peace with his criminal father and gay brother.
Eriq has promised his novels will be a five-book series but, is yet to release three more parts of the franchise.
Engaged Once, Married Now?
Eriq was once a committed man; engaged to a fiancee. The actor and his girlfriend, Angela Johnson, dated for nearly five years before eventually getting engaged on 6 December 1997.
'Newly Engaged:- Alex Rodriguez & Jennifer Lopez Got Engaged
During their time as a couple, Eriq even bought a vacation home: he purchased it with his money but, registered in Angela's name. The home became an issue when the actor and his management consultant fiancee broke up as she claimed half of the house's value.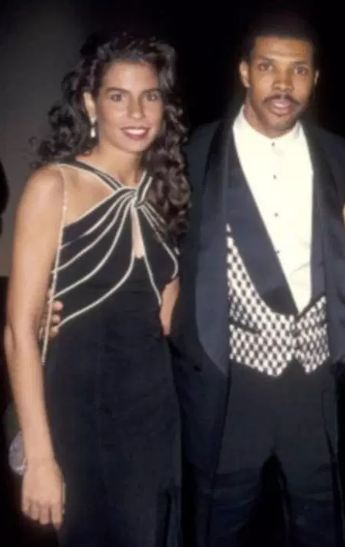 Eriq La Salle and Angela Johnson back while they were dating in 1997 (Photo: Theballerlife.com)
However, Eriq filed a suit maintaining that he didn't owe a single penny to Angela and her name was only used in the registration to protect his privacy.
Dating Again After Split:- Gianluca Vacchi Age 51 New Girlfriend After Split With Wife, Who Is She?
While many of the couple's fans wanted the duo to rekindle their romance and get married someday, the pair never got back together. As of now, Eriq is single without a wife. He has also mentioned no will to get married and has not been linked with any woman post his split from Angela.