Entertainment
Eve Hewson, Boyfriend Alert! Dating Status Of Once 'Dangerously Single' Actress
A love for oneself is much more than an individual can garner for others.
Nonetheless, many people choose to ignore their self-infatuation to have a loving relationship with their partners. But can a person still have faith in love after their heart gets crushed by the one who made them first believe in love itself?
It turned out Irish actress Eve Hewson no longer did. 
Eve Hewson lost her belief in love after her longtime commitment came to an end. Could she ever succeed in finding a keeper for herself after the terrible experience? Continue reading to find out!
Eve Hewson's Romantic Affairs: "Dangerously Single"
The latest tweet of the actress from 'This Must Be The Place,' Eve Hewson suggests that she is in a relationship with herself.
"Me in a relationship with myself"
But previously she was rumored to be dating again, The Social Network actor Max Minghella. Moreover, the pair was photographed together wandering the streets of New York back in July 2015.
See Also:- Who Is Taya Kyle Dating? Single Mom To Kids, Relationship Status Now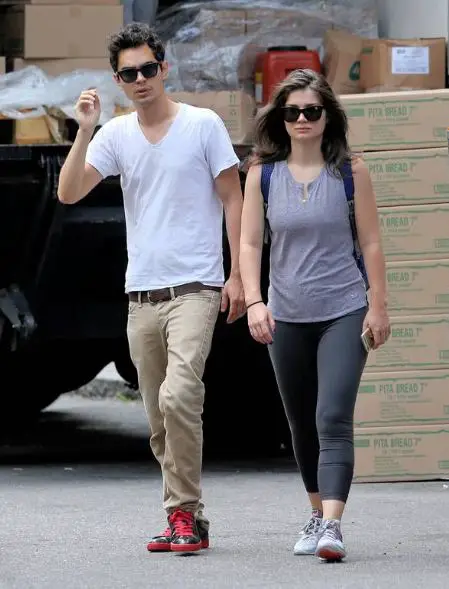 Eve Hewson spotted with Max Minghella on the streets of NY (Photo: independent.ie)
At the time they were pictured together, both Eve and Max were supposed to be single as they were recovering from their then-recent breakups. However, the pair didn't make any make an official statement about their relationship thus their fans were oblivious regarding their relationship.
Previously she was in a five-year-long relationship with her actor boyfriend, James Lafferty, but she surprised everyone when she revealed that she is happily single. Eve was in a notoriously private relationship with James so least information about their romantic association is known to the media. 
You May Also Like:- Nikki Glaser Plans Second Girlfriend For Boyfriend, Why? Married & Dating Talks
In an interview with Independent on September 2018,  Eve told about her singlehood life including the opinion of her single in her single status as,
"My sister says, 'you need to look more available.' She's like, 'You're so confident in yourself, you look like you have a boyfriend. I'm 23, I don't need a boyfriend. It's so much fun being on your own."
Eve and James were in a relationship from 2010. It's assumed that even Eve's father Bono, the rock star from the legendary rock band U2 had approved the twosome when he invited James to a horse race along with Eve.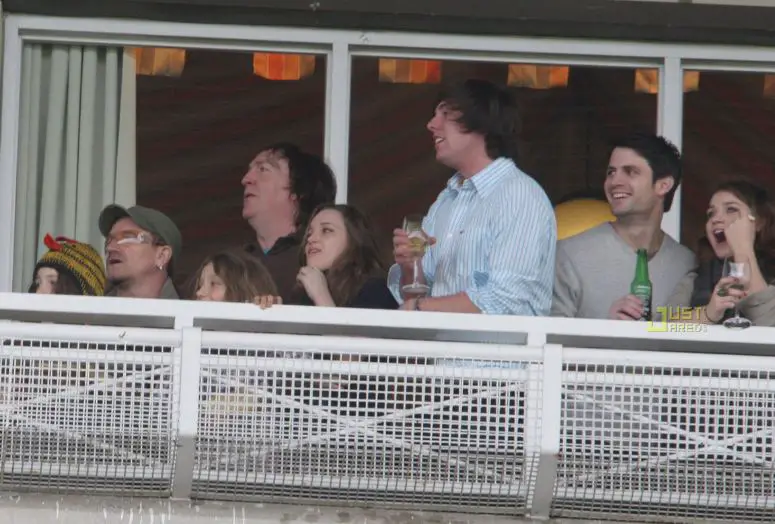 Eve with father Bono and James attending a horse race (Photo: Justjared.com)
But the magic wasn't going to last long for Eve and James. The five years long partnership came to a halt when Eve described herself as 'dangerously single,' although she never disclosed the reason for their split. 
More About Eve Hewson
Memphis Eve Sunny Day Hewson aka Eve Hewson was born on born 7 July 1991 in Ireland. She received her formal education at the Dalkey School Project and St. Andrew's College in Dublin and New York University. 
She made her acting debut in 2005 alongside her sister Jordan in the short film Lost and Found. She made her feature-length debut in 2008 in The 27 Club. Also, she appeared in the music video and short film for Irish band The Script's song For The First Time. She also co-starred in the Steven Soderbergh TV drama called the Knick alongside Clive Owen.
More From LiveRampUp:- Jasmine Villegas Happy by The Year With Boyfriend And Baby! 2017 Is No Exception
She got her big breakthrough appearing alongside Sean Penn in the movie 'This Must Be The Place.' Her movies credit includes 'Blood Ties, Enough Said, Bridge of Spies and Papillon. This year she will appear in her upcoming movies 'Robin Hood' and 'The True Adventures of Wolfboy.'
2018: TV Boyfriend To Defending An Actor
2018 has been a successful year for Eve as she has landed roles in a couple of movies in the current year. On 11 September 2018, Paper Year is set to be released which stars Eve and Avan Jogia in the lead roles as onscreen boyfriend and girlfriend.
The movie which will be released directly to videos will have Eve taking on the character of Franny, a newlywed 22-year-old who falls in love with her co-worker. 
Eve Hewson, along with Paper Year boyfriend, Avan Jogia (Photo: Eve Hewson's Instagram)
Similarly, Eve will also hit the theatres on 21 November playing the role of Maid Marian in the upcoming film Robin Hood. The movie co-produced by Leonardo DiCaprio has Taron Egerton in the title role and is joined by Jamie Dornan and Jamie Foxx as the supporting cast.
Eve also got in the news earlier in June when she got slammed by actress Jameela Jamil for defending Emile Hirsch.
Emile, who had strangled a lady friend back in 2015 at the Sundance Film Festival after party, was defended by Eve saying that he had committed a mistake and should be forgiven. But, Jameela hit back claiming that abusing a woman was not a mistake but instead a criminal offense.