Entertainment
Five Facts About Aubrey Anderson-Emmons: Modern Family Star's Real-Life Parents, Ethnicity And Much More
The last season was the eighth season of The American Broadcasting Company (ABC)'s famous sitcom series, Modern Family, but it was only the sixth for an adorable character Lily Tucker-Pritchett, played by Aubrey Anderson-Emmons.
While the little actress is probably now busy with her shooting schedule for the next season which will be airing in late 2017, let's have a quick look at the five facts about her.
1) Aubrey Recently Celebrated Her 10th Birthday:
Aubrey Anderson-Emmons was born to a multiracial couple on June 6, 2007, in Santa Monica, California. She was born to an American man Kent Emmons and a South Korean lady Amy Anderson.
Similar to the diversity in races, her parents are involved in different professions, Kent is a media entrepreneur while Amy is a stand-up comedian and actress. She has recently celebrated her birthday on June 6 and is now ten years in age.
She also has a half-sister whose name is Ashley Emmons who lives in Missouri. The ethnicity of the little actress is American considering her father and Korean in accordance to her mother.
2) The Young Actress Of Modern Family:
Aubrey is best known for her role on Modern Family, and she became the part of the series from its third season replacing the twins Jaden and Ella Hiller.
She is one of the youngest artists on the set of the TV show, portraying the character of Lily Tucker-Pritchett, who is a Vietnamese child adopted by an American gay couple: Mitchell Pritchett and Cameron Tucker.
She is a cute life form, and her co-stars never get washed-out pampering her. One of the actors of the same series, Nolan Gould, who plays Luke Dunphy, uttered his experience when he first met Aubrey to Hollywood Reporter in 2011 and his words were:
"The first day I met her, she was kind of hiding behind her mom's leg and I brought out my iPad and started playing with it and she comes out and she's like [gasp] and started playing with it. It was really cute. I haven't worked with her yet. But she is really happy. She says lines. She does everything. She's really cute."
3) Two Records That Mark Aubrey's Identity:
Aubrey recorded a history in the consecutive years 2012 and 2013 for she was the youngest actress to walk the Primetime Emmy Award red carpet. The adorable actress also made her way on the red carpet of 2017 Screen Actors Guild Awards on January 29 in Los Angeles.
The reason behind her presence was the nomination of Modern Family for Outstanding Performance by an Ensemble Comedy Series, and it was the 18th SAG nomination for the show.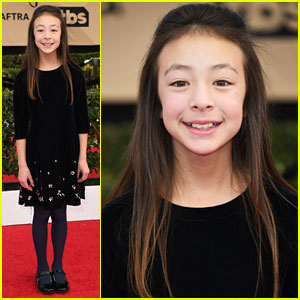 Caption: Aubrey Anderson-Emmons attending the SAG Awards 2017.
Photo Credit: justjaredjr.com
4) Loves Traveling, Especially With Her Mother:
The busy little princess, however, loves to spend her spare time traveling with her mother. The mother-daughter combination commonly gets spotted in public places, and also take turns to share their images on their social accounts.
We got to see their smiling faces on Instagram, while they were on a weekend holiday on the occasion of the Mother's Day.
Back in 2016, the cute mom-daughter pair enjoyed their time on a trip to San Francisco, where they hosted a fashion show for the eco-friendly shoe brand Plae.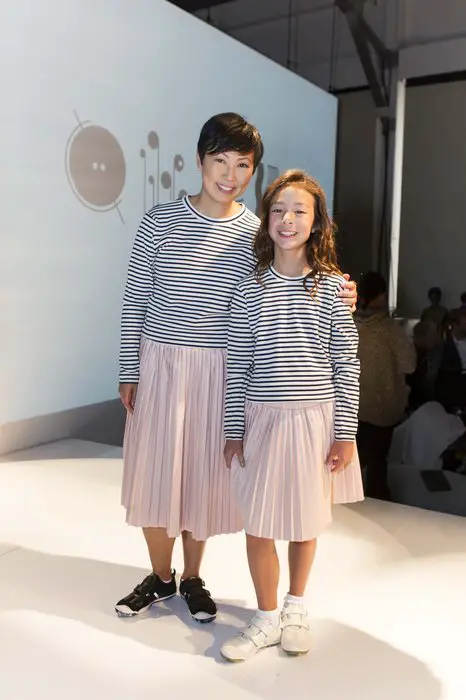 Caption: Aubrey with her mom, Amy in a fashion show in San Francisco.
Photo Credit: mom.me
5. Little Aubrey's Huge Net Worth:
Aubrey is too young, but her support for the family's economic condition is a commendable act. The little actress earns a huge salary close to $100,000 per episode which concludes a net worth of $1 million for the girl.
The girl exhibits an impressive acting, which assures us about her glittering acting career. She is now engaged in the ninth season of the Modern Family which is to be aired soon in September.