The youngest of the Jonas Brothers, Frankie Jonas is jokingly named Bonus Jonas. Frankie is an American actor, and like his brothers, the youngest Jonas is also a musician.
He is not in the famous Jonas brothers Trio's band, but he has made a name for himself as MEPHISTO.
Youngest Jonas's Biography
Frankie was born as Franklin Nathaniel Jonas on 28th September 2000. Born in Ridgewood, New Jersey, his ethnicity is a mix of German, English, Scottish, Irish, Italian, and French-Canadian descent. However, Frankie is an American by nationality and heart.
Engaged Elder Brother :- Nick Jonas & Priyanka Chopra Unite Culture In Stunning Interracial Wedding
Born to the family of Denise Miller-Jonas and Paul Kevin Jonas, Frankie is also known as the Bonus Jonas because of the age gap with his brothers. He has three elder brothers: Kevin, Joe, and Nick. All the Jonas brothers are involved in the entertainment industry. Kevin is a musician; Joe is a singer, and Nick is a singer-songwriter. His parents are also involved with the showbiz.
The Bonus Jonas is also handsome like all his brothers. He stands at a relatively tall height of 5 feet 11 inches (1.8m).
As for his education, the youngest Jonas graduated college from Tennessee's Blackbird Academy on 29 March 2019.
Frankie Jonas's Career
As expected of someone born into a family of Jonas, Frankie has broken through the bar his brothers had set for him,
Rumored Couple : Sophie Turner Snugs With Her Rumored Boyfriend Joe Jonas
Frankie is an accomplished actor in his own right. He started with as a voice actor lending his voice for Sôsuke in the 2008 animated movie, Ponyo. He has since then expanded and done many more TV shows and movies. His most notable appearance was undoubtedly in 2009's family sitcom, Jonas.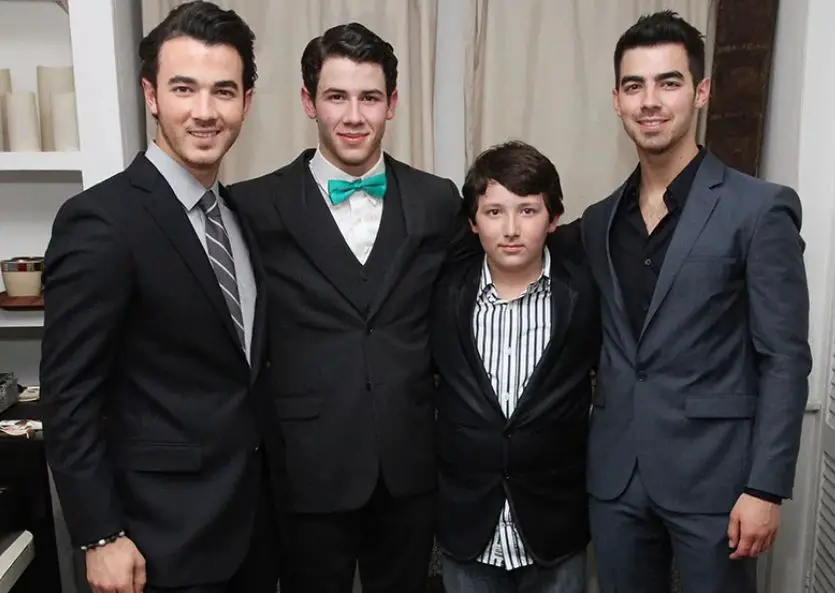 Frankie Jonas with his brother, Kevin, Nick and Joe (Photo: People.com)
The Choice TV breakout star comes from a family that is very financially well off, but he doesn't have to expect a handout from his brothers. His brothers, Kevin, Joe, and Nick, are valued to be worth $25 million each. Frankie himself is a millionaire. His net worth is estimated somewhere in the million range.
Is Frankie Dating, Girlfriend?
Following suit of his brothers, Frankie Jonas is also a favorite among the ladies.
He broke a lot of girls heart when he revealed his girlfriend back in 2016. The star even took his high school girlfriend, Austin to his prom. Sixteen years old at that time, the young lovers shared their love all over their social meida.
Austin even uploaded a photo of them kissing in a photo booth on her Instagram.
Joe Jonas's Girlfriend:- Sophie Turner Wedding, Joe Jonas, Engaged
However, the pair have remained relatively silent over the years. They could still be dating or far the worst; they could have parted ways. The fans will only know when Frankie decides to share more information on the matter.
Lately, the actor has developed a close friendship with American singer Noah Cyrus. Whether their relationship has turned romantic is yet to be confirmed by either of the two.