Entertainment
Haley Lu Richardson & Boyfriend Engaged To Get Married, Relationship Talks
American actress Haley Lu Richardson may have played a disloyal girlfriend in the 2018 movie Operation Finale, where she ratted out her boyfriend's father, Adolf Eichmann, to Israeli agents; but in real life, her loyalty towards her boyfriend is not to be questioned.
The Last Survivors actress and her Canadian boyfriend have recently made it to the next level, and their plans for a wedding is nerdy beyond doubt. Finding love at such a young age, Haley is not about to let go of her charming boyfriend.
Engaged To Actor Boyfriend; Random Proposal
Haley has already found the love of her life at the young age of 23, and the pair recently took their relationship to the next level. Haley recently got engaged to her longtime boyfriend, Brett Dier, who is famous for his role on the American telenovela, Jane the Virgin.
Don't Miss:- Finally Engaged! Joshua Kushner & Super Model Girlfriend Karlie Kloss To Wed
While talking to Carlos Bustamante during the 2018 ET Canada Awards, the Split actress mentioned that she proposed Brett for marriage.
Haley further added that the proposal was unplanned and out of nowhere she popped up the question, "Do you want to marry me?"; after which both of them momentarily laughed and cried before Brett accepted her proposal as he was swept off his feet.
But, she explained that Brett didn't like the term "fiance," and so they had kept their status to "engaged boyfriend and girlfriend."Haley even displayed her ring as she posed for a picture with Carlos.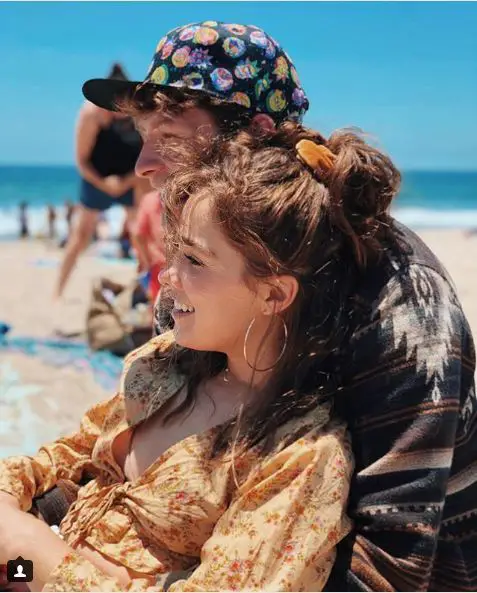 Haley and her boyfriend enjoy some romantic time on the beach after their engagement in July 2018 (Photo: Haley Lu Richardson's Instagram)
Later in May 2018, Brett posted a video where he confirmed his engagement with Haley. He even flaunted his ring which is made of a meteor and containing a dinosaur bone.
You May Also Like:- Sissy Spacek True Love - Husband & Young Daughter Fascinating Story
When asked about their plans for a wedding, Brett mentioned that the fiancees have planned on getting married in Sedona, Arizona as the place looks like Mars and is their favorite place to visit.
He revealed that the wedding ceremony would be a relatively private event and few people will witness the prospective husband and wife getting married.
Met Five Years Ago; Still Deeply In Love
Haley and her fiance, Brett first met at New Orleans in June 2013; however, the couple has not disclosed much about their first meeting.
Both actors by profession, the couple has helped each other in their respective careers. Brett even accompanied his girlfriend on the premiere of her movie The Bronze, held at the Regent Theater in Los Angeles on 7 March 2016.
The couple is famous for doing weird activities together and posting the pictures of their funny moments on social media. Also, Haley and Brett enjoy visiting theme parks, showing public display of affection and even making funny facial gestures which they flaunt to their fans through Instagram. 
More From LiveRampUp:- Shemar Moore Reveals Thoughts On Getting Married And Having Kids; On His Way To Find A Wife Now?
Funs apart, the pair are genuinely in love and don't miss any chance to showcase their affection among fans. On 15 February 2017, she posted an Instagram picture of the two but mentioned that it wasn't Valentine's post instead was a birthday wish for her boyfriend.
In the photo, Haley can be seen showing her bare feet which fits the US shoe size of no. 6.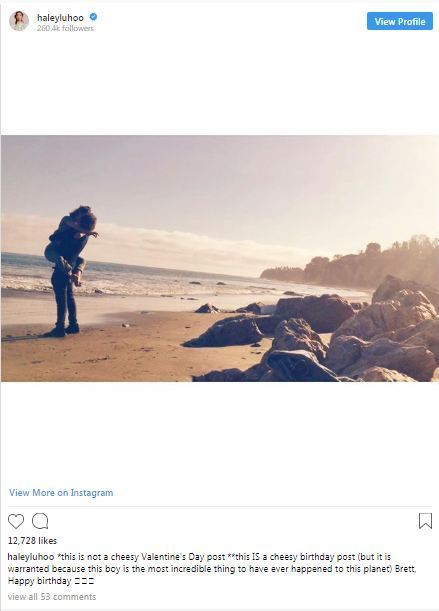 Haley shares a romantic birthday wish for Brett on 15 February 2017 (Photo: Haley Lu Richardson's Instagram)
Haley, who stands at the height of 5' 2" (1.57 m), has been going strong in her relationship. And even though they may not get married just yet, the couple's relationship is no less than a marriage.