Entertainment
Hayden Byerly: Young Man Who's Dated Amid Gay Rumors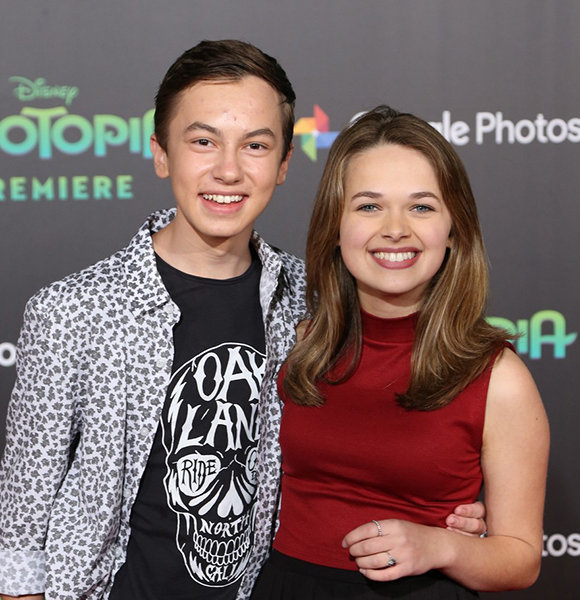 An actor's job is to portray a character convincingly, but at times, the same conviction makes them the victim of various rumors.
Actor Hayden Byerly broke grounds with his gay character in the show The Fosters and even went on to become the youngest gay couple to share a same-sex kiss.
Various speculations rose regarding his sexuality, but Hayden had a girlfriend to fend the gay rumors and was in a blissful relationship with her. 
Onscreen Gay; Dating Life With Actress Girlfriend
The success of Hayden as an actor and the influence of his gay character can be fathomed from the fact that he had to come forward to address the gay rumors. During a Twitter chat session, one of his fans asked if he was gay in real life as well. Well, replying to the query, Hayden clarified,
"I am straight in real life and Jude is still figuring out if he is gay or not."
Later, Hayden started dating his actress girlfriend, Alyssa Jirrels from December 2015. The couple went on their first trip to San Francisco and even traveled Vancouver together.
See Also:- Scorpian's Katharine McPhee Engaged To Boyfriend David Foster Of Twice Her Age!
Additionally, the couple's pictures from the trip made the affection between them more vivid.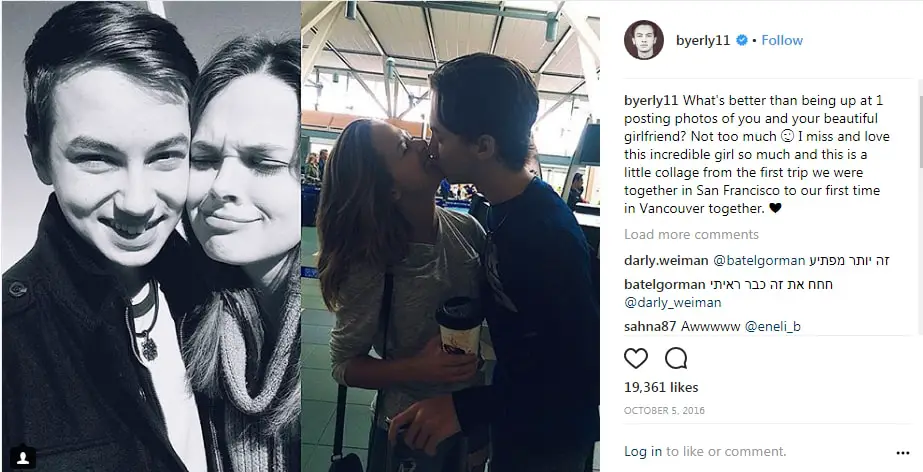 Hayden Byerly getting cozied with girlfriend Alyssa Jirrels (Photo: Hayden Byerly's Instagram)
While Hayden's actress girlfriend was far away for shooting a project, all he was left to do is miss her looking at her pictures. Moreover, the pair also showed the support for the LGBT community by participating in the pride parade back in June 2016.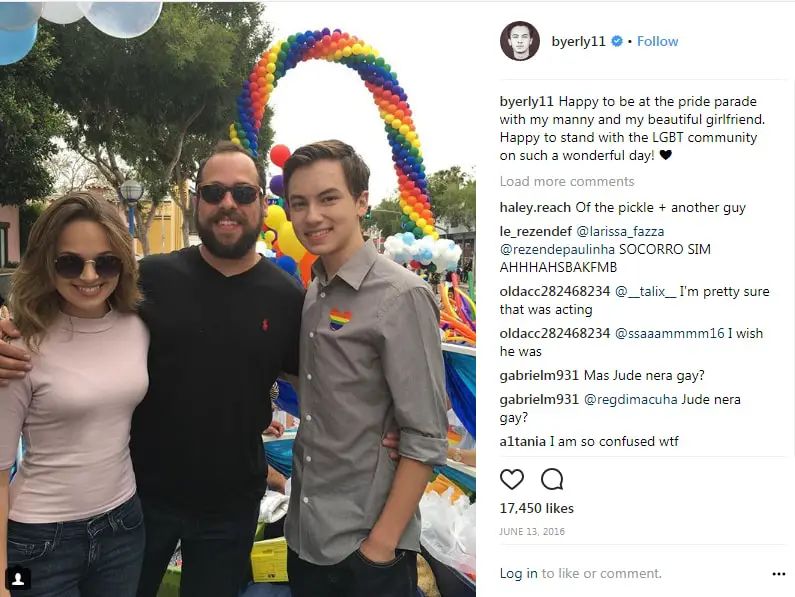 Hayden Byerly, girlfriend Alyssa Jirrels supporting LGBT (Photo: Hayden Byerly's Instagram)
Other "Forster" Star:- Gavin MacIntosh, 18, Shirtless Goals - Gay Rumors True Or Just Jealousy?
Moreover, on the occasion of their one year anniversary, Hayden expressed his love for his former girlfriend with a heartfelt message and even revealed that Alyssa is his first love in December 2016. He stated:
"I don't know where to start and what all I need to thank you for but I want to say I love you. It's been a whole year since my life has changed immensely. I've gone through a lot and dealt with many things and I don't know if I'd be here if you didn't help me. It all started a winter ago in a small little town in San Francisco and it was one of the best weeks of my life. All because I spent everyday doing things with you. You're my mentor, my best friend and most importantly, my first love. You make me want to live my life for many years and do many things along the way, and I hope I get to do it all with you. Love you shawty," 
Hayden also wished her girlfriend on the 2017's Valentine's day but it appeared to be the last valentines' day for the young couple. Their relationship couldn't survive for long, and eventually, the pair went separate ways without making much of a noise. After the breakup, Alyssa started her dating game with TV actor Dawson Fletcher. 
Read Also:- The Fosters Actor Tom Williamson Reveals Girlfriend Isn't Most Important; Then Who?
She confirmed her connection with Dawson via Instagramming series of pictures with her new boyfriend. While Alyssa has already moved on from two long years dating life with Hayden, Hayden also shares the picture with Izabela Vidvoic whom he refers as "best friend."
Moreover, Hayden is not dating any girl but it's difficult to believe that a good-looking boy, who flaunted his body going shirtless in the second season of the show, The Forsters, Hayden remains single. But he could be dating secretly, who knows?
Younger Sibling; Parents Scared Of His Driving
Hayden was born in Lakewood, Colorado on 11 October 2000. He is the first child of his parents and has a younger brother in the name of siblings.
Don't Miss:- The Fosters Actor David Lambert Is Simply Flaunting His Girlfriend Among His Fans; Reveals About Siblings Too
Hayden, who stands at the height of 1.8 meters (5 feet and 11 inches), tweeted regarding the concern of parents while kids learn to drive and also shared his parents' reaction as,
You know how parents can be stressful when you're first starting to drive? Mine just screamed, told me to stop the car because of a spider
In pursuit of his acting career, Hayden moved to Los Angeles in 2011 after winning an acting competition. As of today, the talented actor is best known for his performances in Parenthood, The Fosters, 11/11/11, Sofia the First, and Call of Duty: Black Ops II.
Think we're missing something? Do let us know in the comment section below!