Entertainment
Jahking Guillory Dating, Parents, Ethnicity, Net Worth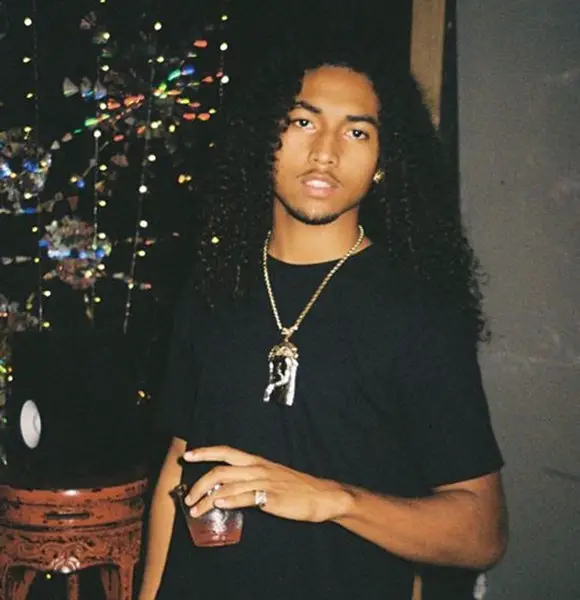 At the young age of 18, actor Jahking Guillory has made the best out of his life already. Mostly known for his roles in the 2016 movie Kicks, he is doing very well for his age. He has a well-running love life with a beautiful girl and a career that's making progress with every project.
Above all, despite missing core elements of a typical family, he is doing well and fine in this spectrum too. Take a look for yourself!
Dating Life, Girlfriend
Several new outlets, let alone Jahking's fans didn't have any clue about his love life. After all, he remained very private about his personal life and had kept it off from sharing details on his relationship status. If any viewers are to look through every bit and inch of his social media, they won't come across the slightest hint on his lover.
He isn't the type of actor to flaunts every moment of his life on Instagram and so on.
However, that doesn't mean he has succeeded in covering up his love life. It turns out that the young artist is dating a gorgeous entrepreneur named Kierra. She runs her eyelashes product line called Fairylllashes, which is in its starting phase.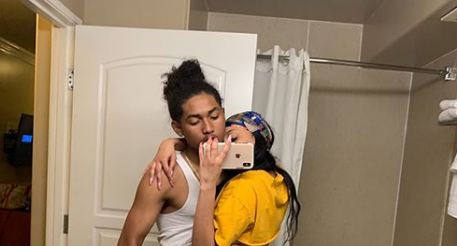 Jahking Guillory and girlfriend Kierra take a mirror selfie on 24th September 2019 (Photo: Kierra's Instagram)
Although the pair have been spotted together in a limited number of Kierra's posts, Jahking can be found commenting on her profile from time to time. But, the actor hasn't yet mentioned his relationship with his supposed dating partner out in public.
Family, Ethnicity, Nationality
Jahking - height 5 feet & 8 inches (1.7 meters) - is a native of Moreno Valley, Riverside County, California. Until 12, he grew up in the shade of his father Wayne Guillory, a native of Lousiana, and mother, who is originally from Guam. Since his dad possesses African-American ethnicity, he has mixed roots.
Patricia Belcher, Actress of African-American Ethnicity :- Still Not Married? Profession As Metaphorical Husband
After crossing 12, the On My Block actor's parents separated. But, the split thankfully didn't have a considerable effect on his upbringing as Jahking continued to be in good terms with both of his parents. Moreover, his niece, two nephews, and little sister look upto him as they all reside with his family.
In terms of education, the 18-year-old attained his college degree from Renaissance Art Academy after completing high school studies from his hometown.
Net Worth, Movies
Jahking has been active in the film industry since 2014, performing in several films and TV Series alike. So, it won't come as a surprise that he's doing well financially too. Although he hasn't disclosed his verified net worth yet, Jahking's habit of flaunting his prized possessions makes it evident that he is at the peak financially too.
Enjoyed A Luxurious Holiday In Switzerland:- Charlie Brake Split From Girlfriend Ellie Brown; Hunk Is Single Now
In 2018, he posted a picture on Instagram showcasing his newly purchased BMW car. Likewise, the next year, he upgraded to a Mercedez model, and by the looks of it, his purchase did break the bank.
However, his acting projects will make up for it as the actor is set to appear in the horror movie titled The Grime, which is still under production.