I'm gay in my art and straight in my life...James expressed his view that he has been interested in how our society views...James has been dating a 26-year old...the last days of summer 2019 in Greece...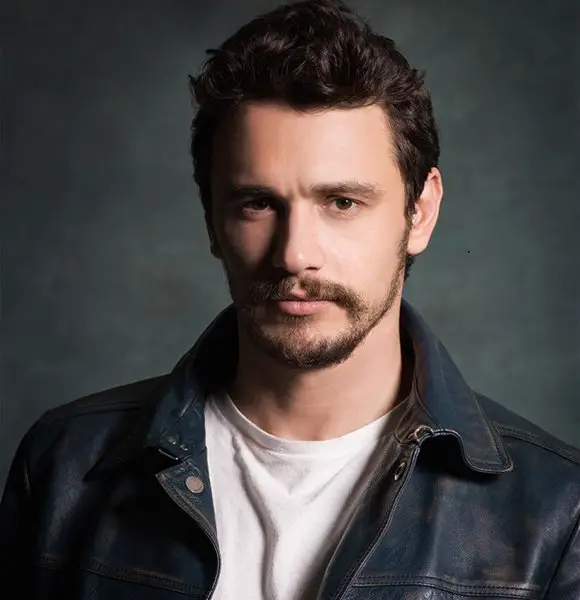 'Some A-Listers Actually Get A's'.

The tagline was in celebration of his educational achievements as a 'prolific academic' as published in March 2013 issue of The New York Times.

No need to scratch your head! Those mentioned above 'he' is non-other than James Franco, an American actor, filmmaker, author, and professor.

James is one of the most academically accomplished actors in Hollywood. Some even call him an extreme scholar.

Along with a BFA in English from UCLA, he has two MFA degrees - both in writing - from Columbia and Brooklyn College. Further, he also has a third MFA, in film, from New York University.

Is James Franco Gay?

James has attracted much limelight and more speculation for his sexuality.

The gay roles that he played in different movies as well as his poetry collection, Straight James/Hay James (2016), have contributed to his sexually ambiguous public persona.

A-List Actor:- Scott Eastwood Married, Girlfriend, Gay

His controversial comments on sexuality have not helped to clear any of these speculations either. In a 2016 interview with Rolling Stone, James expressed his interest in understanding how society views sexuality, especially homosexuality.

However, in a New York Magazine published in the April 2018 issue, he cleared this ambiguity admitting to being a straight man.

I'm gay in my art and straight in my life.

Thus, in his own opinion, he is not gay.

According to James, he likes to let people wonder whether he is gay, straight, or somewhere in between; for him, they act as a "shield," allowing him to live his personal life the way he wants to.

Girlfriend? Dating Or Married?

Despite all the speculations about his sexuality, James has been dating a 26-year old Isabel Pakzad since November 2017. James and Isabel debuted as a couple in the red carpet at the opening night of Straight White Men in July 2018. 

The couple has kept their romance out of the spotlight since then. However, few rare sightings of the duo were made public in 2019.

They were seen exchanging kisses and were spotted canoodling romantically in the water of Italy's Amalfi Coast in early September 2019. While the couple enjoyed the last days of summer 2019 in Greece, rumors of near future engagement and even marriage sparkled on the horizon.

James Franco with girlfriend Isabel Pakzad at Amalfi Coast, Italy in September 2019 (Photo: dailymail.co.uk) 

Before Isabel, a long list of James' love and hookups lingered in his prime days of fame.

Model Erin Johnson, English actress Emilia Clarke, Amand Seyfried and British model Agyness Deyn are famous names linked to the actor in the past. Interestingly, there were engagement rumors of Game of Thrones actress Emilia and James. 

Further, he also dated actress Ahna O' Reily from 2006 to 2011. Even an American actress Lindsay Logan confessed of having a one night stand with the two-time Oscar nominee.

Controversy Scoop

James was once again in the headlines when multiple women came forward to accuse him of sexual misconduct in July 2018. Headlined as 'alleged harasser,' four of his students and one that he was mentoring told the Los Angeles Times that James had exploited his position.

James denied the allegations alongside his girlfriend, his crew, and even HBO. Those who have worked closely with James have called him a kind friend and a lovely professional.

Another Interesting Character:- Bill Nye Wife, Children, Gay, Net Worth 

The 61-year actress Sharon Stone called him "the loveliest, kindest, nicest man." The scandal and controversy around James in this matter has since died down.

From Oscar-winning performances to unsavory comments regarding his character and sexual assault allegations, James has always surfaced in the celebrity news in one way or the other.

Career And Age

James won Best Performance by an Actor in a Motion Picture in 2018 Golden Globe Awards for his role in The Disaster Artist.

The characters that he played in the Spider-Man trilogy and Oz the Great and Powerful helped him win fans at the start of his career. Furthermore, his movie Pineapple Express and James Dean led him to win Best Actor in The Golden Globe Award.

Thus, it has led 41-year-old James to become the 2,492nd Star on the Hollywood Walk of Fame.

Golden Globe-Winning Actor:- Paul Giamatti Married, Wife, Parents, Net Worth 

Along with being a bonafide actor, James has also worked behind the camera. He worked as a co-writer and director in the 2018 film, The Pretenders. His immense talent could be realized more clearly as he directed, co-wrote and also appeared in The Ape and Fool's Gold.

Till date, he has appeared in many of his directorial efforts, however, in his own words:

I enjoy the collaboration between directors and actors so much that - if I can get away with not being in a movie that I'm directing - I will

James' glorious career started with his debut TV show, NBC's Freaks and Geeks and his debut film Never Been Kissed in 1999.

Apart from his studies, he has also taught film and English at USC, UCLA, CalArts, and NYU. James has also written short stories. A collection of his short stories, Palo Alto, was inspired by his hometown in California.