Entertainment
Jane Lynch Marries His New Girlfriend. More On Her Divorce With Ex-Wife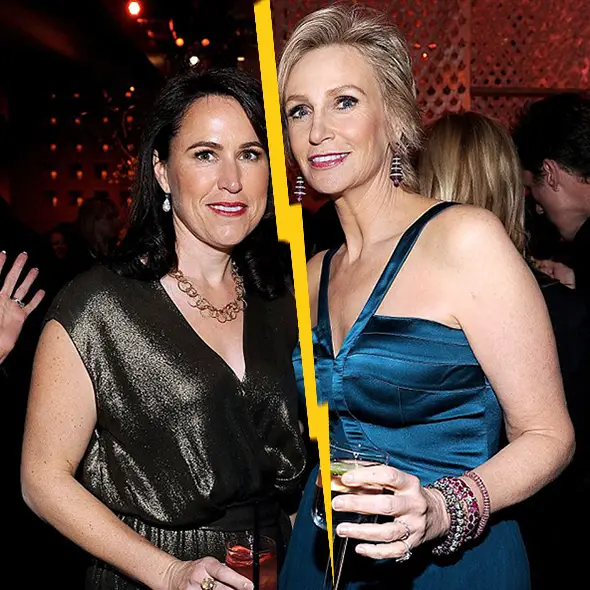 Love has always found its way. Even though Glee's actress Jane Lynch faced a failed relationship, she has now moved on with her new girlfriend.
Jane is currently living her dream life with her perfect wife. 
Let's take a deeper look at her love life. 
Jane Lynch's Wife
Jane Lynch is married to Jennifer Cheyne, who is a screenwriter. Jane first met her wife, Jennifer, in the early 2000s and dated for some years. However, their relationship didn't work out, so they called it to quit. 
More Queer Stories: Vicky Beeching Dating Difficulty; Being Lesbian Threatened Existence
But destiny had a different plan for them; Jane and her girlfriend-turned-wife reconnected after a decade and started all over again. And this time, they have proved their relationship a success. 
In an interview with Parade, Jane discussed how she and her girlfriend-turned-wife have been resolving their differences. She explained,
We're very different people now—we don't have the same insecurities we used to have. We live very peacefully. We have our own routines and separate spaces to retreat to within our home, but then we'll have coffee together in the morning and meet for a meal. 
After being together for over a decade, Jane finally married Jennifer in Santa Barbara Courthouse. 
Even though they have known each other for a long time, Jane's wife, Jennifer, never misses a chance to flaunt their love on her social media.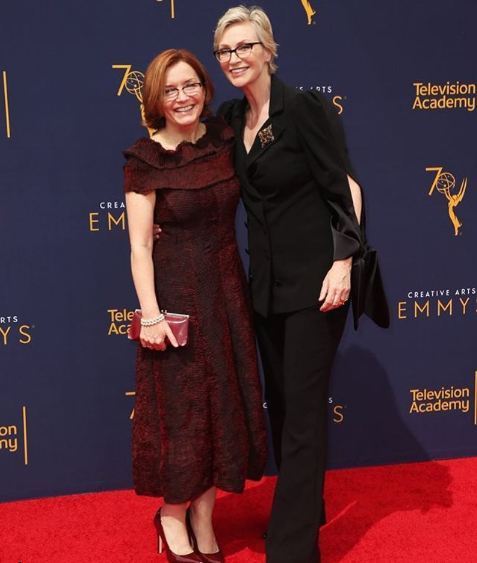 Jane Lynch with her life partner, Jennifer Cheyne, at Emmy Award, 2017. (Photo: Instagram)
The lesbian couple constantly shares pictures showing their strong bond. Apart from showing their love for each other, they also love animals. 
Jane and her spouse, Jennifer, rescued a homeless dog and raised it. Its name was Arbuckle. 
Arbuckle, at eight years old, was found homeless on an outskirt. Already an abandoned dog, The Purposeful Rescue found him when he was suffering from a hypothyroid condition, which made him weigh around 116 lbs and barely walk. The pair adopted the dog and welcomed him to their lovely home.
The Queer star reported Arbuckle's condition by saying:
"He had sores all over his belly, probably from lying on concrete and his belly rubbing on the ground, so he was a mess, they didn't know what kind of an animal he was at first. The Purposeful Rescue people had never seen anything like this before."
The duo, passionate about animal rescue projects, discovered Arbuckle while strolling through their Instagram feed. And after adopting and giving their new dog some love, Arbuckle now weighs about 88 lbs and is on hypothyroid medicine.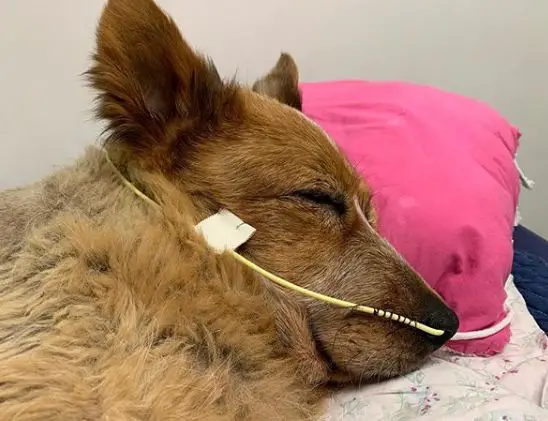 Lynch, together with her partner, saves a homeless dog (Photo: Instagram)
The couple reported to Pop Inquirer saying that:
"He doesn't look like a strange creature anymore, he's being set free. It's got to feel good for him."
Well, it seems like Lynch has finally found the right one to share her project mission and life with. 
But they lost their beloved family member in 2019, which shattered the hearts of both Jane and her partner, Jennifer. Nevertheless, they have been with each other through all their tough time. 
Although Jane now seemed to be satisfied with her life, she used to be insecure about identifying herself as a lesbian. 
Read More: Guy Ritchie New Wife Bliss! Children Battle With Madonna To Wiki Details
In today's world, people still struggle to come out of the closet, and we surely can imagine that it must have been very hard for Jane to accept herself as a lesbian.
In a 2014 interview with PEOPLE, Jane admitted that she tried her best to keep her sexuality a secret. However, even before knowing the term 'lesbian,' she knew that she was different.
Whereas now, she has fully embraced her sexuality with the support of her current spouse. 
But before marrying Jennifer, Jane had to face a failed marriage with her former partner. 
Jane Lynch's Previous Marriage
Jane was previously married to Lara Embry. Jane first met her first spouse, Lara Embry, a clinical psychologist, at a fundraiser in San Francisco in 2009. They got married right after a year on 31 May 2010 at the Blue Heron Restaurant in Sunderland, Massachusetts.
Their wedding was attended by Dr. Embry's daughter Haden.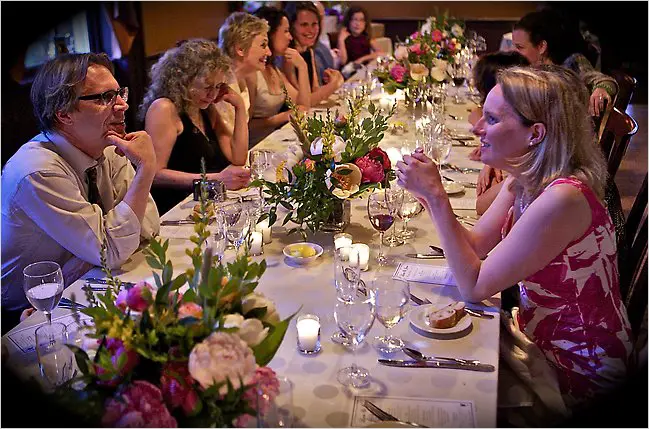 Jane Lynch with her first wife, Dr. Lara Embry, at their wedding, where they had dinner with fifteen guests (Photo: The New York Times)
The couple enjoyed a delightful time for three years together. They nurtured Embry's two daughters, Haden and Chase.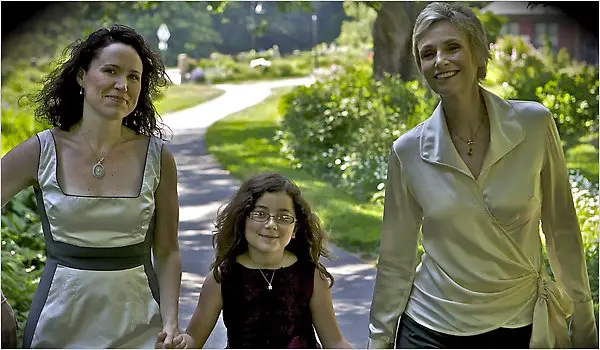 Jane Lynch with her partner Lara Embry and daughter Haden at their wedding (Photo: The New York Times)
However, after being married for three years, the couple announced their separation in June 2013. Jane revealed that they are planning to end their three years of marriage through her statement,
"Lara and I have decided to end our marriage, this has been a difficult decision for us as we care very deeply about one another. We ask for privacy as we deal with this family matter."
The divorce was finalized in October 2014 and was one of the most expensive gay/lesbian splits. Lynch had to pay her ex-wife $1.2 Million for two years. But, it wasn't all, Dr. Embry and Jane divided their membership and joint bank accounts.
Embry got the ownership of their L.A. Yacht Club membership solely and dog, Francis. As per court documents, Lynch kept their marital home, a 2013 Audi, and a 2008 Ford Escape Hybrid.
Similar Split Stories: Lane Kiffin Divorce From Wife & How This Affair Left Him Marginally Broke
Despite their divorce, the couple was spotted enjoying lunch several times together. In May 2014, Jane and her ex-spouse, Lara, were photographed together at Kings Road Café in West Hollywood, having a cheerful lunch. Were they staying friendly for the sake of their daughter Haden?
It is unknown; however, Jane is living a blissful life with her current spouse. 
Stay tuned to get more updates on Jane Lynch.