Entertainment
Jane Lynch Experienced A Failed Married Life With Partner And Also Sustained An Expensive Gay/Lesbian Divorce Expenses
Feelings can arise or change anywhere and anytime. Not every person who is in a relationship exactly knows the time when their relation with their partner ends. The relationship can turn sour whether it's because of irreconcilable difference or misunderstandings. However, some partners remain good friends even after separation.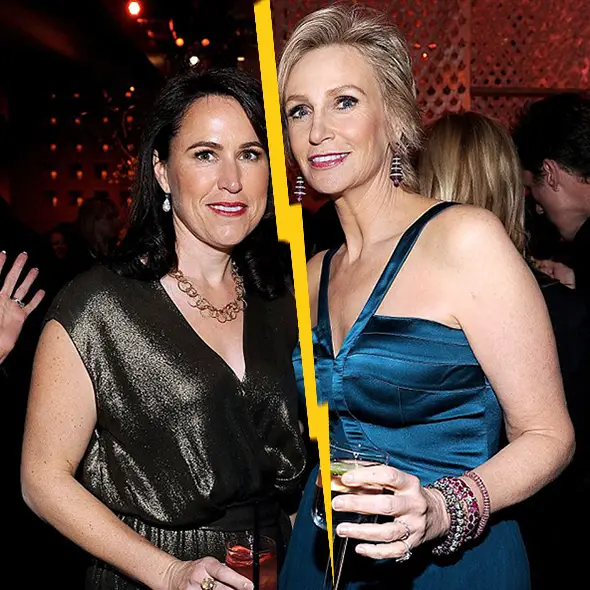 Feelings may arise or change instantaneously. Nobody can be sure about the time when the relationship with their partner ends. The relationship turns sour because of irreconcilable difference or misunderstandings. However, some partners remain good friends even after separation.
Let's meet the Glee's Actress Jane Lynch, whose relationship remains amicable with her partner even after an expensive gay/lesbian divorce. But after a rough split, Lynch has now moved on in life with a new partner.
Jane Lynch's Memorylane On Getting Married With Ex-Lover!
Jane first met Lara Embry; a clinical psychologist, at a fundraiser in San Francisco in 2009. They tied the knot right after a year on 31 May 2010 at the Blue Heron Restaurant in Sunderland, Massachusetts.
Their wedding was attended by Dr. Embry's daughter Haden.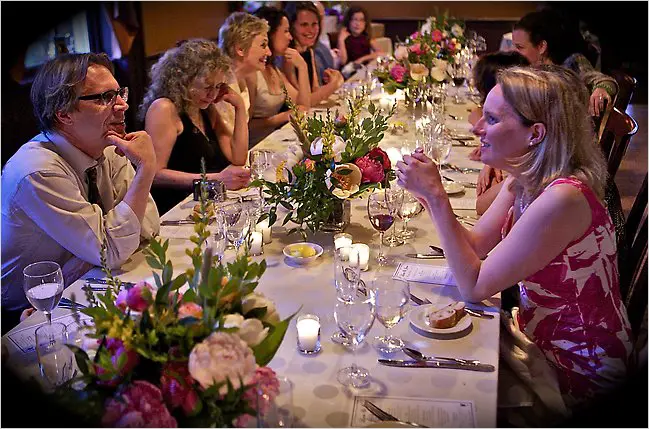 Jane Lynch and Dr. Lara Embry at their wedding where they had dinner with fifteen guests (Photo: The New York Times)
The couple enjoyed a delightful time for three years together. They nurtured Embry's two daughters; Haden, now 14 and Chase, now 16 together. 
More Queer Stories: Vicky Beeching Dating Difficulty; Being Lesbian Threatened Existence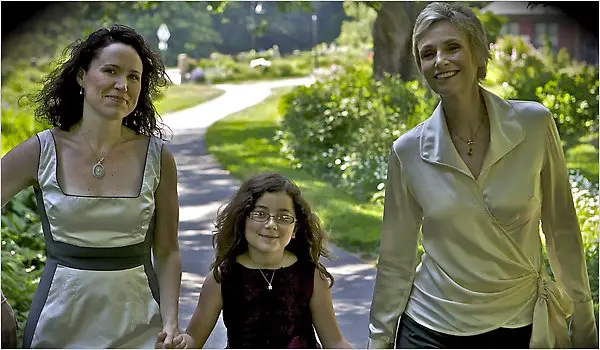 Jane Lynch with her partner Lara Embry and daughter Haden at their wedding (Photo: The New York Times)
End To Private Wedding With An Expensive Gay/Lesbian Divorce: 
Jane Lynch, who was married to her girlfriend Lara Embry announced her separation with her lady love in June 2013. Jane revealed that they are planning to end their three years of marriage through her statement,
"Lara and I have decided to end our marriage, this has been a difficult decision for us as we care very deeply about one another. We ask for privacy as we deal with this family matter."
The divorce finalized in October 2014 where Lynch's ex-wife got $1.2 Million over the span of two years. It wasn't all; Dr. Embry and Jane divided all of their membership and joint bank accounts.
Embry got the ownership of their L.A. Yacht Club membership's solely and dog, Francis. As per court documents, Lynch kept their marital home, a 2013 Audi and a 2008 Ford Escape Hybrid.
Similar Split Stories: Lane Kiffin Divorce From Wife & How This Affair Left Him Marginally Broke
Despite their divorce, the couple was spotted enjoying lunch several times together. On May 2014, Jane and her ex Lara were photographed together at Kings Road Café in West Hollywood having a cheerful lunch. Were they staying friendly for the sake of their daughter Haden?
Lynch Moved On With New Girlfriend And Has Rescued A Homeless Dog!
After her expensive split with the former partner Lara, the most prominent queer figure has been spotted sharing some cuddlesome moment with her new girlfriend Jennifer Cheyne.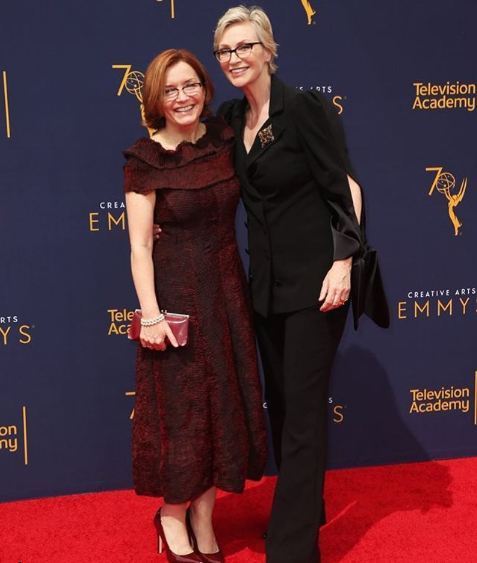 Jane Lynch With Her New Partner Jennifer Cheyna (Photo: Jennifer Cheyna's Instagram)
Jennifer Cheyna has been constantly sharing posts related to Lynch, their connection on screen looks tremendous. The pair has been active in rescuing a homeless dog, Arbuckle. 
Arbuckle at 8-year-old was found homeless in an outskirt. Already an abandoned dog, The Purposeful Rescue found him when he was suffering from a hypothyroid condition which made him weight around 116 lbs, making him barely walk. The pair then adopted the dog and welcomed him to a lovely home together.
Read More: Guy Ritchie New Wife Bliss! Children Battle With Madonna To Wiki Details
The Queer star reported Arbuckle's condition by saying:
"He had sores all over his belly, probably from lying on concrete and his belly rubbing on the ground, so he was a mess, they didn't know what kind of an animal he was at first. The Purposeful Rescue people had never seen anything like this before."
The duo, who were both passionate about animal rescue project, discovered Arbuckle while strolling through their Instagram feed. And after adopting and giving their new dog some love, Arbuckle now weights about 88 lbs and is on hypothyroid medicine.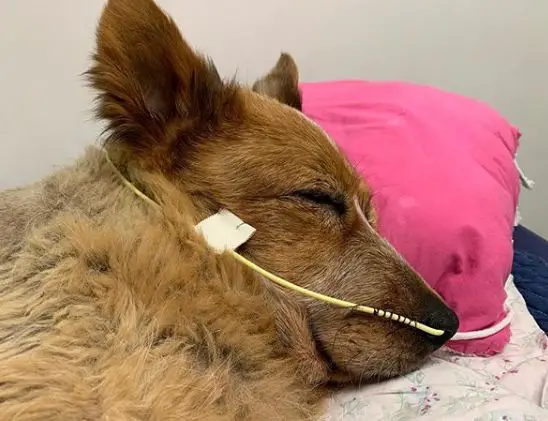 Lynch together with her partner saves a homeless dog (Photo: Allabourtarbuckle's Instagram)
The couple reported to Pop. Inquirer saying that:
"He doesn't look like a strange creature anymore, he's being set free. It's got to feel good for him."
Well, it seems like Lynch has finally found the right one for her to share her project mission and life with!