Entertainment
Jared Kushner Bio: Family & Net Worth Details of Ivanka Trump's Husband
Jared Kushner is the senior advisor of Donald Trump...is married to Donald Trump's daughter, Ivanka Trump...made her his wife in 2009...their wedding was held at...has three children with Ivanka...was raised in Jewish family...his education and net worth are...follows Judaism as his religion...his age and height are given below...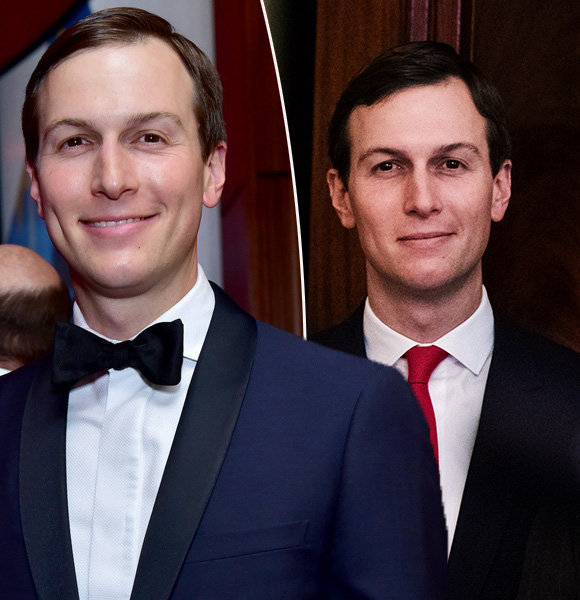 Jared Kushner came to prominence after being appointed as the Senior Advisor for the President of the United States, Donald Trump, in July 2017.
However, Jared has his career in the field of real estate before entering into politics.
In addition to being a property businessman, he also has his hands dipped in the field of publishing as he owns The New York Observer. Further, he is also the owner of the Kushner Cos., a real-estate business.
Jared Kushner's Married Life: Wife & Children
Jared is the husband of US President Donald Trump's daughter, Ivanka Trump.
The couple has been married for more than ten years now, and continue to be a power couple, both serving as advisors to Donald Trump.
Jared and Ivanka met for the first time in 2007 during a networking launch arranged by Ivanka's business partner. They started dating soon after their first meeting.
However, the couple broke up briefly in 2008 due to their religious differences; Jared was raised in the Modern Orthodox Jewish tradition, and he couldn't date someone from another religion. But, they rekindled their love shortly after.
Another Politician:- Is Congressman Matt Gaetz Married? Personal Life Details
This time around, Ivanka seriously committed to being with Jared. She had to convert to Judaism before they could get engaged, and after conversion, the couple got engaged in 2009.
They stayed engaged just for three months before tying the knot. Their wedding took place on 25th October 2009 at the Trump National Gold Club in Bedminster, New Jersey.
The wedding ceremony was a lavish affair as it was attended by 500 guests, most of which were high-profile people. Donald Trump and Charles Kushner (Jared's father) both made toasts to the couple during the occasion.
After his marriage, Jared has gone on to have three children with Ivanka: daughter Arabella, and sons Joseph and Theodore.
Arabelle Rose Kushner was born on 17th July 2011. Her brothers, Joseph Fredrick Kushner and Theodore James Kushner welcomed themselves on 14th October 2013 and 27th March 2016 respectively.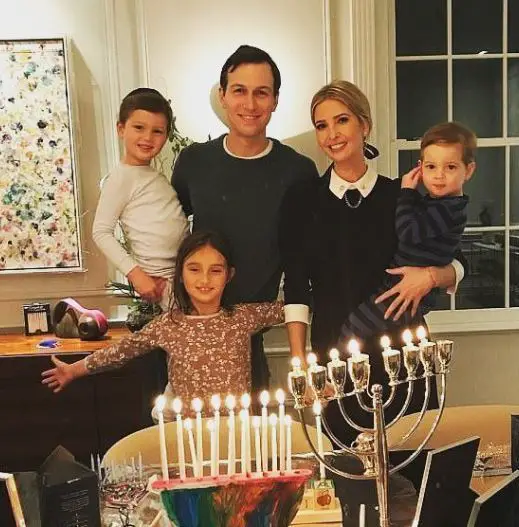 Jared Kushner with wife Ivanka Trump and kids (Photo: Ivanka Trump's Instagram)
The couple now lives in the Kalorama district of Washington, D.C.
Family, Religion & Education
Jared is the son of real estate developer Charles Kushner and Seryl Kushner. The grandkid of Holocaust survivors was raised in a Modern Orthodox Jewish family.
The business entrepreneur was raised alongside his three siblings- Joshua (internal), Nicole, and Dara.
He attended the Frisch School in Paramus, New Jersey, and then proceeded to study at Harvard University. Jared graduated from Harvard in 2003 with a Bachelor's degree of Arts in Sociology and then got his J.D. from New York University's School of Law in 2007.
Net Worth: Business, Property
Jared is a well-accomplished businessman who has a net worth of $800 million as of January 2020. He has earned this money through his business ventures in real estate and personal properties.
He, along with his father, is the brains of the Kushner Companies. The company, as of 2017, owned and operated real estate of value around $7 billion all over the US. In October 2018, The New York Times also revealed that in 2016, Jared personally controlled properties worth $372 million.
News About Jared:- Jared Kushner, Son-in-law of Trump, Got an Open Letter From His Own Employee
Moving on to his personal property, Jared and his wife, along with their kids, live in a mansion in the Kalorama neighborhood of Washington, D.C.
They are renting the house for a huge $15 thousand a month from Chilean billionaire Andrónico Luksic.
Interesting Facts: Age, Height
Jared was born on 10th January 1981 in Livingston, New Jersey, USA.
He stands at the height of 6 feet 3 inches (1.91 meters).
His full name is Jared Corey Kushner.
Jared, along with wife Ivanka, chose not to take salaries from the Trump Administration while working as an advisor for his father-in-law.