Entertainment
CNN's Jason Miller Age 42 Family Man With Wife | Affair Rumors & Net Worth
Jason Miller is an American communications strategist and a political manager who made headlines after... Married to wife and a father of two, Jason faced the spotlight for all the wrong reason after news broke in about his affair with former working partner...However, Jason remains persistent...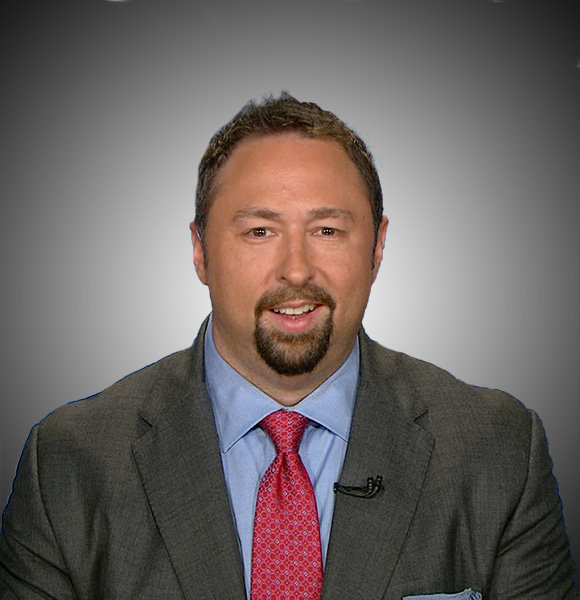 A communications strategist and a political manager, Jason Miller can be proud of several accomplishments in his professional career. But, what about his personal life? Does President Trump's chief spokesman replicate his success in personal life as well?
Married to the love of his life, Jason has a happy family accompanied by his wife and children. But is that enough for the former Jamestown Associates Vice President? The continuous affair rumors and other controversies around his life suggest no.
A turbulent personal life has played its effect on his professional life as well. However, with nothing yet proven, Jason remains firm of his innocence and has managed to tackle all the controversies and continues to build a massive net worth with his professional endeavors.
Complicated Relationship With Wife Amidst Affair Controversies
Married to his wife Kelly Miller and a father of two daughters, Jason has had to face the spotlight on several occasions after he was accused to have an extramarital affair with Trump adviser, A.J Delgado.
The duo who formerly worked together on President Trump's election campaign had a two-month affair in 2016.
You May Also Like: Neil Gorsuch Family & Romantic Tale With Wife Restores Faith In Love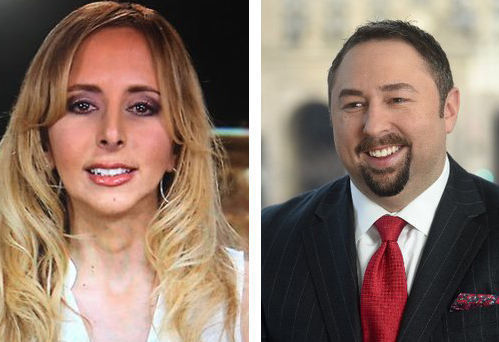 Jason Miller and A.J. Delgado controversial affair. (Photo: journalnow.com)
The fuel was added to the fire after A.J Delgado confirmed the news that she was pregnant with a child and hinted Jason to be the father in a tweet congratulating Jason on landing his position as a White House Communications Director in December 2016.
"Congratulations to the baby-daddy on being named WH Comms Director!"
Jason, however, resigned from the post just two days after his appointment on 23 December 2016, citing family reasons behind not taking the job. He released a statement clarifying his reasons behind not taking the White House job.
"After spending this past week with my family, the most amount of time I have been able to spend with them since March 2015, it is clear they need to be my top priority right now and this is not the right time to start a new job as demanding as White House Communications Director."
With such a strong statement released, it seems Jason holds a strong bond with his family. This bond was further highlighted after the family remained together despite the birth of Jason's son William from his affair with A.J Delgado in July 2017, just six months post the birth of his second daughter with Kelly.
Both Miller and Delgado are currently fighting for the custody of their infant son.
CNN Career Ended Due To Personal Life Turbulence At Age 42?
Jason Miller's long list of career accomplishments was further polished after he joined CNN in March 2017 as a paid contributor. However, the brakes came in his CNN career after a series of controversies raised in his personal life.
Don't Miss: CNN's Carl Bernstein Age 74 & Bob Woodward Duo | Trump Issues & Spouse Talks
With his ongoing legal battle with Delgado making the public news, and with new rumors arising about how he hooked up with a stripper back in 2012 and gave her an abortion pill to terminate her pregnancy, Jason called it quits on his CNN career with motives to clear his name from all the accusations he faces.
Miller released a statement mentioning the reason behind his departure from CNN.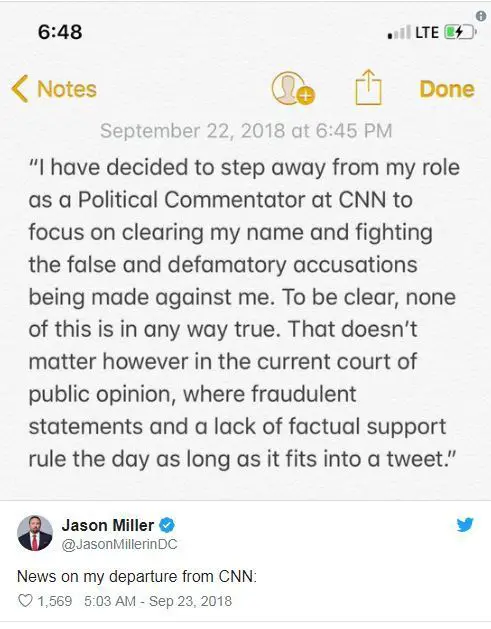 Jason Miller's statement after his CNN departure. (Photo: Jason Miller's Twitter)
A never-ending list of controversies has somewhat diminished public's attention from Jason's glorious career profile.
After completing his education with a B.A degree in political science from George Washington University, he has gone on to work as a political and communications consultant on several successful campaigns including President Trump's victorious election campaign.
Read Also: Is Hope Hicks Married? Or Still Having An Affair With Boyfriend? Here's Answer
His long list of career accomplishments has thus earned him a hefty net worth. While a CNN contributor earns an average of $ 67K per annum, Jason at age 42, has managed to accumulate a net worth amounting to $600k, many thanks to his past professional success.
However, the political genius is currently focusing all his attention to his family and remains committed to clearing his name.