Entertainment
Jenna Marbles, Never Pregnant Mother Getting Married To Boyfriend On Condition & It's Cute
Youtube star, Jenna Marbles is a massive sensation on YouTube, who alone boasts the massive following of 17 million subscribers on the social platform. One of the most successful YouTubers, Jenna may have landed the success in her career, but, in her personal front, she suffered a couple of heartbreaks in the past.
However, moving on from the past, the social media sensation is happily committed to her new boyfriend. While enjoying her dating life with her boyfriend, Jenna has also revealed commitment plays a huge role in her life - the important requirements for getting married. 
High School Dating; Features YouTuber Boyfriend On Video
Jenna was already involved in dating in her high school days having a boyfriend named Willy. Dating for four years, the pair parted their ways.
YouTube Star:- Hannah Hart Engaged To Girlfriend! Lesbian Love Creating A 'Buzz'
After her separation from Willy, Jenna began romancing Max Weisz and the couple remained together for four years before finally splitting in December 2012. The 31-year-old gave the reason for their separation as Max cheating on her with other women. Post her breakup with Max, Jenna shared a heartfelt message regarding the split, she wrote, 
"For the record, Max and I did break up, but we're still friends forever. We were together for four years; you don't just break up and not hand scissor each other."
The breakup was hard for Jenna and she remained single for a while. However, her single status wasn't going to last long as she would soon meet a loyal and loving man.
In 2013, Jenna met Julien Solomita while he was working as a bartender. The pair hit it off and hence their romance commenced. Julien has featured on several of Jenna's videos and even served as her security on various events. He later started his own YouTube Channel named TheFightingSolo. The pair even started the Jenna and Julien Podcast in November 2014.
On 15 February 2017, the internet sensation shared a photo collage along with her boyfriend wishing his for the occasion of Valentine's Day.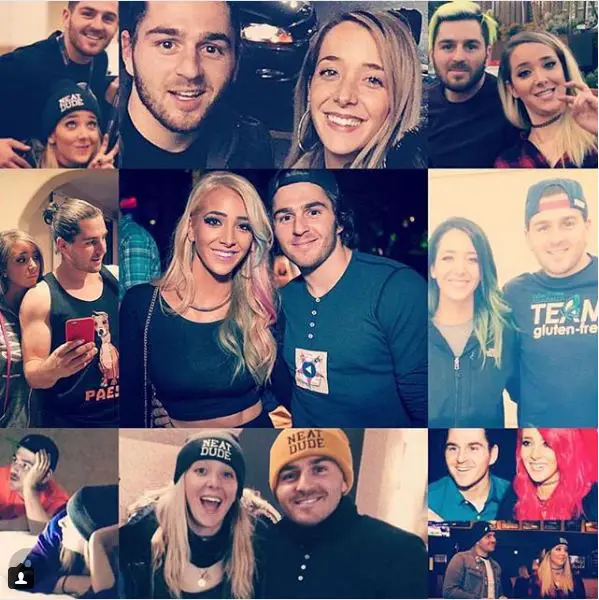 Jenna shares some intimate moments with boyfriend Julien on 15 February 2017 (Photo: Jenna Marbles' Instagram)
Later, Jenna appeared in a video titled "Making My Boyfriend A Romphim" alongside Julien. The video, which has reached more than 2 million views, was uploaded on 14 June 2018.
You May Like:- Jaylen Barron Is Dating! Reveals Boyfriend Details
Lately, Jenna has been uploading a lot of videos through her YouTube featuring her boyfriend, Julien.
On 25 July 2018, she posted a 16-minute-long clip titled "My Boyfriend Teaches Me Jiu Jitsu 3" in which Julien, who acts as the trainer, teaches Jenna some basic tips and techniques relating to the fighting art. However, Jenna eventually learns some of the methods of jiu-jitsu and even succeeds in knocking Julien on one occasion.
Recently, Jenna shared another video named "My Boyfriend Guides Me Through A Makeup Tutorial" in which Julien watches a makeup tutorial video and guides his girlfriend bring on a flawless look. 
Getting Married At 60 - "That's Kind Of Cute"
Even though Jenna's relationship with her boyfriend is going strong, it seems they may not get married soon. And the YouTuber has revealed her side of the reason in a YouTube video titled "My Thoughts On Marriage" back in May 2012. 
In the video, Jenna openly mentioned that the pressure the 20's people have to settle down with family and her dislike towards getting married in their 20's. She surprisingly quoted getting married at 60 years of age as "That's kind of cute" and mentioned that her aunt got married at the age of 52.
More From LiveRampUp:- Todd Thompson Net Worth Post Giada de Laurentiis Split, Dating Now In Paradise
Turns out the YouTuber is more focused on the life-long commitment with the partner rather than symbolic validation of flowers, rings, in all, the whole idea of the wedding ceremony. She points out the importance of the relationship with the partner rather than focusing on society's validation. 
For the one who has such marriage opinion, Julien might have to wait for some time before walking down the aisle. 
Although she has to deal with pregnancy rumors, which she revealed with H3 Podcast on September 2017. She also joked about being pregnant by posting a funny Instagram image in June 2013. 
However, in reality, she does share three lovely children, which are, in fact, her lovely dogs, Mr. Marbles, a Chihuahua, and two Italian Greyhounds, Kermit and Peach. Jenna is a mother-figure to her adorable pets, adopting her last name to one of them.
Jenna regularly features her children on her YouTube videos. On 15 August 2018, she posted a video in which she teaches her pets to swim and face their fear of the water. She eventually succeeds as both of her dogs, Kermit and Peach enter the water without any help and Jenna can be seen calling herself a proud mother. 
Relationship With Family; Net Worth In Millions 
Jenna has an older brother named  Devon Mourey. Jenna shares a close sibling bond with her brother and even flaunts him occasionally on social media. On 11 April 2015, Jenna shared a picture alongside her brother and wished him well for National Siblings Day.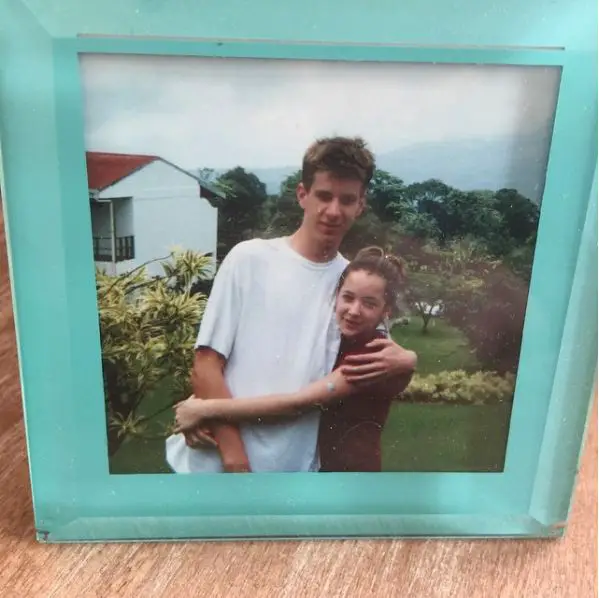 Jenna Marbles and Devon Mourey enjoy some brother-sister time (Photo: Jenna Marbles' Instagram)
Although Jenna has not spoken much about her parents,  she maintains a loving relationship with her family and visits them regularly. Apart from her family, Jenna possesses an astonishing net worth of $5 million. Further, she also earns a salary averaging $7.8K - $125.2K per month from YouTube. Moreover, she has recently bought a house along with her partner in 2018.
The couple resides in the house along with their three dogs. Many have assumed that taking this step has Jenna led one step closer to getting married and starting a family.