Entertainment
Jerome Flynn From Game Of Thrones Ever Married? Rumored Gay Man Who Once Dated Co-Star Lena Headey
Jerome Flynn, who portrays the character of Bronn in American fantasy drama television series- Game Of Thrones is also one of the talked about actors for his relationship status. Jerome, who once dated his co-star Lena Headey, famously known as Cersei Lannister in the series- is he married or is the rumors of him being gay right?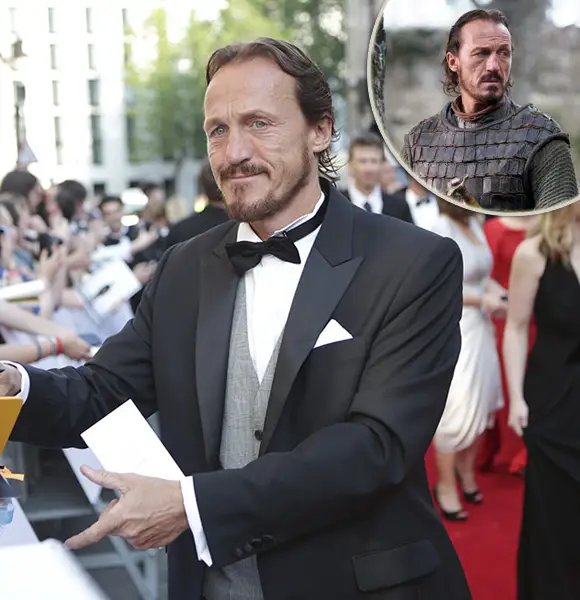 Being a celebrity, if you are married, people talk about it. And if you are not, they talk about it more and may even doubt your sexuality.
Jerome Flynn, who portrays the character of Bronn in American fantasy drama television series Game Of Thrones, is also one of the talked about actors for his relationship status.
Jerome - who once dated his co-star Lena Headey, famously known as Cersei Lannister in the series - is he married or is the rumors of him being gay right? 
Fate seems to be playing funny games with Jerome. With the star swiftly moving on from one of his past relationships, his professional life commitments have brought him back in the doorsteps of his former girlfriend.
How do the two former lovers get along? Is Jerome comfortable to be around his former girlfriend or does it make for an uncomfortable pairing?
Not Gay: Game Of Thrones Star's Failed Relationship With Lena Headey, Married Now?
Jerome rose to fame for his roles as Kenny Rambo Baines in 1986 television film- London Burning and as Bronn in the hit HBO series of Game of Thrones. Jerome has a very successful career, unlike his love life, where he is reported to have failed twice.
Similar: Jonathan Van Ness Only Man Without Boyfriend Or Husband In Queer Eye!
Jerome's most talked about dating affair is with his co-star from Game of Thrones, Lena Headey.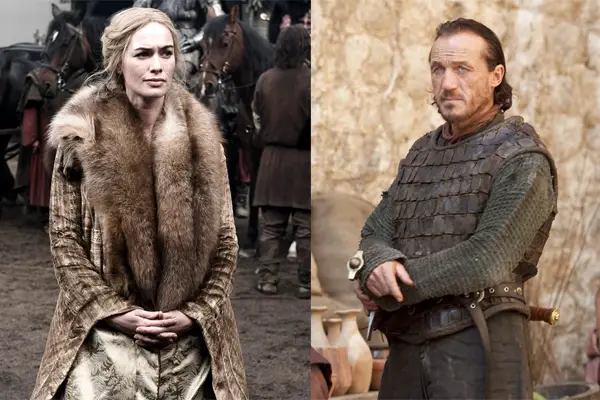 Jerome Flynn (left) with Lena Headey (right) dressed up as their characters in Game of Thrones. (Photo: Playbuzz.com)
The duo dated for about a year in 2002 till 2003, years before Game of Thrones was made. There is no revelation about how they met and what were the contributing factors behind the duo's split. It was Anne Headey, Lena's aunt, who confirmed that the two were once an item.
Even in the sets of GOT, they were reported being in "not speaking terms."
Jack Gleeson, who plays the on-screen son of Leanna Headey revealed:
"Jerome and Lena aren't on speaking terms any more and they are never in the same room at the same time, It's a pity because they appeared to have patched things up for a while, but now the word is they should be kept apart at all costs."
Talking about the relation, Jerome himself said:
"We're not a couple right now, people have seen us together and jumped to conclusions. I can't rule out a relationship with her in the future, I just don't know."
Before having his name attached with Lena, Jerome reportedly was in a relationship with one another lady- Anna Jacobs. While in a relationship with her, Jerome's dream of being a father was shattered as Anna was not fortunate enough to give birth to their child.
You May Also Like: Rose Leslie & Kit Harington Married; Recited Wedding Vows In Front Of 'Game Of Thrones' Crew
It was in the 1990s when Anna miscarried their twins at four months, after being attacked in the doorsteps of their home in Hackney, East London.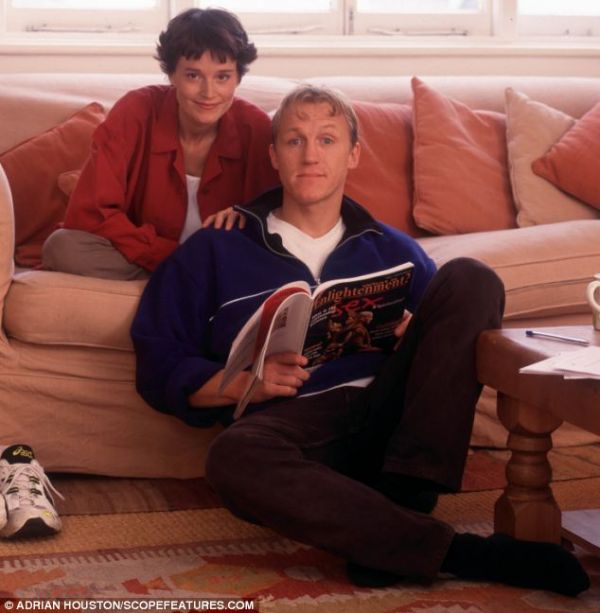 Jerome Flynn with his now ex-girlfriend Anna Jacobs (Photo: Dailymail.com)
Although Jerome was doing very well in his early career, the red-carpet life didn't give him a warm feeling, and he started looking for the meaning of his life. However, with the help of a friend, Jerome came in contact with an American spiritual guru Andrew Cohen, who fascinated Jerome with his religious teaching.
Furthermore, Jerome decided to abandon his career, and he moved into a commune in North London with a bunch of other believers and his long-standing Girlfriend Anna, who he was in a relationship for two years. Both of them immersed in Andrew's teaching and spent their time meditating.
It was after four years, Anna got disillusioned and decided to move out from the group, but unfortunately, Jerome didn't join her. Their relationship foundered immediately after she left, but the duo remained on good terms.
Supporting the decision of Jerome, Anna said,
"I appreciate there's a lot of controversy around Andrew Cohen which I think can be largely justified, but at the time we were very committed to the path we were on, If you want to be serious about spiritual life, you give up a huge amount of your time and attention."
She added,
"Jerome always remained absolutely lovely. He's a  big-hearted guy who approaches everything with self-deprecating humor. He's funny, and he's humble with it."
Moreover, having dated two ladies in the past, it shuts down all the rumor of him being on the gay side.
Besides His Acting Skills, What Is Jerome Flynn Known For?
Jerome Flynn did rose to fame with his acting abilities, but back in time, he had his hands in singing as well. In 1955 under Simon Cowell's' endeavor Jerome and his co-actor from Soldier, Soldier- Robson Green worked for a record Unchained Melody which later earned Mr. Cowell his first £1million. The record remained one of the top-ten selling records of all time.
Along with a soothing voice, he is loved for his singing capabilities as well. He is also seen humming songs in the HBO's series, Game of Thrones,
Despite the failure in regards to love life, Jerome has been very successful in his career which has helped him earn a net worth that equivalents to $3 million as of now.
Professional Hazard: Hated By Postman
Being an integral part of Game Of Thrones, one of the most thrilling and unpredictable TV series in history, has its pros and cons for Jerome.
While he has received many praises for his beautiful onscreen portrayal of his character on-screen, the way that the role panned out has brought along with itself much hate for Jerome. 
Shooting a spear at Dragon has been a widely unpopular decision amongst fans of the show. He has received a lot of negative comments from the fan of the show for his character's choice, so much so that his postman is also angry with Jerome.
Get To Know: Game of Thrones Season 8: GOT Final Season Airing In April, A Holocaust
In an interview with Making Game of Thrones, HBO's blog for everything related to the show, Jerome mentioned the hate he has received for his character's decision.
"I was surprised when I was watching it (the episode). I spent weeks on that sequence, but I was on the edge of my seat, the adrenaline was running — they really nailed it. Although since the day the battle aired, I've been a little unpopular, I have to say. My postman won't speak to me because I shot the dragon."
Despite the ongoing hatred, Jerome's fans all over the world eagerly anticipate seeing more of his performance in Game of Thrones' final season alongside Nathalie Emmanuel and Conleth Hill which aired in April 2019. 
Almost Quit Acting
The world nearly missed Jerome's much-loved portrayal as castle loving Bronn because the talented actor had almost decided to quit acting. After his decent outing in  Burning, he wasn't being offered anything exciting. The British actor had a full proof plan for his other career. He had bought a farm in Wales and was renovating it. The Soldier, soldier hitmaker had intentions of converting it into a holiday cottage business. Being a country boy, he was quite comfortable with the setup. But life had other plans for him.
Jerome was offered the part of Bronn in the world dominating series Game of Thrones, and the actor hasn't looked back since then. The global phenomenon aired its last season in 2019, but the talented actor won't return to the farm; instead, he will continue to enthrall the audience in other projects.
Well, his upcoming projects include playing a cowboy in Stephen King's seven-book Dark Tower series and an essential role in Lionsgate's John Wick: Chapter 3 – Parabellum.