Entertainment
Jessi Klein's Wedding Dress Became The Talk Of The Town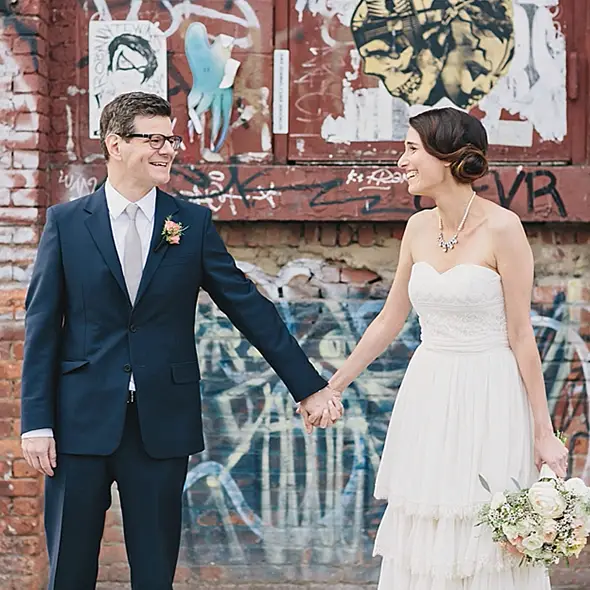 Jessi Klein is a stand-up comedian and author best known for her book. You'll Grow Out of it, which became the New York Times' bestseller in 2016. 
She not only makes her audience laugh as a comedian, but she also enjoys an amicable relationship with her husband.
She had a perfect wedding which made headlines in 2014. Let's look more into her personal life. 
Jessi Klein's Beautiful Wedding
Jessi is married to Michael Engleman. Her husband is a chief marketing officer at Showtime and was a former executive in Turner Broadcasting. 
There are not many details on how and where Jessi and Michael met. But it is known that, after years of ups and downs in their relationship, Jessi finally tied the know with her husband in January of 2014 at Brooklyn Winery, New York, United States.
Jessi Klein and Michael's wedding photo. (Source: STYLEMEPRETTY)
Jessi and Michael had agreed on two basic things before their wedding; first, they wanted the ceremony to feel relaxed, and second, they wanted to have a good interaction with their guests. 
Their entire wedding was planned by wedding planner Roey Mizrahi who kept every train running correctly on time and somehow managed to get wedding stuff as well as personal items through the day. The final bit of magic in the wedding was getting Howard Fishman, who is one of the favorite Brooklyn musicians, to play down the aisle. His albums were an important part of the couple's romance.
Everything at the wedding was perfect, be it beautiful flowers to the cute cakes, the wedding venue, and the music. The music was played by the Howard Fishman band, which fit perfectly with Brooklyn Winery.
However, Jessi's wedding dress became one of the most talked-about topics. In an interview with Vogue, Jessi shared that she tried more than 100 wedding dresses before marrying Michael.
After selecting the ideal wedding dress from The Moth, the couple had an adorable photo shoot. Jessi hired a photographer who gave them helpful suggestions for their perfect wedding shots.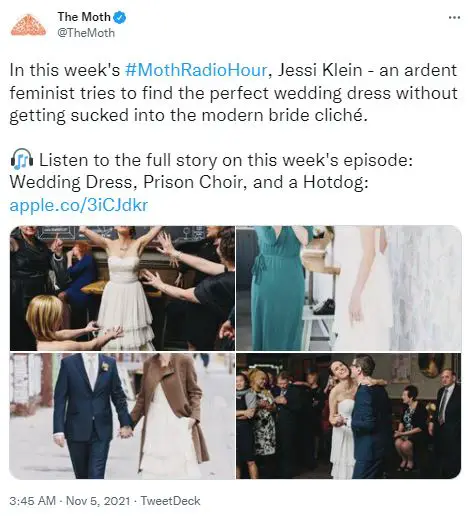 Jessi designs her wedding dress from The Moth. (Source: Twitter)
Their wedding went perfectly, and so is their married life. 
Jessi being herself, hasn't spared her husband as well. She is occasionally seen making trolls about her husband through her tweets.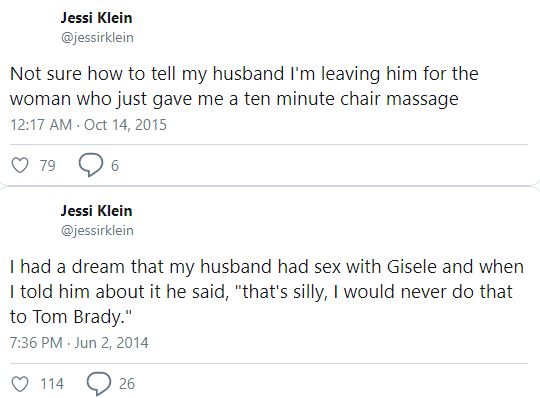 Jessi's tweet trolling her husband. (Source: Twitter)
Adding to the joy, Jessi and Michael welcomed their son into their happily married life in 2015. She had shared her memory of when she gave birth to their son. She said, 
It happened during a very intense rain storm. There were apocalyptic clouds. And at the very moment of the snip there was a huge lightning bolt, like out of a Mel Brooks movie."
She has also shared her experience in her book. She mentions that having her baby was the most beautiful experience of her life. She wrote:
I'd been having contractions for nearly 24 hours, and getting through them with deep breathing and thoughts of meeting my son. I felt like I was dealing pretty well with the pain. Then, because the labor wasn't really progressing and I was a 40-year-old attempting a VBAC, the doctor suggested breaking my waters. I agreed.
Adding to it, 
The pain of contractions, which I'd put at about an eight out of 10, suddenly went up to 11 out of 10. Or maybe 93 out of 10. It felt like I was being knifed in the stomach. My husband suggested a shower. I grabbed him, looked him in the eye and said, "I know you're trying to be supportive. But if you really want to support me, GET ME AN EPIDURAL NOW." Miraculously, an anesthetist appeared almost instantly in the room (yay for public hospitals). The relief of the pain gradually ebbing away was indescribable. I felt so incredibly grateful.
Her book, You'll Grow Out of It, describes struggle and pain during pregnancy as well as one of the happiest moments of being a mother for any woman in the world. 
In addition to being the owner of the bestseller, she has also received Emmy Award for the Comedy Central show, Inside Amy Schumer, for being the head writer as well as executive producer. 
Jessi's second book, I'll Show Mysel Out: essay on Midlife and Motherhood, was released in 2022. Again, her humorous presentation of emotion made everyone appreciate and enjoy it.
Learn About: Kevin Clash's Married Life and Struggle with Sexuality
Jessi, with her dedication, has established her name in the industry. However, we hope her to be more open about her personal life. 
We will surely give you more updates on Jessi Klein. Till then, stay tuned.