Entertainment
Josh Mankiewicz, Married At the Age of 60: First Met Future Wife at T.S.A Line, Interesting Dating Story
People say that love is boundless to any physical bonds. Age difference, for example, is something that has not been a problem among two lovers. Let's take Josh Mankiewicz, who was married in his 60s. But, that is not the only exciting part of his story; the exciting part is how he met his lovely wife.
Josh Mankiewicz is a married man; and as expected, his fans must be wondering about, who his better half is? Learn about his wife and also learn the exciting tale of how the two lovebirds met.
Married Wife In 2016; Gay Label Persists
Josh Mankiewicz got married 16th May 2016. He was hitched to his newlywed wife is Ahn Tu Dan, the owner and chief executive of a home health care business in Los Angeles. Physical therapy, wound care, occupational & speech therapy, IV & infusion therapy, ostomy & enteral care are some of the services provided by her company.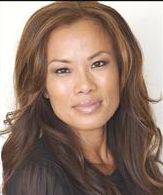 Josh marries his partner Ahn Tu Dan, who is 18 years younger than him in May 2016 (Photo:- wellness.com)
They exchanged their vows at the home of Josh's old friend; Mark Thompson, who is a retired newscaster turned Universal Life Minister. Below is a picture of the couple's romantic wedding as well as the link to where they shared the lovely story of how they met.

A fan with the username @born2run58 wished a happy married life on 20th August 2016, precisely three months after tying the knot at an intimate wedding. Likewise, another fan @Shoningphoto congratulated him on the marriage and called his wife "beautiful."
Almost three years on since the wedding, his fans have continued to root Josh and his life partner. In May 2017, Claudia Anderson congratulated the married duo on their second wedding anniversary.
Despite his heterosexual marriage to his wife Ahn, gay allegations against him have persisted. Josh, for his part, refused to tackle the accusation head-on.
When Did They Start Dating?
The couple had met in the least romantic place you can imagine of all time, standing in the line for TSA. Who would've thought that anyone would find love in one of the most boring places, but Josh was lucky to find himself next in line to her in 2009. According to the nytimes.com, he said,
"Standing ahead of me was this stunning woman I was staring at her. She didn't notice. Finally we started talking. Actually, I started talking and she responded."
So, Josh ended up giving her his business card. He had also caught a peak on the tag on her bag and searched her on the internet as soon as he could.
Unfortunately, he couldn't find the particular 'Ahn Tu Dang' he had his mind set up on. "I was 100 percent sure I would never hear from her and that what I had done was something silly and overconfident," he said.
But on the flip side, Dang had looked up Josh and worried about his celebrity status as a correspondent of 'Dateline' could mean that he has an ego. But after about four weeks she decided to call him. "I thought, let me give it a shot and see what happens" she said. 
Another Smitten Duo:- Marie Osmond Husband, Salary, Net Worth
Josh, who had lectured about the Islam culture during Orlando shooting at a gay night club had given up hope, immediately invited her to lunch after he realized that it was her on the phone.
"I remember walking into the restaurant & being struck by how beautiful she was," Mr. Mankiewicz said remembering their first date. Now they have known each other enough to know that they are compatible life partners. TMZ caught up with the couple few months after their wedding where they seemed ecstatic on their newfound relationship.
After dating for about a month, Josh decided to split up and pursues another relationship and Dang realizing it left him off the hook quickly. But four years later in the summer of 2013, Josh was passing by her neighborhood, so Josh called her up for lunch again.
Breast cancer struck Dang only five weeks after they were dating and she had to go through a double mastectomy. But Josh was very supportive of her; taking care of her in his apartment. It became a real turning point in their relationship as three years later they are now happily married.
Bio Including Net Worth
Josh Mankiewicz was born on 27th August 1955, in Berkley, California, US. He graduated from Haverford College in Haverford, Pennsylvania that lies in the suburbs of Philadelphia. He must have an astounding net worth, but it is still under review.
Equally Elusive Salary:- Shirley Caesar Age, Husband, Gay, Net Worth
Josh in the present time is a correspondent of 'Dateline on ID' where he started since 2012, but he is mostly known as the correspondent for 'Dateline NBC' where he has been working from 1997. Working for NBC, he is likely to receive a four-figure sum in salary.
Moreover, he has used his globe-trotting ways to good use by sharing valuable travel-etiquette along the way. In December 2018, Josh appeared on the podcast Travel Genius, sharing tips on uncovering best coffee shops and restaurants in unknown cities.