Joshua Jackson Couldn't Start Dating Again After Split With A Decade Long Girlfriend But Did the Break Up Actually Stop Him? The demise of the ten years relationship of Joshua Jackson created a storm in the media. When the actor was on the verge of getting married to his girl, the sudden uproar of break up must have dragged the actor down to drain, refraining him from getting involved in another relationship.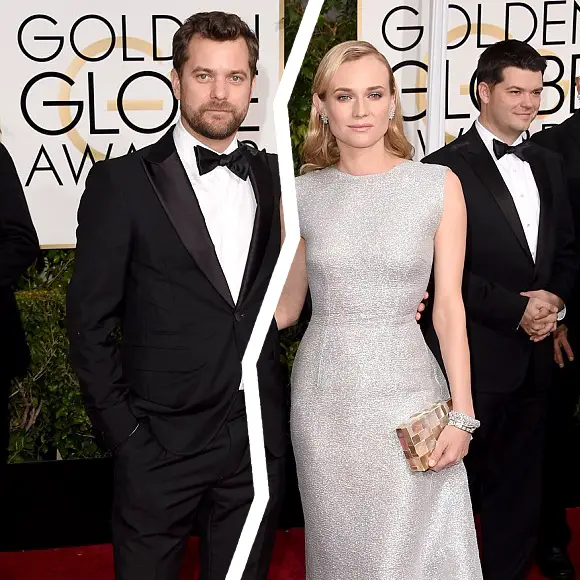 The demise of the ten years relationship of Joshua Jackson created a storm in the media. When the actor was on the verge of getting married, the sudden uproar of break up must have dragged the actor down to drain, refraining him from getting involved in another relationship.
Has the bitter separation made the actor, not in the dating game or is he back hooking up with the beautiful girls of the H-town?
The End of 10 Years Dating
Immediately after Diane Kruger's 40th birthday, the buzz of the ending of the decade year-long' relationship between Joshua and Diane came into a highlight. Though both the stars did not give official confirmation to the news, their representative disclosed the separation report to be right through People.com and said:
"Diane Kruger and Josh Jackson have decided to separate and remain friends."
Neither Joshua nor Diana spelled the actual cause for separation. But through the quote picture shared on Instagram, Diana gave the ultimate message which read, "the story of life is quicker than the wink of an eye. The story of love is hello and goodbye until we meet again."
And eventually waved goodbye to the New York City by posting a Skyline picture from a plane mentioning, "It's just an au revoir, not an adieu."
From Our Vault:- Milo Yiannopoulos Gay, Boyfriend, Affair
In March 2016, Diana had moved into the New York City to live with Joshua as he was working for the Broad Way Play. During that period, Diana had shown much eagerness and excitement of moving in. Through Dailymail.co.uk, she said:
"I just moved to New York. I need to unpack and buy some house stuff, like candles and books. Moving here was a major commitment. That's a big step into adulthood for me, to allow that time for someone else out of my time."
When asked about turning about her long term relationship into marriage, Diana spoke about facing a dilemma in tying a knot. Shen then shared her excitement in experiencing the motherhood through usweekly.com. She said:
"Welcome to my dilemma!"
She added:
"I feel very European, and I think that I'm going to grow old in Paris.I have this fantasy of raising my kids there one day."
While Joshua gave another opinion on getting married, where he said:
"I can tell you why we're not married: We're not religious. I don't feel any more or less committed to Diane for not having stood in front of a priest and had a giant party. We're both children of divorce, so it's hard for me to take marriage at face value as the thing that shows you've grown up and are committed to another person. But it may change at some point. We may get married."
However, in the eight and a half year relationship, the duo had turned their boyfriend-girlfriend relationship into fiances. The news of engagement got announced when Diana, through her exhilaration, flaunted her diamond ring through her Instagram post.
See Also:- Hyun Bin On Girlfriend & Mystery! Heartthrob's Wife-To-Be? Status Now
Diana and Joshua dated each other since the year 2006 after Diana separated from her first husband French actor Guillaume Canet. The relationship must have undergone through secret conflict which never once got revealed. Or maybe Diana doesn't see Joshua be the husband material kind and abruptly ended the ten-year-long relationship.
Until the actor and actress open up about their split, the confusion of their separation still lingers in the air.
Moved On After Separation Or Still Grieving On It?
In the early month of January 2017, usmagazine.com reported about the secret affair between Joshua and a mysterious lady at the Sundance Film Festival in Park City, Utah on 23rd January 2017. As per the source, the pair were quite close to each other and were dancing together. They said:
"Joshua was dancing with this girl. "They were all over each other on the dance floor and then were making out. They left together around 2 a.m."
Well as no revelation got made regarding the secretive woman dancing with Joshua but fans could tell that the pair to be in a secret relationship. Similarly, before the mysterious woman, Joshua was spotted with pal Margarita Levieva at Sundance Festival while the source confirmed about them living together.
Joshua with Margarita Levieva at a late-night stroll in New York on September 2016 (Photo Credit:usmagazine.com)
They said:
 "they were dancing together at John Legend's table and left the club together. Prior to hitting the festival, the pair ignited dating rumors when they were spotted taking her dog for a walk late at night in New York City this past September."
After the separation with his long-time woman, Joshua got surrounded by the rumor of dating actress Ruth Wilson. The "The Affair" co-stars got spotted drinking for long hours at Gemma Restaurant in NYC on 22nd August 2016.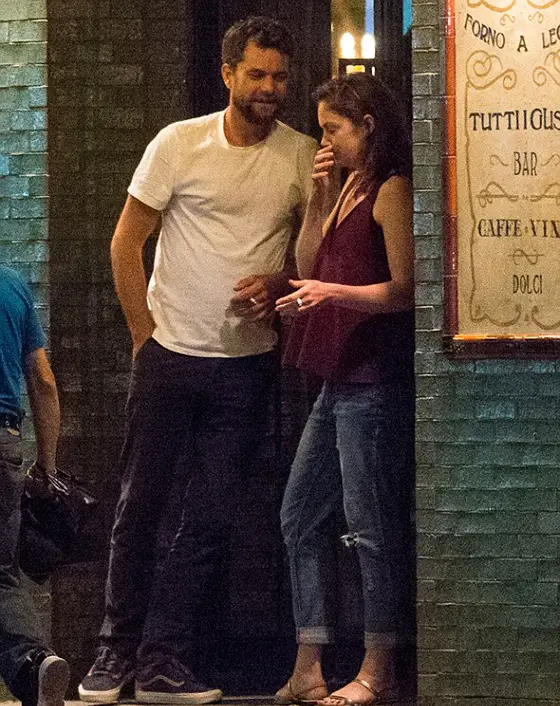 "The Affair" starrer Joshua and Ruth enjoying outside the New York restaurant (2016) (Photo Credit: dailymail.co.uk)
 The story brutally ended when Ruth waived the gossip to be untrue through Vanityfair.com where she said:
"It's boring gossip.It is boring gossip. You can tell from that photo that we're friends. I just sort of go, 'All right, well, whatever, I have to keep answering. If you want an answer about whether we're dating or not, 'no' is the absolute truth. We all go out a lot. We're four Irish-Catholic actors who happen to be on a show together, and that means we like a drink and we like to have a good time. So all four of us go out."
With an extensive list of involvement with women, fans could say that the actor has moved on after the breakup. Despite the fact he didn't immediately find any stability, the actor's search of a perfect wife brought brightness. The happiness, in turn, ultimately refrained the rumor of the actor is gay.
Though the actor was dumbstruck by the failure of his decade-long love, he still focused on his career, which encouraged him to gather the total net worth of $8 million. Well, fans continued to wish Joshua would find a loving woman.
Allegedly Got Marriage License
Never the one to let his past changed him, Joshua continued his search for a soul mate. His persistence paid off as he crossed paths with Jodie Turner-Smith.
Found Love Again:- Lesley Murphy Dating-To-Get-Engaged? Her Dating Status At 29
A Jamaican model by trade and ten years his junior, Jodie first got romantically linked with The Affair in November 2018. Seven months into their romance, media speculated things to be over between the two as paparazzi spotted Joshua locking lips with a mystery woman at an airport.
In mid-July 2019 - a month after the alleged split - Joshua and his girlfriend fell back into each other's good graces. The lovebirds got photographed taking a stroll in LA as they didn't hold back on the PDAs.
Reunited stronger than ever, the Dawson's Creek Alum and Jodie took a giant leap of faith that required a marriage license. Dailmail alleged that the duo picked up their paperwork from a Beverly Hills-based courthouse on 2nd August 2019.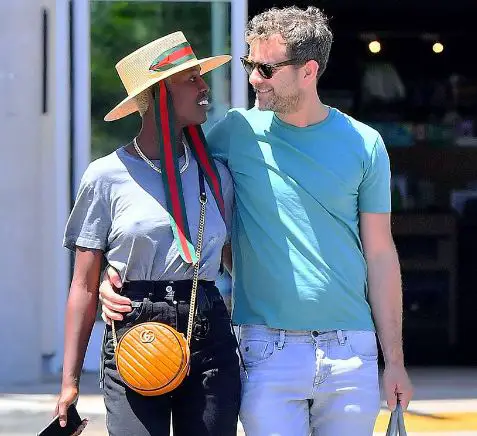 Joshua Jackson with alleged wife Jodie Turner-Smith in public circa-2019 (Photo:- eonline.com)
Sources close to the pair refused to comment on the story at the time. Before Jodie, Joshua enjoyed a brief romance with actress Alyssa Smith. They parted ways in June 2018.