Entertainment
Kate Humble Married The Right Man; Got Herself A Husband Who Also Does Not Want To Have Children
Kate Humble Married The Right Man; Got Herself A Husband Who Also Does Not Want To Have Children Kate, 48, referred to as a television presenter, especially for BBC and Spring watch, specializes in wildlife and science programs, and loves Dogs over children. It has been 24 years since her marriage, and the couple doesn't have kids. Is her love for nature restricting her from having a child?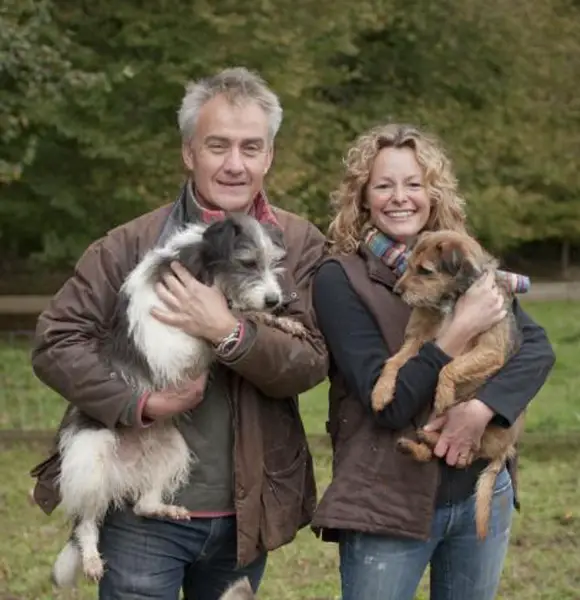 Not every girl fancies being covered in makeup and dressing up like it's prom night every other day. Some people feel comfortable in their skin and don't care if their hair is messed up, and their body doesn't have curves in the right place. Yes, such girls do exist.
Kate Humble is one of the definitions of such a girl as she spends almost all her life loving and embracing nature, being covered in mud and not being bothered to clean herself up, roaming around hugging the animals she owns. She wasn't like any other girls in general and never cared about what people said about her and her preferences.
Kate, 49, referred to as a television presenter, mainly for BBC and Spring Watch, specializes in wildlife and science programs, and loves dogs over children. It has been 26 years since her marriage, and the couple doesn't have kids. Is her love for nature restricting her from having a child?  Let's find out!
Elusive Married Life With Producer Husband; Divorce Out Of Picture
Kate, who isn't a "Girly girl" ended up fancying Ludo Graham (her husband) when she met him at a party when she was just 16. Later, they both met again when she was looking for some advice on starting her career on TV with Ludo himself.
Interesting:- Katherine Waterston Age 38 Bio: Pregnant With Baby, Who Is Her Husband?
Love sparked between them, which increased with time and true love blossomed in both of their lives, and the couple eventually ended up getting married in 1992.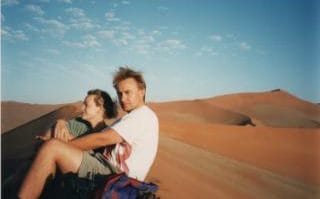 A rare picture of Kate with her husband Ludo at a desert in Africa captured in 1994 (Photo:- telegraph.co.uk)
Ludo, who is well known for producing the four-part documentary series 'The Choir' for BBC2, is a very loving and caring husband and has supported Kate throughout her life. It has been 26 successful years of marriage for the couple now, and divorce hasn't been discussed as a topic anywhere, for them.
Secret Behind Successful Married Life With Husband; Almost Married Dangerous South African
As for the longevity of their marriage, the 49-year-old published author credits the pair's understanding of their significant other's personal space.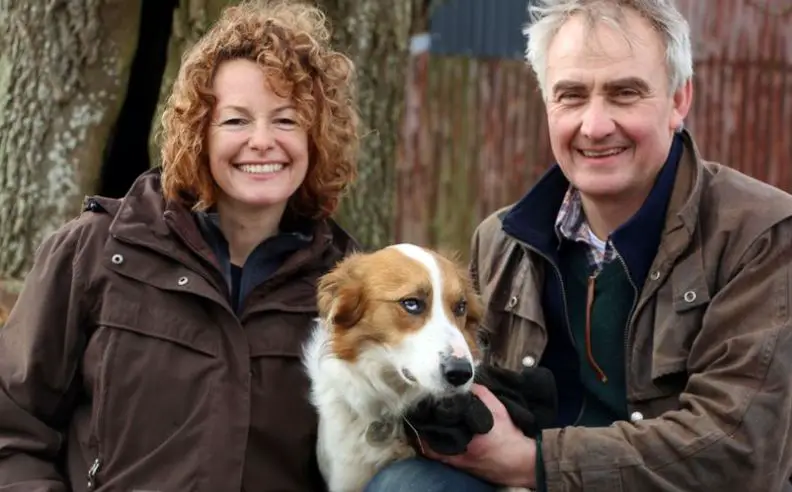 Kate and her husband Ludo smile for a family portrait (Photo:- mirror.com)
In a 2017 interview with Sunday People, she explained how giving each other ample time to work on their respective project was good for their married life. She claimed,
"We're both very independent, I've always been that way. We have odd jobs. It helps to be with somebody like-minded."
Kate, who admitted to dabbling in drugs during her teenage years, also asserted that she and her husband Ludo have been "physically married" for less than half a decade despite being married for over 26 years.
Discover:- Openly Gay Lee Daniels & Boyfriend Are Power Couples | Children Status Now
Many might not know but Kate had once agreed to marry a "dangerous" South African man when she was 19 years old. In the 2013 Radio Times interview, she described the love-affair by quipping:-
"He was deeply inappropriate. But I fell in love with him. I was young and gloriously ignorant, but he asked me to marry him and I said, 'Yes!"'
She then recounted the story of how she had followed her then-fiance to Northern Zambia.
On Being Pregnant & Bearing Children: "My maternal gene is missing..."
Kate always did what she felt was right and not having a child was one of the decisions she made back when she was just 14. Luckily for her, she got married to a guy with the same preference, who supported her and her decision in remaining childless.
The TV present knew that she was missing the "Maternal gene" and was adamant about having a child and getting pregnant. In an interview with Daily Express, she said,
"My maternal gene is missing, If I had wanted them I wooould have tried to have them but I didn't. It was just the right decision for me."
Kate owns a 117-acre farm where she keeps sheep, chickens, ducks, geese, goats and breeding cows, and she also possesses three dogs, which to her is a large family.
She further made a statement, jokingly:-
'We usually get up at 6 am to feed the animals, but people with children think that's a lie in. And, although you can't really ignore your animals, they don't bounce on your bed like children."
Don't Miss:- How Chris Rock Wrecked Wife Relationship, Girlfriend Affair Fueled Divorce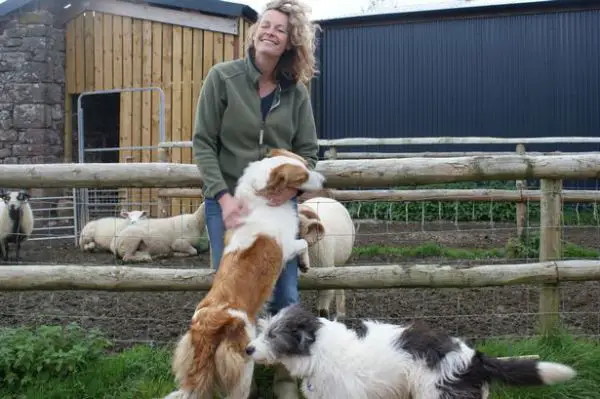 Kate is looking untroubled and gleeful while playing with her dogs at the farm (Photo:- Walesonline.co.uk)
She was also reported presenting Lifeline appeal for BBC where she was pictured with a cancer-detecting dog.
Life As Published Author: Cancer Sniffing Dogs Inspired Books
Over the years, her love for the dogs has grown so much that she has even published a book titled Friend For Life. Her book deals with the health benefits brought on by owning a dog.
While researching for her book, she spent hours analyzing the work at the charity Medical Detection Dogs, which trains the man's best friend to "sniff" chronic diseases including certain forms of cancer.
Read Also:- Danny Wood Married Status After Split With Wife | What About Kids?
One of the fondest things she likes to do, other than study dogs, is taking a long stroll with them. Her newest book, Thinking On My Feet, combines her two passions into a sprawling soul-searching memoir of a sort.