Kelly Gale showed off her new boyfriend, Joel Kinnaman at the Coachella Valley Music Festival... The news of Kelly and Joel dating came months after... Born on 14th May 1995, the Tommy Hilfiger model - now age...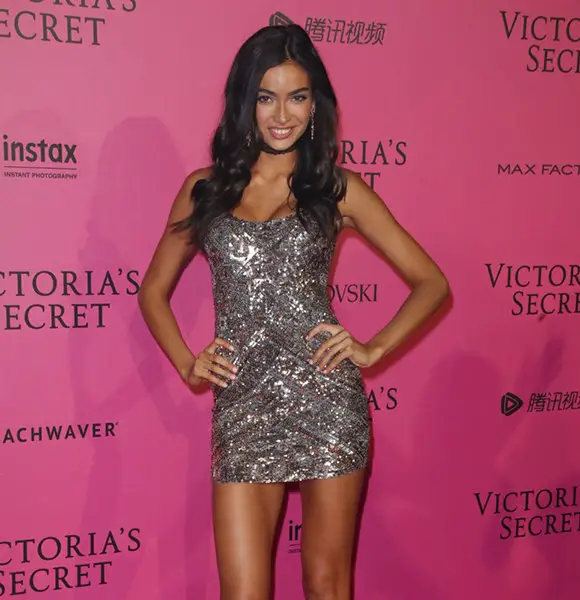 New couple alert!
Kelly Gale showed off her new boyfriend, Joel Kinnaman, at the Coachella Valley Music Festival. The new-lovebirds stepped out with one another at the beloved musical carnival held on the second weekend of 2019 in Indo, California.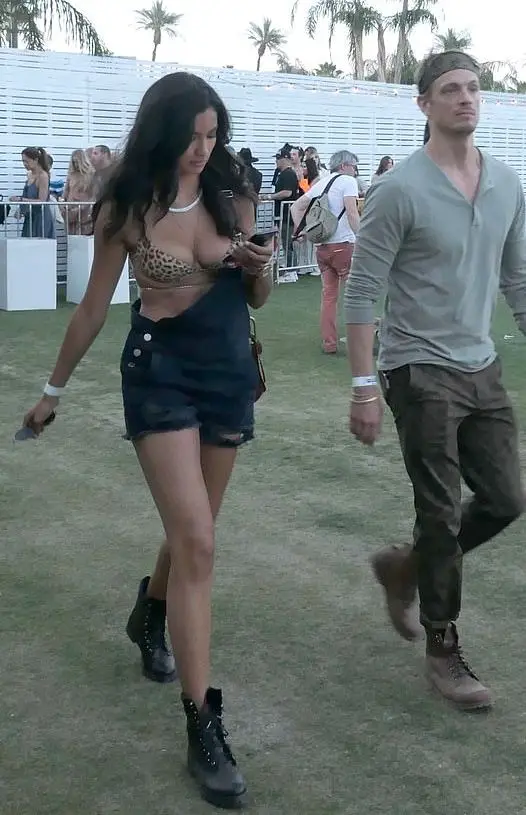 Kelly Gale fuels dating rumors after stepping out with Joel Kinnaman at the 2019 Coachella (Photo:- dailymail.co.uk)
On the day, Victoria's Secret model flaunted her figure with a leopard print bra and a pair of black-overall shorts. Meanwhile, her date wore a green ensemble with a full cream-colored t-shirt.
Making It Official
After getting spotted together in the Music Festival, it was only a matter of time that the couple would officially announce being together. The couple who had grabbed people's attention in April was making their fans wait a long time for the news.
Finally, on 8 September, the Victoria Secret's model landed a bomb on Instagram, posting an intimate kissing picture with the actor boyfriend at the Burning Man event. As the name of the place suggested, the photo burned a lot of hearts but filled them with joy.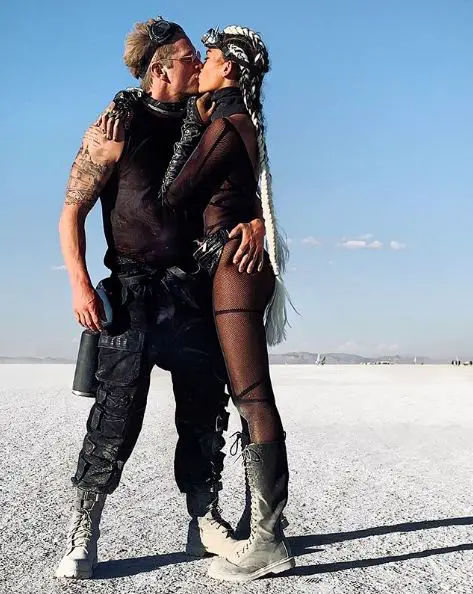 Kelly Gale with Joel Kinnaman at the Burning Man event in September 2019 (Photo: Kelly Gale's Instagram)
Both of them had come from a failed relationship and were searching to share their feeling. After her mother's marriage ceremony in August 2019, Kelly also took no time to share her love for the Suicide Squad actor.
Despite their busy schedule, the couple has managed to get things together, but it could be interesting to see how long their relationship will last.
Kelly's Ex-Boyfriend: Dating Since High School
The news of Kelly and Joel dating came months after the latter admitted the end of his marriage to wife Cleo Wattenström in a US Weekly interview.
More On Joel:- House Of Cards' Joel Kinnaman Secretly Turned His Girlfriend Into Wife! is That The Reason Why He Won't Go Shirtless?
Kelly, on the other hand, was fresh off a breakup from Johannes Jarl. The Swedish-American model and business executive Jarl had been an item since high school.
Not only was the lovebirds' relationship an on-and-off thing but also a long-distance one. The strain of their hectic work schedule must have likely ended their almost a half-decade long romance.
Kelly hinted the split in November 2018 after her then-boyfriend Johannes failed to show up at her Victoria's Secret Fashion Show in New York City. By then, six months had passed since she showed off Johannes on her Instagram.
Workout & Diet Details - Behind Kelly's Net Worth
Interestingly, ahead of the said Victoria's Secret gig, Kelly took to Instagram to share her workout routine. Per her caption, she aspires to do 100 "double unders" in a minute.
Before a significant show, she indulges in 25 km of powerwalk, pilates as well as meditation, and yoga. Resistance bands, gliders, ankle weights, and jump rope are some of her favorite things to do while in the gym.
Cat's Out The Bag:- Zuzka Light Amazing Body & Net Worth At Age 36! Workout & Diet Advice From Fitness Guru
As far as a healthy diet goes, Kelly refrains from consuming sodium as well as sugar. Every morning she wakes up with her version of morning tonic. For breakfast, she drinks green juices.
Meanwhile, vegetables and lean proteins make up her lunch and dinner. Raw vegan Pad Thai is one of her favorite go-to-diet.
Because of her discipline and strong work ethic, the Swedish-American model is one of the most recognizable faces in the world of modeling - something that gets reflected in her multi-million net worth.
In contrast, her rumored boyfriend Joel garners over $10 million in net worth.
Essentials: Age, Parents & Height
Kelly inherited the love for healthy eating as well as uncompromising professionality from her parents.
Born on 14th May 1995, the Tommy Hilfiger model - now age 24 - grew up alongside her brothers in Gothenburg, Sweden, under a close guardianship of their parents, who were a mixed-race couple.
Her father Jeffery holds American nationality while her mother Gita - a dentist by profession & a cook by hobby - is of Indian heritage.
Fellow Runway Model:- Angie Varona Bio, Boyfriend, Parents, Ethnicity
Because of her exotic features and 5 feet and 9 inches (1.77 m) height, Kelly got scouted as a teenager. At age 14, she modeled for H&M. Since then, she has covered the pages of Elle, Vogue India, and Teen Vogue.