Entertainment
Ken Seeley Bio: The Intervention Specialist Has A Supposed Married Life to Share
Addiction is a growing problem and standing in the front of the line to prevent it is Ken Seeley, a famous interventionist.
He has been successfully helping people battle addiction, but his career is not the only thing he is enjoying success in: he has been fortunate to have a blissful married life and a partner who loves him dearly.
Let us shed some light on the life of this hero on his wiki-like bio.
Bio - The Intervention Specialist; Net Worth
There once was a time when Ken Seeley was an addict and addicted he was to the extent that it cost him his job.
His employer began noticing how extremely thin he was getting and fired Seeley on its account. Getting the sack gave him time to reflect on his life choices, and he was finally able to see that "something was not right" about his 130-pounds skinny body. It was only then that he decided that he needed to "take a break".
Another Gay People:- Openly Gay Vern Yip Candid On Husband & Children; Rocky Or Rock Solid?
Opening up about it in 2014, he said,
"I just thought I would go [to treatment] to take a break, to figure out how to sell drugs better. I did not want to get sober at all. It would make me cringe when people would talk about AA and getting sober. I was having too much fun. It was the only time I felt connected."
He soon realized that it was his calling, hence, after ten years of sobriety, he went on to open an intervention firm and introduced his Intervention 911 method in LA.
The method includes a crucial pre-intervention meeting with an addict's family. The objective of this meeting is to learn as much as possible about the family member who is in dire need of help.
See Also:- Robbie Rogers Cutest Wedding To Writer Husband, Major Gay Couple Goals!
The session lasts as long as six to eight hours, and when the addict is brought in for the intervention, the interviewed member is prepared for what could happen and briefed about each family member's role in supporting the patient.
In his own words,
"It's really important to get the family involved, to educate the family. Their family system is somewhat enabling them. We give the family warning signs to look for and tools to support the recovery."
He continued,
"We find all the painful situations that we can to raise the rock bottom manually. You let them feel the discomfort. When they feel the discomfort, that's the motivation."
Seeley then concluded,
"What we find is families are very similar. They don't know how to support getting their family member in recovery. That's No. 1. You have to surrender again and again. It's the hardest thing for an alcoholic or an addict to do."
Also, the Intervention hosted the CE courses known as continuing education in California. So, he shouted to all the healthcare professionals to take the advantage of this opportunities. The events are scheduled to be held from 8 November to 11 November 2018 and 6 December to 8 December 2018.
This is the thing, he is innovative in his approach, and he is passionate about his job. His work has helped him earn a healthy sum of money surely.
Discover:- Peter Thiel Silently Married Boyfriend, Gay Couple Too Slick For Public?
But he has not revealed the actual figure of his net worth as he has been very confidential about most parts of his personal life. But there is another thing which he enjoys, and that is loving his partner.
As of now, the once addicted man is living a healthy life, pledging his life fully to help other addicted people. In his transformation to the healthy lifestyle, the interventionist Ken underwent a full body makeover from plastic surgeon Dr. Andrew Ordon.
Engaged Couple Secretly Got Married; Happy Family
The 56 aged author is together working with his partner, Eric McLaughlin in the Intervention 911. The pair has been together for more than 14 years now, and this shows how much loved up they are.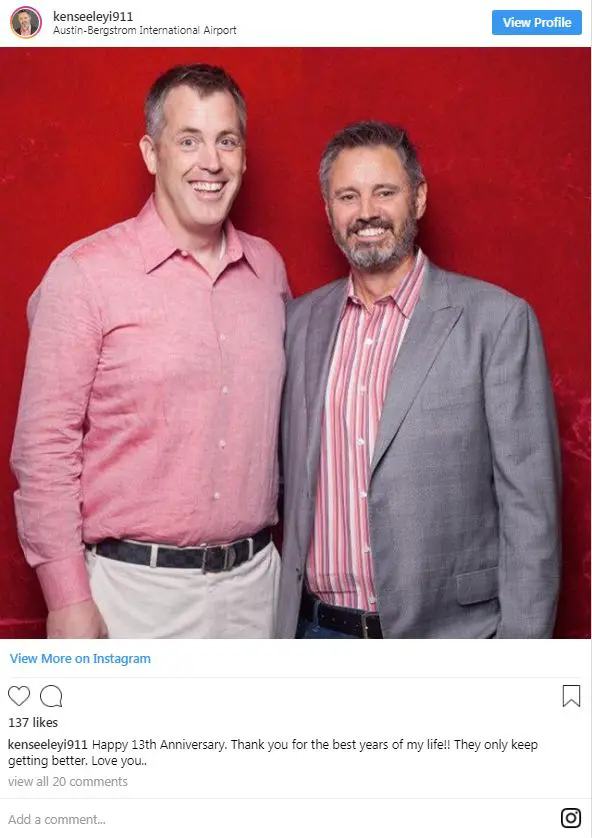 Ken Seeley, husband Eric celebrate their 13th Anniversary (Photo: Ken Seeley's Instagram)
Don't Miss:- Tim Cook Inspiring Coming Out Story, Being Gay & Partner To Married Status!
Another example of the strength of their loving union was seen when the couple shared an adorable snap of them spending Valentine's Day with parents.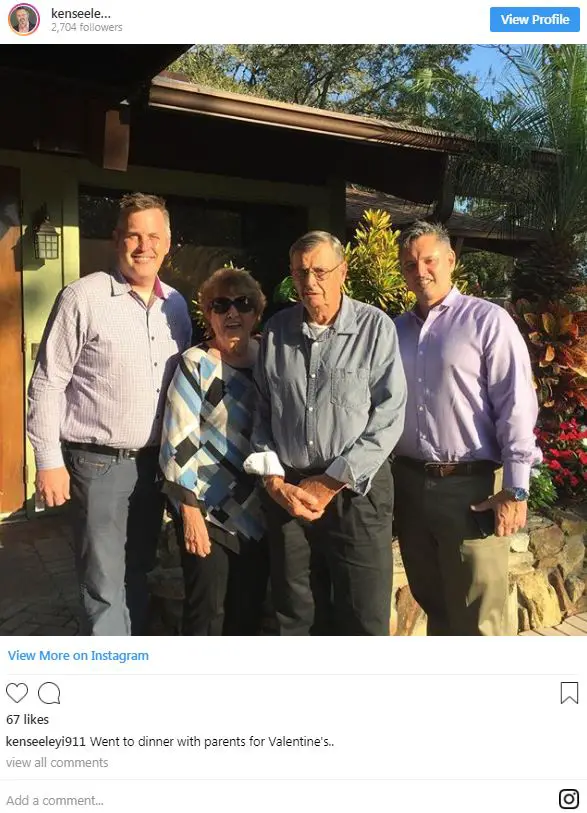 Ken Seeley, partner Eric dinner with Ken's parents on Valentine's day (Photo: Ken Seeley's Instagram)
In addition to celebrating their anniversary, the couple also made their parents' wedding anniversary a mesmerizing one. On 17 September 2018, Ken Instagrammed the glimpse of his special parents' wedding anniversary.
There have not been many revelations from the couple's end to declare his married status with partner Eric. But Ken's intimate relationship shatters all the dreams of the ladies around him who were looking to be his wife. Sorry ladies!