Entertainment
"Holes" Actor Khleo Thomas' Proud Family & Parents Reflect Success As Actor
Actor Khleo Thomas is best known for portraying the role of "Zero" in the 2003's movie Holes. The then 14-year old Khleo indeed portrayed the iconic role beautifully and has been creating superb acting resume ever since.
And the 29-years-old star has all the support from his supportive parents and siblings. Khleo's family has played a significant role behind the camera for taking his success to a new height.
On top of it, Khleo's mother knew from the first that he was destined to be in front of the camera world.
Well, for those who want to be familiar with the success story of the actor and his supportive parents and family, you have dropped in the right place!
Proud Family; Mother Knew "He would Be A Star"
Born to the African-American army father and Moroccan Jewish mother, the Alaska native grew up in a culturally diverse family as the second son. For the siblings, he has two brothers named Khadeem and Khameel and a sister named Khaleea.
From their childhood, Khleo and his siblings were exposed to Islam and Judaism by their mother, who is fluent in five different languages and Christianity by their father. Khleo seems very close to his siblings, and their closeness is reflected from his social media activities.
Well, the four siblings posed for a family photo after Khleo's younger brother Khameel got graduated. Khleo took to Twitter to share the proud family moment on 10 June 2017, writing:
"Congrats to the baby brother! He Graduated!"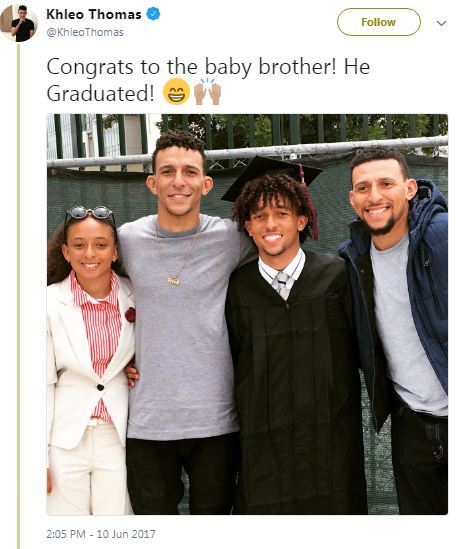 Khleo Thomas' tweets on his brother Khameel graduation on 10 June 2017 (Photo: Khleo Thomas' Twitter)
Similarly, aside from the brother-sister intimacy, he sure is close to her mother. Khleo's mother knew that he would end up being in front of the camera one day.
He shared a video on Twitter on 19 June 2017, where he disclosed that his mother knew that he would end up on a big screen. And his mom says she "certainly did." In the video, she showed the childhood picture of Khleo when he was two years old and described his passion and pose in front of the camera. She further disclosed:
"He loves the camera. So I know he needed to be in front of the camera"
Well, his mother prediction came true for sure, for he is entertaining the big screen now.
Similarly, aside from the video with his mother, Khleo is sure to have ganged up with his siblings. He shared the picture of the four siblings of Thomas' family on the Instagram back in March 2018 captioning it, "Gang."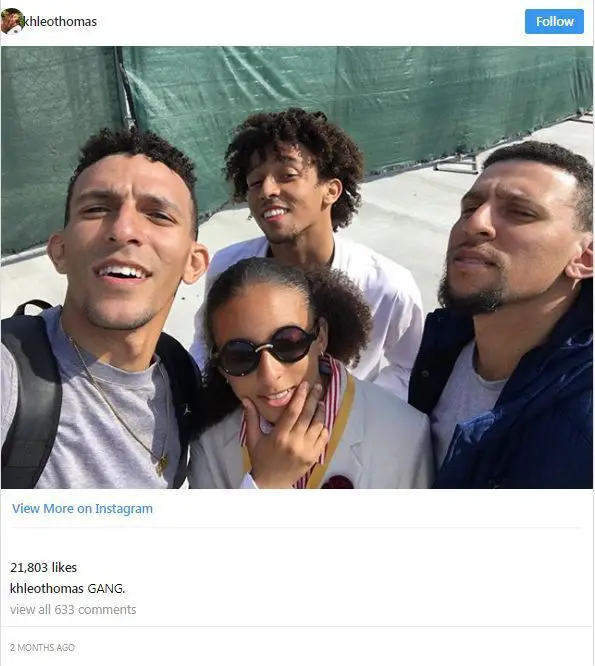 Khleo Thomas with his sibling in 2018 (Photo: Khleo Thomas' Instagram)
Also the Roll Bounce star, Khleo Thomas was originally named Khaleed Leon Thomas, but the young actor shortened the name, combining the first and middle names when he started acting in commercials at the tender age of 6.
No Girlfriend; Guide On Cheating Girlfriend
The 29-years old actor-rapper, Khleo Thomas loves to talk about dating life and girlfriend on the social media.
Though he does not seem to have a girlfriend to flaunt around, he is indeed training his followers the ways to cheat on a girlfriend without being caught. He shared a YouTube video on Twitter titled, "How To Cheat On Your Girlfriend And Not Get Caught." In the video, he says that anybody could get cheated on. But if you want to cheat then, it should be done without being caught.
Similarly, following the video, he posted another video on the Twitter account which says, "When you start dating an Asian girl.."
Well, the dashing actor might have wrapped his dating life from the public. But he might be single as well. We cannot assume anything until he spills the tea on his dating relationship.
Engaged In More Than Acting; Business Increased To Net worth
Securing the safe zone in the acting career, Khleo has much more in his pocket to increase his net worth. Khleo is not engaged in the entertainment business all the time, but his fans are always looking forward to getting updated with him.
As of 2018, he has started his own lane which includes the podcasts to his new startup business. In collaboration with Patreon, Khleo has started: The Awarewolvvves Podcast, Early Access to SLICK LIVING APPAREL releases, Access to the Slick Living Movie Nights, Access to the Slick Living Group Text Chat, Other Exclusives (TBA).
He has started his business of apparels which include the "SLICK" printed caps, t-shirts, bags and hoodies. Also, the clothing business includes the face-mask, stainless Steel cup, Lighter, legging, sports bra and many other brands.
With his side business followed by his artistic career in the entertainment world, Khloe owns a net worth of $500 thousand at the age of 29.