Khris Middleton is on the top of his game right now, making his first All-Star appearance in February 2019. He has been an integral part of the Milwaukee Bucks roster ever since his arrival in 2013.
But, even the craziest of NBA followers don't know much about Khris's personal life. So, let's get to know this experienced basketball player's romantic partner and family.
Khris' Wife & Children Info 
The Bucks' forward became a first-time father in April 2019, but what else is known about his family life?
Khris's girlfriend's name is Samantha, and she is the mother of his daughter Audrielle Middleton, who was born on 23rd April 2019. Interestingly, her birthday was one day after the Milwaukee Bucks clinched their first series victory since 2001.
Audrielle had a dramatic entrance into the world as the moments leading up to her birth were no short of scenes from a thriller movie. Khris wasn't with Samantha when she was taken to the hospital. He was in Detroit with the Bucks team playing the series-winner game as Audrielle was actually was due in June. But the athlete's girlfriend's water broke early.
And, when the Bucks' head coach Budenholzer knew about Samantha's situation, he immediately sent Khris back to Milwaukee.
Further, his journey back to Milwaukee was an adventure of its own. Khris was given a police escort to the airport, and the plane flight was wild, too. Also, the weather was terrible, and the environment chaotic during the journey through the air.
Read More:- Tyus Battle NBA Draft, Career, Injury, Parents
But when he reached the Children's Hospital of Wisconsin, he found out that the baby hadn't arrived yet, and Samantha was fine. Interestingly, Audrielle wasn't born until the next evening.
Surprisingly, she was healthy and strong, considering that she was a premature birth. But, she was kept in the hospital for a few more weeks so that she could get bigger and stronger for feeding.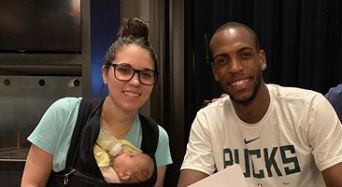 Khris Middleton with girlfriend Samantha and daughter Audrielle Middleton on July 2019 (Photo: Khris Middleton's Instagram)
However, despite having a baby together, Khris and Samantha are not married yet. The arrival of their daughter could mean that their wedding could be postponed for quite a while as the new parents will be busy taking care of Audrielle.
Family, College
Son of James and Nichelle Middleton, Khris, is the second child of the couple. He has an elder sister, Brittney Middleton.
Khris (full name - Jame Khristian Middleton) began his basketball journey at Porter-Gaud School in Charleston, South Carolina. He was coached by John Pearson during his junior and senior years, and also named South Carolina Player of the Year.
Upon completion of high school, he went on to play basketball for Texas A&M University. He played for them for three seasons, through his freshman year to junior year.
Recommended:- Mohamed Bamba Stats, Salary, Career, Parents
Following a good college career, Khris declared for the 2012 NBA Draft and was selected by Detroit Pistons.
He went from Detroit Pistons to Milwaukee Bucks after one year with the Pistons and has been there since 2013. Today, he earns a massive salary of $13 million at the Bucks and plays alongside Giannis Antetokounmpo.
Talking about his measurements, Khris of age 28 stands at a height of 6 feet 7 inches (2.01 meters) and has a weight of about 222 lbs (100.7 kg).