Entertainment
Bars And Melody's Leondre Devries Dating Girlfriend Carla; Net Worth & Siblings Details
The Rapper of the band Rap & Melody, Leondre Devries sought the public attention after securing the third position in season eight of Britain's Got Talent along...He used his own verses on the audition round of BGT protesting against...song captured the emotions of both judges and audience which opened their path directly to the...Now, the 13-year old boy is climbed up to the...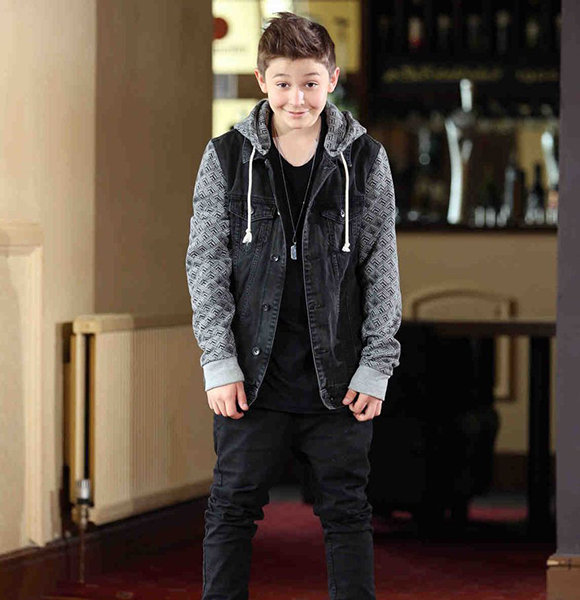 The Rapper of the band Rap & Melody, Leondre Devries, sought the public attention after securing the third position in season eight of Britain's Got Talent along with his partner, Charlie Lenehan.
He used his verses on the audition round of BGT protesting against the bullying. The song captured the emotions of both judges and the audience, which opened their path directly to the semi-finals with the golden buzzer.
Now, the 19-year-old teenage boy has a bright future ahead of him
Family With Singer Siblings; Girlfriend? Gay?
Leondre Devries, born on 6 October 2000, has four siblings; three older brothers and a younger sister in his family. The son of the father Antonio Devries and mother, Victoria Devries has a sister Matilda Devries and brother Joseph Devries, who are also both singers. Aside from the love for the family, he has shared the portion of love with another person.
Related to 'Bars and Melody':- BGT's Charlie Lenehan Essential Details: Family, Girlfriend, Net Worth, Height & More
The dashing rapper has been in the limelight since he competed in the BGT at the young age of 13. And since then, his every step has been followed by his fans. Importantly, he has amassed female followers who would be ready to do anything for him.
But, he met someone in his life. He started dating the Instagram star Carla Brocker in 2018. The three years older German and Leondre shared a very close bond with each other. Though they did not make a public appearance in any red carpet events or shows, they often showcased their love via Instagram to their fans.
Eventually, the couple broke up midway in 2019, but in that brief period, the young singer taught her ex snowboarding in the mountains, and they even shared lovely moments on the kitchen cooking.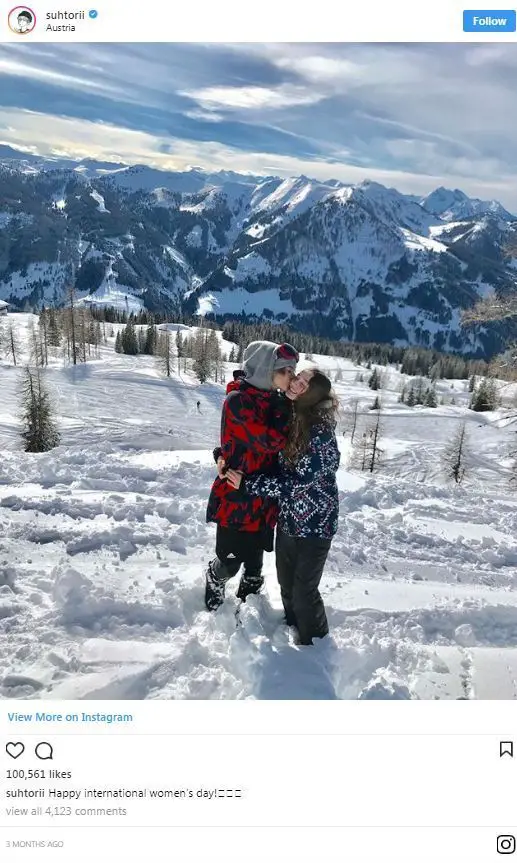 Leondre Devries wishes his girlfriend Carla Brocker on International Women's Day (Photo: Leondre Devries' Instagram)
Previously, Leondre dated Eloise Lindsay in 2015 and announced his love in front of the fans in a grand fashion. The youngster mentioned her in his tweet and announced her as his friend and requested his supporters not to hate her. It was a charming gesture from the singer but, the couple could soon part ways a year later.
Don't Miss:- Brooklyn Rae Silzer Bio: From Ethnicity to Parents - Everything There is To Know
Now, the young talent is solely focused on his career, and other than that spends his time with his mother and sister.
Journey To BGT; Father Sue Bars And Melody 
Leondre's journey started when he was just 13 years old after he met Charlie Lenehan through social networking sites in 2013. Their compassion for music made them form a band named Bars and Melody.
After five months of the formation of the band, the pair tried their luck in the eighth series of Britain's Got Talent, a.k.a BGT. They performed Hope by Twista, where their verses replaced the lyrics of anti-bullying.
Their performance led Simon Cowell to press the golden buzzer, which sent them straight to the live semifinals. The teen singing sensation cleared the semi-finals round, placing the third position in the finale. Though they placed third in the competition, they had managed to impress the panel of judges and the audiences. The judge, Simon Cowell was so impressed that he signed the boys a  £500,000 record deal with his record label, Syco.
Related to Simon Cowell:- Eric Cowell Chemistry With Father Is Adorable; Meet The Next Simon Cowell
Not long afterward, the duo released their debut single, Hopeful, which peaked to the No.5 on the UK Singles Chart, number 56 in Ireland, and number 6 in Scotland.
Similarly, with the song got into the top chart, Leondre's father threatened a lawsuit against the group in 2016, claiming that he had written the song Hopeful, and they sang it without his permission.
Leondre, who has a snapchat name 'BAMitsLeo,' had claimed that the song Hopeful is about his own experience with bullies. But, his father says something different, he stated:
"I wrote Hopeful and it is a story of the struggles I've faced in my life and that gave the group international fame."
After Leondre reached the height in his career, his father further complaint that Leondre used to live with him until Bars and Melody's BGT success. And after he earned fame, he went on to live with his mother. He complained:
"When the success came I was pushed out but I'm the one who started Bars and Melody."
Father also blamed the management for exploiting the kids and making them over-worked. And a spokesperson of the group replied:
'"Bars and Melody are very happy with their management team and do not feel overworked or exploited.Bars and Melody are sorry to hear that legal action is being threatened and they hope it will resolved quickly and amicably."
As of now, all the problems are solved. The two boys have honed their musical talents and skills as time passes by. As Bars and Melody, Leondre and Charlie have performed in numerous countries, including Australia, Japan, Europe, United States, and the UK.
Also, the famous teenage sensation is on their way to the Europe tour along with the pop singer Johny Orlando, which would commence on 3 August 2018 in Liverpool, UK, and ends on 26 August 2018 Warsaw, PL. Bars and Melody took to Instagram on 11 July 2018 with detailed information about their musical tour.
You May Like:- Blake Anderson Status After Divorce With Wife; Smiling Through Ruins?
But, after almost a month, they made a change to their tour with the new dates and new people added on their European tour. A Finnish pop singer, Isac Elliot, also supported their musical journey, which makes their number three to four famous singers.
With the addition of Isac in the tour, the tour postponed to 18th August in Zurich, CH, and ends in Warsaw, PL, on 26 August 2018. The Bars and Melody took to their Instagram on 7 August 2018 to inform their followers of the change in the date of their musical tour and also informed that Isac Elliot supports the journey.
With their musical career, they are trending on social media, with already more than 1.4 million followers on their B.A.M Youtube Channel. Their monthly estimated earnings from Youtube ranges from $1.6K to $26.1K. 
Besides, releasing many singles and albums, they also sell an official B.A.M's bags, mugs, notepads, hoodies, and T-shirts. So, accumulating their merchandise business and Youtube earning, they might have a high net worth. As of 2018, Leondre Devries solely has a hefty net worth of $ 3 million.