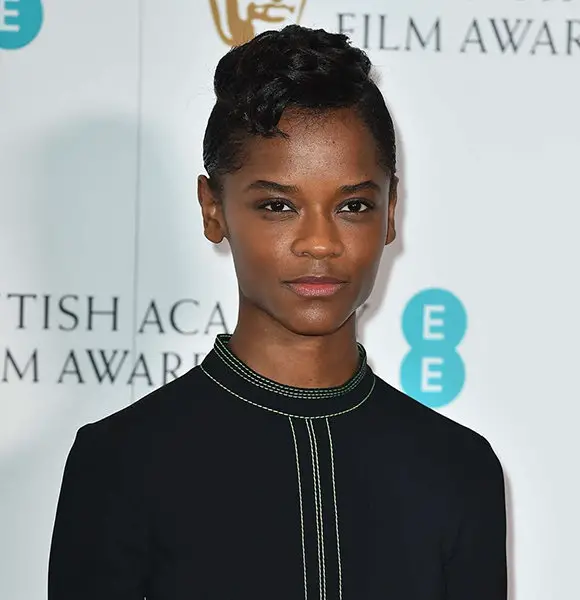 What could be more honorable when told that you might be the next Leonardo DiCaprio? It was one of the proudest moments for Letitia Wright. 
Letitia immediately grabbed much attention after getting cast in 'Urban Hymn.' With her growing fame, her fans are most interested in her dating life and never-ending questions like, 'does she have a boyfriend?'
Keep scrolling to find all your answers.
Does Letitia Wright Have a Boyfriend?
Letitia doesn't have a boyfriend and is said to be single. There aren't many details about her dating history. But it is known that she is open to having a boyfriend. 
In an interview with the Independent, Letitia shared that she is ready to have a boyfriend and settle down.
However, she thinks love is pure and beautiful and should be worth her wait. The 'Victim' star is ready for the right partner and will wait for him. She also shared that she doesn't want to find a partner through a dating app. She said, 
Listen, I'm not really familiar with the Hinge world but I have friends on it, and I have huge respect for people that have the capacity to do it.
Letitia feels like the dating app is not for her. In an interview with Dazed, she shared how she will settle with one boyfriend, and that's it for her. She doesn't expect to discover a meaningful relationship by browsing online dating sites.
British Celeb You Might Like:- Iskra Lawrence Dating, Boyfriend, Family, Height, Birthday
She prefers to meet her future boyfriend through a connection rather than swipes.
Letitia continues looking for the ideal partner while giving her all in her work.
Letitia Wright's Career
Letitia Michelle Wright, a British actress, was born on October 31, 1993, to her parents in Georgetown, Guyana. Letitia's moved to London with her mother when she was 8.
Though the identity of Letitia's mother remains concealed, it is known that she is a teacher by profession and has married again.
Standing at the height of five feet and six inches (167 cm), the former 'Top Boy' star now has two half-siblings from her mother's second marriage who lives in Wolverhampton.
On-Screen Brother:- Black Mirror's Daniel Kaluuya Did Not Stop Dating Girlfriend Even After Meeting Her Parent! Talks It Out in An Interview
Her family must be proud of the height she has attained in her career just at the age of 28. 
Letitia became renowned when she got to play Jamie Harrison in 'Urban Hymn.' It was the movie directed by Michael Caton-Jones, a Scottish film director who discovered one of the most prominent names in Hollywood, Leonardo DiCaprio. 
By seeing her performance in the movie, Michael Caton-Jones believes Letitia is one of the most promising actresses of her generation, and it's justifiable to address that she might be the next Leonardo Dicaprio.
What is more honorable than that?
She also got to be part of Marvel's 'Black Panther,' 'Avengers: Infinity War,' and 'Avengers: Endgame.' With her performance, she was able to win the Rising Star honor at the 2019 BAFTA.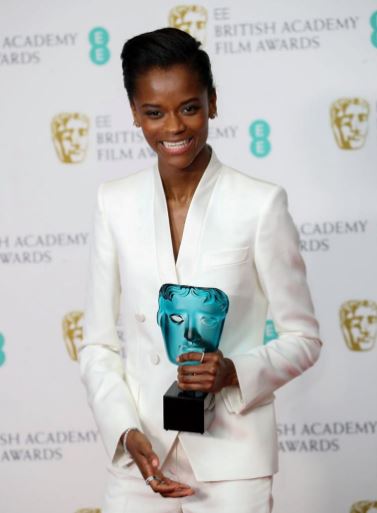 Letitia poses for cameras with her trophy at the 2019 BAFTA. (Photo: Instagram)
However, Letitia opened up about her battle with depression in an empowering acceptance speech. She said, 
A few years ago I saw myself in a deep state of depression and I literally wanted to quit acting. The only thing that pulled me out of it was God, my belief, my faith, and my family, and an email from BAFTA asking me to become part of the BAFTA Breakthrough Brits, I was like: 'Let me try again.' 
She ended her passionate speech by sending words of encouragement to others who are going through a similar situation.
However, the win and the acceptance speech weren't the only headline-grabbing event the 'Black Mirror' actress went through. On that very night, she received congratulatory messages from Prince Williams, the sitting president of BAFTA.
Letitia Wright's Co-Star:- Black Panther Star Chadwick Boseman's Secret Girlfriend! Or Married?
Her outstanding career success has thus led her to accumulate a massive net worth. According to Celebrity Net Worth, Letitia has accumulated a net worth of $4 million with her hard work and dedication. 
Apart from being an actress, she has also been interested in producing a movie and has produced two films, 'The Silent Twins' and 'Surrounded.'
We can't wait to see her soon. 
Stay tuned to get more updates on Letitia Wright.