Entertainment
Levi Roots Leaves Only Struggle For Children Despite Having A Restaurant And Million Pound Sauce And Drinks
When one had a unique product in mind and given a chance to make in reality, then a broke person can become a millionaire. Sharing a similar story is Levi Roots who made a fortune became a millionaire with Reggae Reggae Sauce.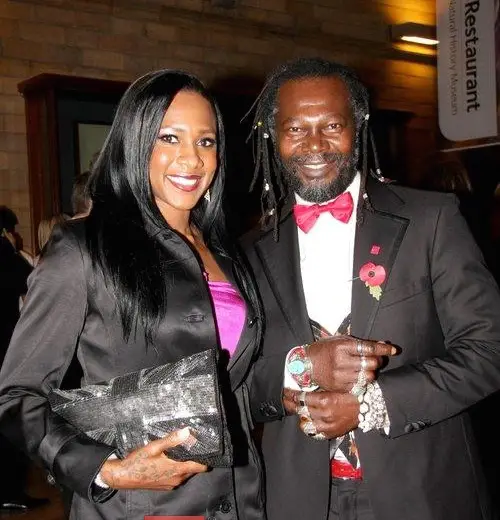 When one had a unique product in mind and given a chance to make in reality, then a broke person can become a millionaire. Sharing a similar story is Levi Roots who made a fortune became a millionaire with Reggae Reggae Sauce.
However, the children of Millionaire father sill struggle with financial problems as they are deprived of the luxury and fortune of having a wealthy father.
Are his daughters' claims of him disowning them true? Could he be as heartless as his daughters have labeled him to be?
Behind Levi Roots' Net Worth: Restaurant & Soft Drinks
In 2007, Levi Roots appeared on Dragons' Den and serenaded the judges with his Reggae Reggae Sauce song.
Discover:- Romesh Ranganathan's Apology To Wife – Parents To 3 Children | Regret
And Dragons Peter Jones and Richard Farleigh accepted and invested in his business then shortly Sainsbury stocked the stock. Since then it has gained popularity and made a fortune.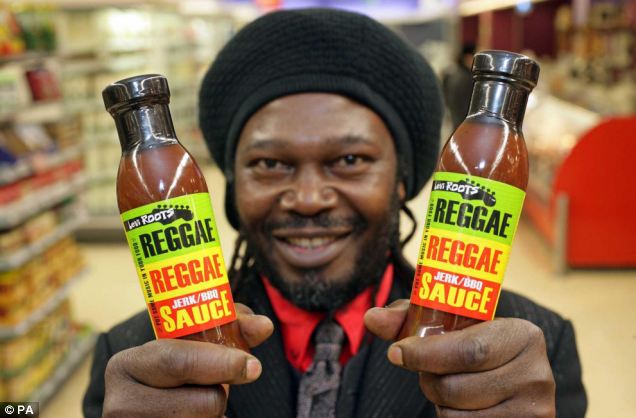 Levi Roots with his Million Pound making sauce Reggae Reggae Sauce (Photo Credit: dailymail.co.uk)
In an interview with Telegraph in 2008, Levi said,
"It's a secret family recipe handed down from one generation to another. I learned it from my grandmother when I was living in Jamaica. Although I've been a musician since I was in my 20s, I have made and sold Reggae Reggae Sauce at Brixton market and Notting Hill Carnival for years as a support to my income."
And when asked about the worth of Reggae Reggae sauce Levi said,
"I think it's about £8m. I couldn't tell you what it's turning over but Sainsbury's says we're outselling tomato ketchup in each of the 600 stores stocking it."
His net worth is estimated to be more than the said £8 million pounds. As of 2018, the musician turned restaurant entrepreneur is believed to possess a reported net worth of more than $45 million (£34.5 million).
Read Also:- Stephen Nolan Avoiding Potential 'Crazy' Partner, Does That Make Him Gay?
In December 2015 he opened his first restaurant Levi Roots' Caribbean Smokehouse in Westfield Stratford City. Lorraine King writing for Newham Recorder showered Levi with rave reviews in her 2018 review of the said restaurant -- three years after the eatery opened its door for the public.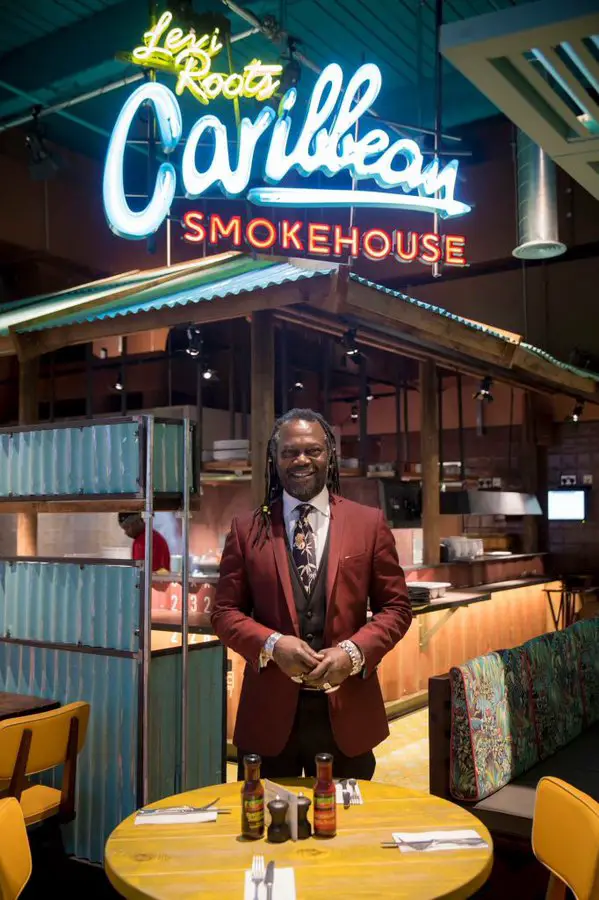 Levi Roots captured in his restaurant Caribbean Smokehouse situated in Westfield Stratford City (Photo Credit: streettalkhgd.com)
Til 2017, Levi Root has expanded his business with products like cooking sauce, soft drinks, snacks, pudding, and others. And Levi Root's soft drinks are available in flavors like "Carnival Flava," "Coconut Cooler," "Jamaican Sunset," "Caribbean Crush" and other flavors too.
His most recent business venture sees him launch a Carribean-flavored pot noodle. The launch of his new line comes days after he publicly shamed fellow celebrity chef Jamie Oliver's fake jerk rice calling it "a mistake."
Children & Wife Left To Struggle
Levi Roots is the father of eight children by seven mothers but did not get married to have a wife. And in an interview with Levi's two daughters claimed that he did not pay for child support and at least four children are struggling on benefits, and one is homeless after being refused to help.
Interesting:- Aaron Kaufman's Relationship With His Ex-Girlfriend: Is He Dating Someone Now? His Splendid Net Worth?
Levi's daughter a law student Joanne Caesar(35) said that her father, Levi cut her out of his life even though she contributed to developing the sauce and also backed with her vocals in the advertisement of Reggae Reggae sauce.
Also, she claimed that she was exploited her by doing her work without any payments. Further, she said that his main purchase was a £300 sofa. Also, Joanne said that at least three of his children had to claim benefits to survive.
As for Levi, he tries to paint a different narrative of his relationship with his daughters in the public sphere. On social media, he does his best to be a normal father who boasts about his daughter's achievements. Take this 2015 tweet for instance:
"My mind is on my daughter Jo Caesar, she won Reggae star factor last night and I am so proud of her achievement."
In a similar vein, Levi penned a thoughtful tweet on the occasion of his grand daughter's birth. In the tweet dated back to July 2015, he claimed to have put out thoughts and prayers in his son's(Danai) name and his family.
Contrary to his social media posturing, Joanne Ceasar's half-sister, Sharlene Williams( 34) also claimed that her father, Levi did her work without any payment refusing to make her an employee. And she was fired following a row with Levi when he insisted on serving even when a customer groped her, and she refused to help.
Better Not Miss:- Isaiah Crowell Fantasy Stats, Renewed Contract, Salary | Christmas For Him
Also, she revealed that  Levi declined to help her when she fell behind on her rental payments and was evicted.
Further, Sharlene said,
 "It was always his way or the highway. I managed the shop, but he didn't want to pay me. He refused to pay me and my brother a wage. I was forced to claim benefits to make ends meet. Without my benefits I would have been homeless a very long time ago."
Both sisters agreed and confessed that Levi had not been a good father to them and their siblings, aged one to 36. Levi Root's is a millionaire, but despite having a millionaire father, his children face financial problems, and sadly, they are left to struggle on their own.