Entertainment
Lindsey Graham: Exclusive Facts On Why He Never Got Married
Comedian Bill Maher featured a gay joke referring to Lindsey Graham...He Almost Got Married to a German girl...she was the roommate of his friend's wife...crossed his 60s already, the politician is still single
The United States Senator Lindsey Graham is one of the leading members of the Republican Party. He has held the position as the senior senator representing South Carolina since 2003. Moreover, in 2015, he was one of the candidates - who ran for the Republican nomination for President from the Republican Party.
Although he suspended his presidential campaign due to lack of support, his try at running for the presidency did raise an interesting question. For instance, if he had been elected, he would be the bachelor President of the USA of the recent era. After all, having crossed his 60s already, the politician is still single.
Moreover, his decision to stay single brought up more interesting facts on the plate.
Sister As His First Lady
During his run for the presidency, several news tabloids and viewers found themselves asking the same question
"Who will be the first lady if Lindsey becomes the President?"
Well, the senator had a straight forward answer to this as he had his eyes set on his sister Darline Graham Nordone to become the First Lady.
Senator of Republican Louisiana :- John Neely Kennedy & Nancy Pelosi Clash, What Just Happened?
Having a sibling assume the First Lady's position isn't something new as daughters, sisters, and relatives of several presidents have fulfilled the role in US history. Also, his sister has been Lindsey's closest person ever since their parents died while Graham was still in college.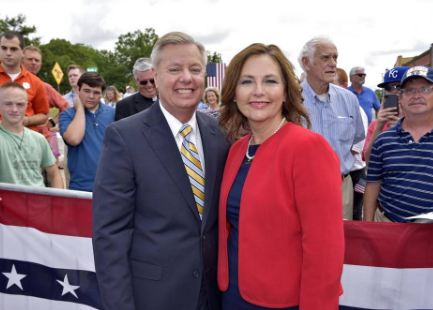 Lindsey Graham and sister Darline Graham Nordone (Photo: answersafrica.com)
Moreover, he took on the responsibility to look after her since she was barely a teenager back then. So, Darline as his choice for the First Lady doesn't come as a surprise.
Lindsey Almost Got Married
Interestingly, the Senator almost tied the knot during his 20s but strayed away from the decision. Here's what happened.
From 1984 to 1988, he was stationed in Germany during his time at U.S. Air Force. There, he fell in love with a German girl named Sylvia - who worked as a flight attendant in Lufthansa airlines. He was close to her as she was the roommate of his friend's wife.
Although Lindsey dated Sylvia for about a year, the two couldn't work out their relationship since his lover had decided not to move with him to South Carolina. After all, she had her elderly mother to look after in her home country. Sadly, the two broke off, and their love for one another couldn't shape into a long-lived marriage.
Why Isn't He Married Yet?
Well, the answer to this remains a mystery to his well-wishers and tabloids alike. But above all, the senator himself has no clue why he chose to stay a single man. During his interview with Politico in 2015, he revealed,
 "It's something I really don't know the answer to, other than I think it's OK. At the end of the day, there's nothing wrong about not being married. Having a marriage and a good family and children is a blessing. But I don't think I'm a defective person by any means."
Well, at least Lindsey is comfortable with his life decision.
Gay Jokes On Lindsey
Being an older man in the 60s without a wife does come with several speculations, especially when you are a Republican politician. Over the years, several comedians have made jokes about his sexuality.
For instance, comedian Bill Maher featured a gay joke referring to Lindsey's name in one of his segments at his show, Real Time With Bill Maher, in 2019.
Bishop Briggs Gay Talks :- Who Is Her Boyfriend & What's Her Worth?
Also, back in October 2018, another comedian named  Chelsea Handler mentioned him as a closeted gay in one of her tweets. However, the politician came to his defense and made it clear that he was straight during his interview with TMZ, the same year.